Losses and Lessons:The Bear Necessities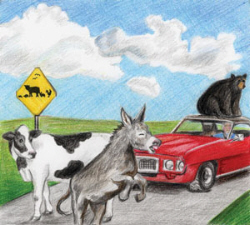 VEHICLE COVERED: 1967 Chrysler Newport convertible.
WHAT WENT WRONG: A 200-pound black bear scrambled onto the convertible top of the Chrysler, and then left the owner a little gift – about five pounds of dung.
DAMAGE: Scratches on door, door handle, hood, and back of trunk; damage to rear window frame; claws left puncture holes in canvas top and ripped top's inside liner.
CAUSE: A bear's gonna do what a bear's gonna do.
LESSON:  If you're going to park in an area with wildlife, never leave food of any kind in the passenger compartment of your car. The trunk is the best place to keep edibles.
The Colorado customer's car had been insured by Hagerty less than 24 hours before the bear paid his visit to the Newport. A claim with Hagerty led to installation of a new top and the extensive cosmetic repairs needed to make the car like new.