Losses and Lessons – Garage Door Spring Has Sprung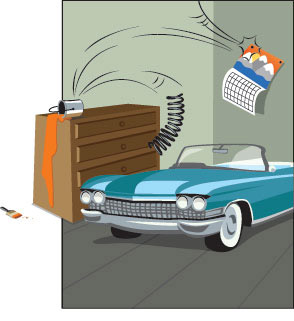 Vehicle Covered: 1960 Cadillac Eldorado Biarritz
WHAT WENT WRONG: After hearing a loud crash, the insured frantically ran out to her garage to find a fallen garage door spring and a large dent in the hood of her Caddy. Luckily, no one was in the garage at the time, as these heavy springs can cause serious injury.
DAMAGE: The hood took the majority of the hit, with one very large dent in the center. Additional deep scratch wounds occurred when the spring rolled from the hood onto the ground. Total cost of the claim: approximately $2,000.
LESSON: The garage door was old; extension springs on these older doors weigh about 10 pounds and have a tendency to break. If this happens, run for cover; when they fall off, they can fly into the air in any direction, leaving the heavy garage door free to fall as well. Fortunately, safety cables are available that protect extension springs on older doors from falling. They act as a "catch" for the spring, in case of breakage. These safety cables are made by garage door manufacturers (and are included with many newer garage doors). You can also check your local hardware store or home center.