A tale of two-tones: Jeep Grand Wagoneer vs. Ferrari Dino 308 GT4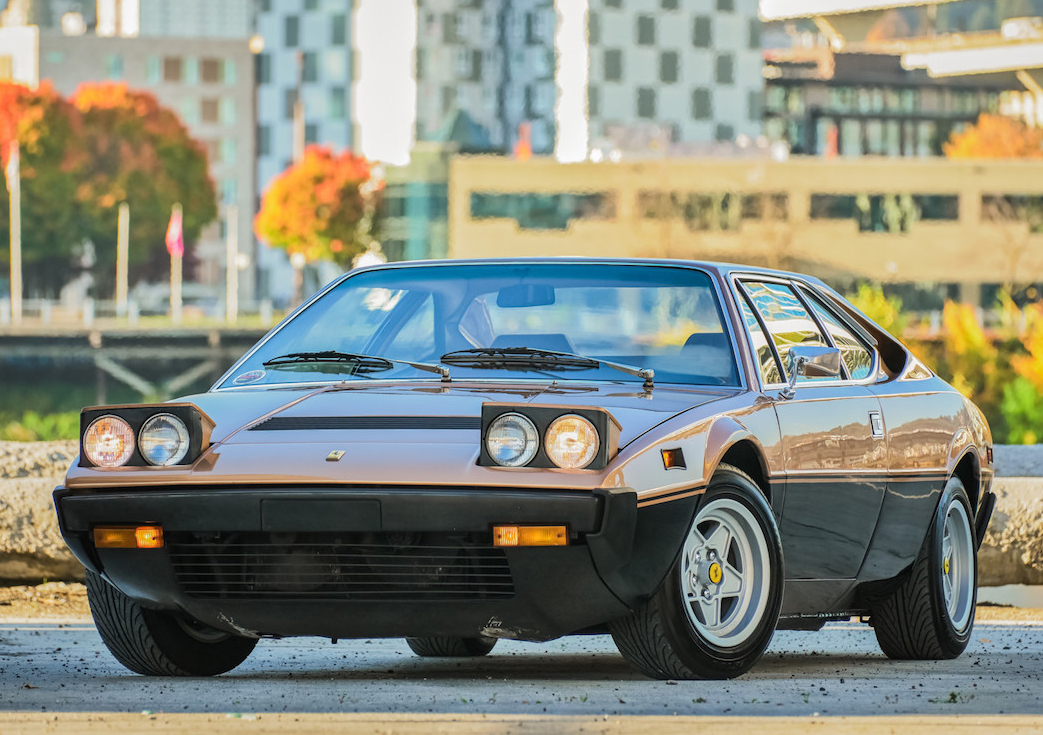 Let's play a game. Imagine you have one space in your garage and money to burn. As any sane gearhead would, you're noodling around on Bring a Trailer looking for a ride to bid on. Then, say you come across these two: A one-family owned 1985 Jeep Grand Wagoneer, and a 1975 Ferrari Dino 308 GT4 with no reserve. Which one would lure your blissfully uncommitted dollars?
Before we break it down, yes, I know this is an oddball comparison. According to the Hagerty Valuation Tools, a #2 (Excellent) condition 1975 Ferrari Dino 308 GT4 commands around $61,500, while a 1985 Jeep Grand Wagoneer in the same condition is valued at $27,300. And that's already an idealized situation, since this noble Wagoneer has more than a few bumps and scrapes. Even were this a concours-quality Grand Wagoneer, the pricing gap between these two vehicles is not lost on me; but this is my game, and we're playing house rules, meaning the only rule is that you can't take both.
So, cost-no-object, which of these two-tone beauties would find its way into your stable?
Let's start with the obvious: one of these vehicles is a Ferrari. As in, the manufacturer that your non-car-loving friends will recognize. The other one is a Jeep, possibly the most pedestrian brand to carry decent name-recognition amongst those same indifferent friends. The decision's going to come down to more than street cred, as well it should.
Let's look at the vehicles themselves. This 308 GT4 looks incredible—the bull-shark-esque, snubby body is finished in a two-tone Hazelnut Metallic with black accents. It's the first production Ferrari to receive Bertone bodywork, and the stubby design was penned by none other than Marcello Gandini.
It's got an oh-so-'70s beige cloth interior, and that sweet, sweet gated manual transaxle. That gated goodness mates to a 3.0-liter, DOHC V-8 good for a not-insignificant 240 horsepower when new. This one has had an MSD ignition installed, and the engine is said to have been rebuilt around 9000 miles ago. Although total mileage is not known, the five-digit odometer is believed to have rolled over twice, meaning this thing has seen north of 200,000 miles of dutiful driving. The vehicle comes with the original bill of sale, showing an out-the-door price of $26,072. Yep, that's it. Not bad for a 3.0-liter Italian V-8 with more spunk than a box of cats.
If the Ferrari is the feisty feline, then the Grand Wagoneer is the family lab. Big, trundling, and clad in wooden panels, this Grand Wagoneer won't get anywhere fast, but it has a much higher chance of going somewhere. A 360-cubic-inch V-8 pairs with a three-speed automatic transmission and an NP229 transfer case to offer power to all four wheels when needed. Total mileage on the vehicle is a meager 79,000, meaning there's plenty of road trips left in this American legend.
The interior is generously shod in tan shag carpet thick enough to crawl through (Jeep called this interior color "Honey" in 1985) and powered leather front seats that look like the La-Z-Boy in which your dad falls asleep while "watching" football every Sunday. We're not huge on the Nardi steering wheel, but alas, every classic car purchase requires compromise of some kind.
So which would I take? The bull-shark Ferrari, or the loveable Grand Wagoneer?
It's not even close. I'd be up to my ears in shag carpet before you're finished reading this sentence. Think of all that space—all that Americana! Why am I suddenly wearing all denim and trying to find the nearest tree to chop? It's the Grand Wagoneer, of course. I'm jonesing for some good old-fashioned manual labor in the woods, this vehicle's natural home.
Then again, my decision may be heavily influenced by the fact that the whole of Michigan got annihilated by Jack Frost this week, and a Ferrari is currently the farthest thing from my mind. Regardless, I'm taking the keys to the Jeep nine times out of 10 here.
We're open to counterarguments. What do you think? Will you have the pasta, or the burger?