Truckin' in a 1962 International Harvester Travelette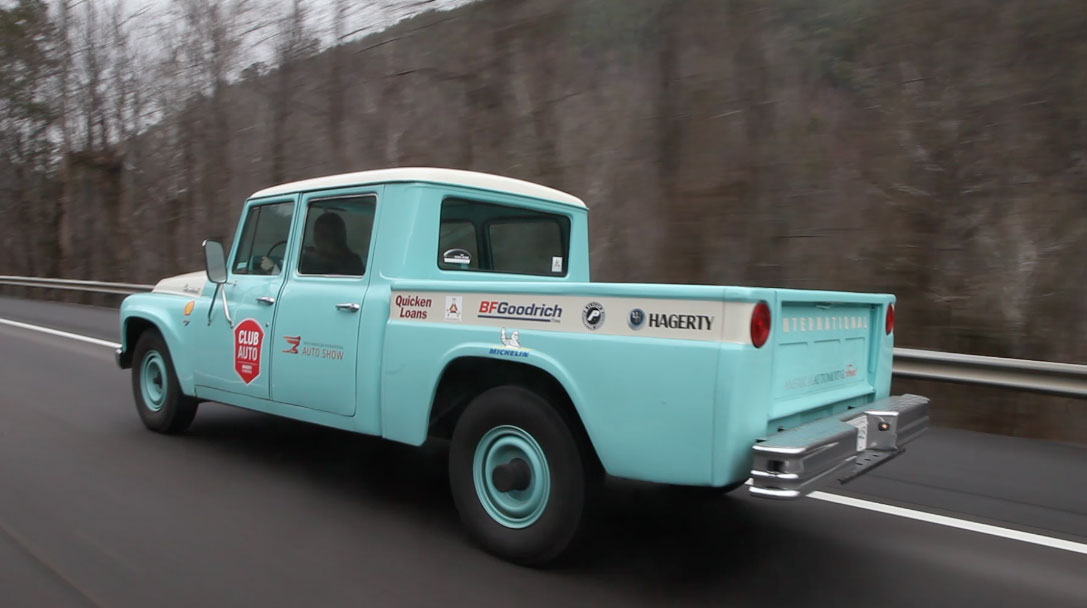 By the time I arrive in Nashville and clamber onto the bench inside its spacious cab, I can tell this International had already been through hell. It grumbles to life after a few tries, all eight cylinders bellowing with 46 years of aches and pains. "She doesn't like early mornings," says Tabetha Hammer, Hagerty senior manager of car culture. Damp rags plug holes in the floor. The heater core chugs away, radiating gentle warmth from its questionable resting place on the floor of the passenger footwell. Tabetha isn't concerned. As a member of the Hagerty garage, the baby-blue beast is a familiar friend, and it's taken her this far.
Participating in LeMay Car Museum's annual Drive Home road trip to the North American International Auto Show in Detroit, Tabetha set out in the 1962 International Harvester Travelette days before from Boca Raton, Florida, part of a fleet of other vintage American metal and equally intrepid travelers. I'm on board for the final two legs, from Nashville to Cincinnati, and then finally on to the Motor City. Our caravan includes a 1959 Plymouth Sport Fury, 1959 Cadillac Coupe de Ville, 1972 Chevrolet El Camino, 1969 Chevrolet Camaro SS, and 2014 Triumph Thruxton ACE motorcycle. (The support trailer bringing up the rear has a Hellcat-swapped 1955 Chrysler C-300 in it, which wasn't able to make the whole trip without needing repair.)
The weather has been nasty, unforgiving, and uncommonly cold, courtesy of the "bomb cyclone" storm that's battering the East Coast. That being said, I arrived with warnings to bundle up for the International, which is light on heat following an "incident" with its electrical system. Because of a bad voltage regulator, the generator overheated, scorching wires and damaging battery terminals along with necessitating purchase of a new heater core. There's also no windshield defroster, but that's because the truck never came with one. Same goes for the radio.
I've never been inside a Travelette, but the bare-necessities layout and lively baby-blue and ivory color scheme immediately charms. Handsome white piping lines the seats. The steering wheel is big, its rim thin, and there's a single turn indicator stalk. Gauges are clean and clear, and visibility out of the large windows is excellent. If I had a farm in 1962 and needed to spend a lot of time here between work and personal errands, I wouldn't mind the Travelette at all.
The first four-door, six-passenger pickup of its time, the Travelette is generously roomy inside, with plenty of space for spare gear and a few duffel bags in the back seat. (It was based on the single-cab C-Series.) International Harvester was well known for its hardy tractors and work trucks, and sure enough, the Travelette feels like an agricultural appliance—sturdy, simple, and very forgiving.
Tabetha shows me how to work the four-speed floor shifter, advising I start in second gear unless I need first (a granny gear) to climb a huge hill. I grab the ancient-looking brass shift knob and get moving in second gear easily enough, but the clutch travel is so long I don't even realize I'm slipping it when I'm not all the way off the pedal. Finding third and fourth gear is trickier, as both require quite a bit of fiddling. Reverse, by the way, is snugged up alarmingly close to third. "You'll be fine," Tabetha says. "Just don't shift into reverse at highway speed. I don't feel like rebuilding a transmission today."
Feeling more comfortable after puttering around local roads, the open highway offers a break from wrestling with the truck's unassisted steering in a parking lot. The 5.0-liter (304-cu-in) V-8 is guttural and loud, which is a good thing—without a tachometer, you have to listen to the engine to know when to shift. Huge and ponderous as it is, the International does a commendable job of keeping pace with traffic so long as I can find the gears properly. My heart pounds every time I get lost in neutral, jiggling the shifter in search of third or fourth gear, like I'm hunting for a fish in a bathtub full of olive oil.
We plod along the freeway for hours, and the International settles into a nice rhythm at 65 mph. Any faster than that and the speedometer loses accuracy, and at around 70 mph, the truck starts to shake. It's loud as the bowels of a machine shop, with lots of vibration and more wind noise than I've experience in some convertibles. It's big and ungainly, too, requiring constant adjustment of the steering wheel to keep from wandering. During our frequent pit stops, I'm happy to hear the pleasant silence of the middle of nowhere. On the bright side, the weather has warmed up, and many of the 18-wheelers that pass us blare their horns in approval.
It's a successful trip, and one that I feel lucky to have been a part of. Driving that old truck requires a lot of attention, but it also gets a lot of attention in return. Something tells me this isn't the last adventure for this '62 Travelette. Its days as a rural workhorse may be over, but its new job is just as essential. People like seeing this baby-blue relic, and those smiles and wide eyes acknowledging that an old truck like the International still belongs on the road are what it's all about.