So you want to own a Sherman tank?
Every year around June 6, the narrow backroads of Normandy in northwestern France start to resemble old photos from World War II. A column of jeeps, Dodge WCs, GMC deuce-and-a-halfs, and even the odd White scout car or gun-speckled half-track can be seen as European military vehicle enthusiasts descend on the storied D-Day beaches to commemorate a battle during which some 186,000 troops and 50,000 vehicles landed on France's damp, foggy shoreline in a single day.
Enzo Ferrari once stated that "the only good sports car America ever made was the jeep." Military vehicles have become a huge collecting niche, and one that has seen a massive increase in interest in recent years, especially with all the attention paid to the Greatest Generation and its role in saving the world from fascism. World War II vehicles are subsequently at the top of the pyramid in value for military vehicles, with Sherman tanks—when you can find one—trading for $350,000 and up. But, as Rob Collings, who curates a large military vehicle collection for the Collings Foundation in Massachusetts, says, "The most overused word I hear at auctions is 'important.' Let me tell you, these vehicles are important. They stormed the beaches of Normandy, they liberated Europe, and they fought the Cold War."
Plus, Collings continues, "If you've got a bunch of expensive vintage cars in your garage and you tell somebody you've also got a Sherman tank, they're going to want to see the tank."
People's reasons for owning military vehicles vary. Some want to own the HMMWV (the military version of the Hummer) that they served with, or the jeep their father or grandfather rode in. Others want to swagger around like John Wayne or G.I. Joe or Arnold Schwarzenegger, or are attracted to the elaborate engineering that comes with building highly specialized vehicles for combat. But the ease of purchasing and owning a military vehicle depends a lot on what you like, where you live, and how much storage space you have, as the military tends to build them big and heavy (and thirsty).
Of course, the best place to start researching is the internet. You'll find many specialist websites and forums, such as G503.com, a forum for aficionados of the original WWII jeep. Parts suppliers are important, and parts availability varies greatly. While almost any version of a military jeep can be built up from scratch out of catalog parts—a trait that is generally common to American equipment, which tended to be made in large quantities and with universal parts— the British Army used some 600 vehicle suppliers during World War II, and parts for many vehicles are virtually unobtainable. And good luck if your taste runs to Russian or Axis powers vehicles.
Buried deep within eBay Motors is a military vehicle section (once on the eBay Motors home page, click "other vehicles & trailers," then "military vehicles"). As you'll quickly discover, prices for military vehicles tend to be directly inverse to their size. While a hulking cargo truck that can tow a veritable marina full of bass boats might go for as little as $6000, a good-condition wartime jeep, which was smaller and lighter than the original Mazda Miata, can be $25,000. Generally, the more garage-able and daily driveable a military vehicle is, the higher the price.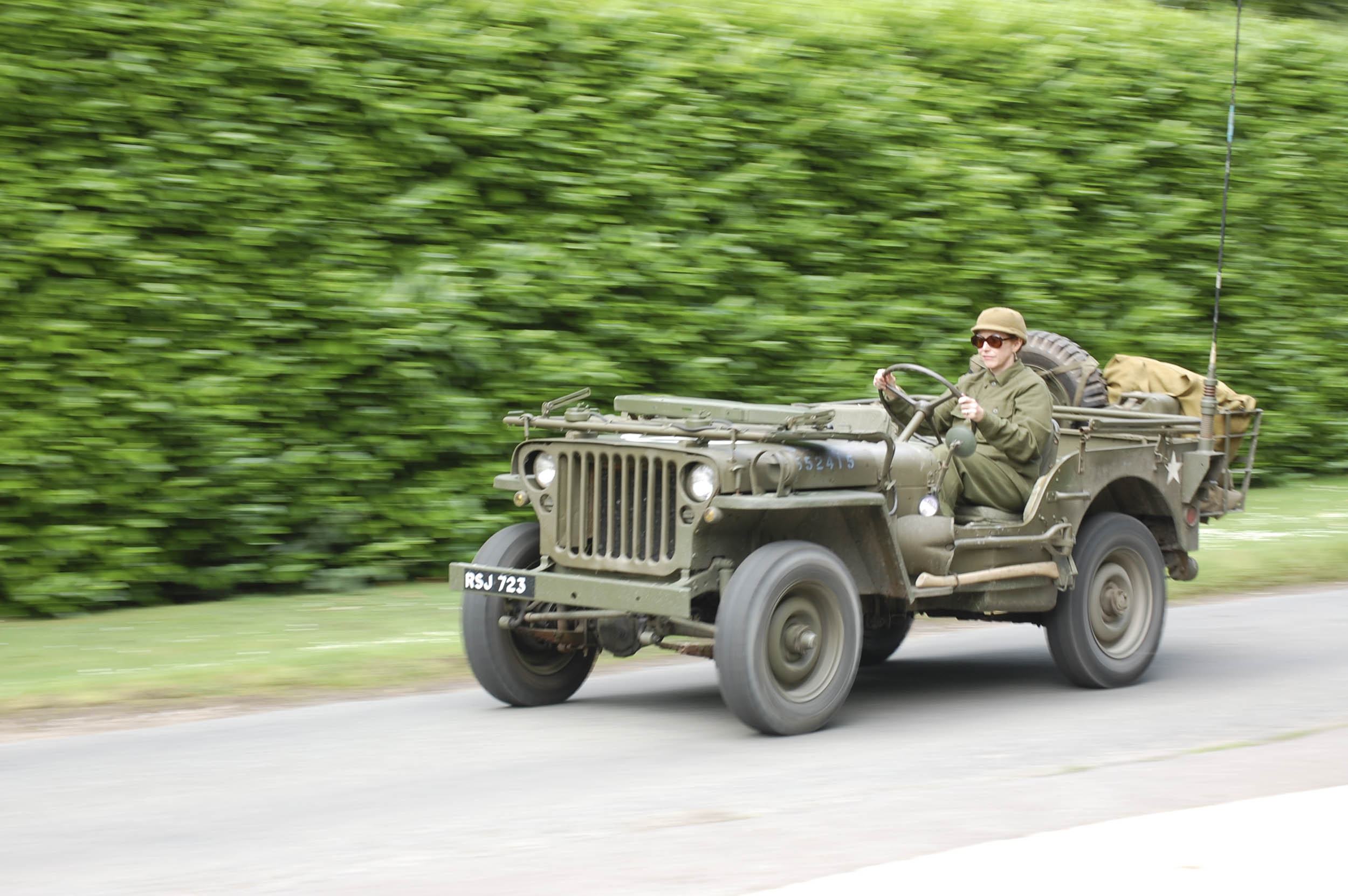 You may also notice that HMMWVs carry a hefty premium if they are advertised as road legal. While the Department of Defense has auctioned off hundreds if not thousands of military vehicles through GovPlanet.com, they usually do not have the necessary paperwork to obtain a license plate and are sold as "off-road only" vehicles. It doesn't matter what a vehicle did in the armed forces to protect the nation, individual states still decide what gets a title and a plate, and certain states (we're looking at you, California) make it much harder to license a non-standard vehicle than others, like Texas and Florida. Carefully verifying that a vehicle has a legitimate state-issued title is vital before hitting that twinkling "Buy It Now" button.
If wartime vehicles are what you're after, the best place to look is not actually in the United States, but in Europe. Hundreds of thousands of American vehicles were left behind in 1945 after the hostilities ended. They were desperately needed by the occupation forces and by newly re-formed governments such as Greece and Yugoslavia, who, after shrugging off Nazism, were suddenly facing communist insurgencies. Their numbers have been greatly winnowed down by post-war civilian lives such as highway wreckers and farm trucks, but a significant number of US vehicles—and even the occasional German VW Kubelwagen or NSU Kettenkrad, a half-tank, half-motorcycle used by the Wehrmacht to lay telephone cable—are now available as fully restored collector's items.
Nowadays, you can find them, as well as Cold War-era equipment from Russia and other NATO countries, for sale on websites such as milweb.net in the UK and mobile.de in Germany. Buying and importing them to the U.S. takes some effort and cost, but it is not difficult (I imported a 1942 Dodge WC54 army ambulance that had been in Europe for 70 years). That is, as long as you're after anything more than 25 years old and what the U.S. government deems as "soft-sided" vehicles, such as jeeps and trucks.
Thanks to that San Diego idiot who went crazy in an M60 Patton tank back in 1995 and proved to be almost unstoppable by the police, anything armored or otherwise tracked takes special State Department approval for import, and only a few specialized operations that are known to the government receive the necessary permits. Even importing a new tank tread for a tank already in the United States requires a State Department OK, so unless you know somebody connected, you're best off shopping for a tracked vehicle already in the States. And if you manage to buy one, prepare for special rules such as ensuring that the tank is disabled at all times unless being used for specific purposes. A tank museum in Southern California is required to store the tanks with the spark plugs out of the engines as a condition for receiving surplus tanks from the government.
But unlike a classic car, a tank is pretty hard to damage, so you can throw away those "Touch me with your eyes only" signs. You'll also have to instruct your friends on how to climb up on your classic vehicle to get in. That's something you'd never, ever do with a vintage Ferrari.