Counter-evolutionary: The history of the G-wagen
Mercedes-Benz is sitting pretty. It's won its fourth consecutive F1 constructors' championship, the Mercedes-AMG Project One supercar is on the way, and strong ongoing crossover sales are feeding the healthy bottom line. Yet even with all its hybrid projects, electrified prototypes, and autonomous concepts, Mercedes is still selling a boxy military vehicle, and selling it for a lot of money. These days, they call it the G-Class. Everybody else calls it the G-wagen. And there's even going to be a new 2019 G-Class coming out this year.
But in late 1978, one imagines, somebody at Mercedes headquarters opened the newspaper to find out that they were going to have a bad day, bad week, and possibly a bad year. The reason for the sense of impending doom? Strikes and demonstrations were paralyzing Iran—the government would collapse in February of 1979, with leader Shah Pahlavi having fled the country the month before.
Was Mercedes-Benz concerned with regional stability in the Middle East? Who can say? Its real problem was the 20,000 military vehicles the Shah had pre-ordered, ones that Mercedes had spent a half-decade and considerable sums developing. They were boxy, brutish, basic machines, a bit like a German version of a Land Rover. Now that the Shah was out of the picture, who was going to buy them?
Our story begins even further back than the Iranian revolution, way back to when Germany was still ruled by royalty. Daimler-Benz, the parent company of Mercedes-Benz, produced the G1 for the German Imperial Army in 1926, a six-wheeled beast with a 50-hp inline-six sending power to its four rear wheels.
The designation G1 came from the name the engineers gave the machine during testing. It was called the Geländewagen, which translates to "cross-country vehicle." The name would outlast more than one imperial dream.
Back to the early '70s, we find the Shah of Iran still happily in power, his wealth sufficient to make him one of Mercedes-Benz's largest shareholders. With his influence, and with that colossal pre-order of 20,000 units, Mercedes was spurred into developing a military specification vehicle once again.
They turned to Steyr-Daimler-Puch, an Austrian-based manufacturer of everything from bicycles to buses. SDP produced both the Haflinger light military vehicle and the larger Pinzgauer, which could be ordered in 6×6 configuration. Mercedes-Benz would handle the development and testing, and SDP would build this yet-unnamed vehicle.
Mercedes produced the first design studies in 1973, made from wood. Clay is much more commonly used for this sort of work, but given the G's boxy dimensions, building it out of the same material you'd use to make a packing crate seems quite sensible.
Once prototypes were running, Mercedes embarked on a severe and thorough testing program that stretched from the Arctic Circle to the Sahara desert. If this new machine was going to wear the silver star on its grille, it was going to be over-engineered to an almost comical degree. Meanwhile, in Graz, Austria, construction began on the facility where the G was going to be built. (We know it today as Magna Steyr, and it remains the home of the G-wagen.)
Production started in 1979, with Mercedes-Benz managing to find clients as near as the German Border Patrol and as distant as the Argentinian army. It also scored something of a PR coup by building a specially made G-class with a clear viewing platform for Pope John Paul II. It was presented to the Pope in 1980, and it remains one of the most iconic Popemobiles.
For civilian duty, the G-wagen came in one of three flavors: the two door was available as hardtop or cabriolet, and there was a four-door hardtop. Creature comforts were few, initially, but people still snapped them up right out of the gate.
Off-road prowess was key to the G-wagen's development. It came with front, middle, and rear locking differentials, and possessed the ability to shift between high and low range at speed. Despite its top-heavy appearance, the G was a very stable vehicle, with most components mounted low within the steel frame. With a 56-inch track, it was capable of driving sideways across a 30-degree slope; approach and departure angles of 36 and 31 degrees, respectively, allowed the G to tackle serious terrain and it could climb grades as high as 80 percent.
The G's layout is deceptively simple, and construction was done mostly by hand. Crawl underneath one and you'll note the oversized bushings and use of more fastening bolts than seems necessary. Owners report that taking a Geländewagen apart for repairs is a laborious process. Then again, they don't tend to fall apart in the field, either.
To further prove the G-wagen's bona fides by way of motorsport, Mercedes-Benz entered a 280GE in the 1983 Paris Dakar rally. With Belgian-born Le Mans champion Jacky Ickx at the wheel, the G-wagen won handily. Later, in 1986, Porsche used G-wagens to support its Dakar effort with the 959. One G-wagen, with a Porsche V-8 swapped under the hood, ended up placing second overall. It was a service vehicle, by the way.
A facelifted version of the civilian G-class emerged in 1990, but it wasn't possible to buy one in the United States. At least, not officially: gray market G-wagens were available, though you'd pay through the nose for the privilege.
One such importer, based in New Mexico, was Europa International. Initially the company modified imported G-wagens to meet U.S. specifications, but eventually it was so successful that it was able to appeal directly to Mercedes to build the trucks to DOT standards. Sales weren't much volume-wise, but the profit margin was enormous. Some G-wagens sold for as much as $135,000—more than $200,000 in today's money.
Now, of course, a hyper-expensive AMG-badged G-wagen with a biturbo V-8 or V-12 isn't a novelty to us today, but people were paying this kind of money for inline-sixes. The G-wagon wouldn't get a V-8 option until 1998, with the G500.
Seeing the profit others were making, Mercedes wised up and brought the G to the U.S. market in 2002. Initial sales were in the thousands, and with the introduction of the G55 AMG, the sales charts further swelled. Far from its off-road roots, the G's charm to well-heeled clients seems to be its projection of exclusivity and strength.
However, Beverly Hills isn't the only place you'll find G-wagen owners in the U.S. On the contrary, despite the paparazzi-bait image that a brand-new G might have, owners of older models are considerably more interested in the pursuits that shaped the G-wagen in the first place.
Mike Serpe co-founded Clubgwagen.com in 1998, after buying his first G-wagen and finding a dearth of parts and information out there. Once forums were added, a community of G-wagen enthusiasts started to grow. The way Mike tells it, buying a G-wagen wasn't purely about interest in the vehicle itself, but in looking for a machine to fit his lifestyle.
"We started out using my Cherokee to go into the backcountry, but out West, the spaces are so big that you're really on your own out there. With a G-wagen, not worrying about getting back out again makes the trip more fun."
Serpe and his friends grew the club to 200,000 users over the last 20 years, translating service manuals, helping newcomers out, and organizing meets. Rallies started in 2005, often led by Harald Pietschmann, an experienced guide on the Rubicon Trail and elsewhere. Annual gatherings, called treffens, are a G-wagen club way of life. Sometimes the pace is blasting along gravel roads, sometimes at a crawl on rocks.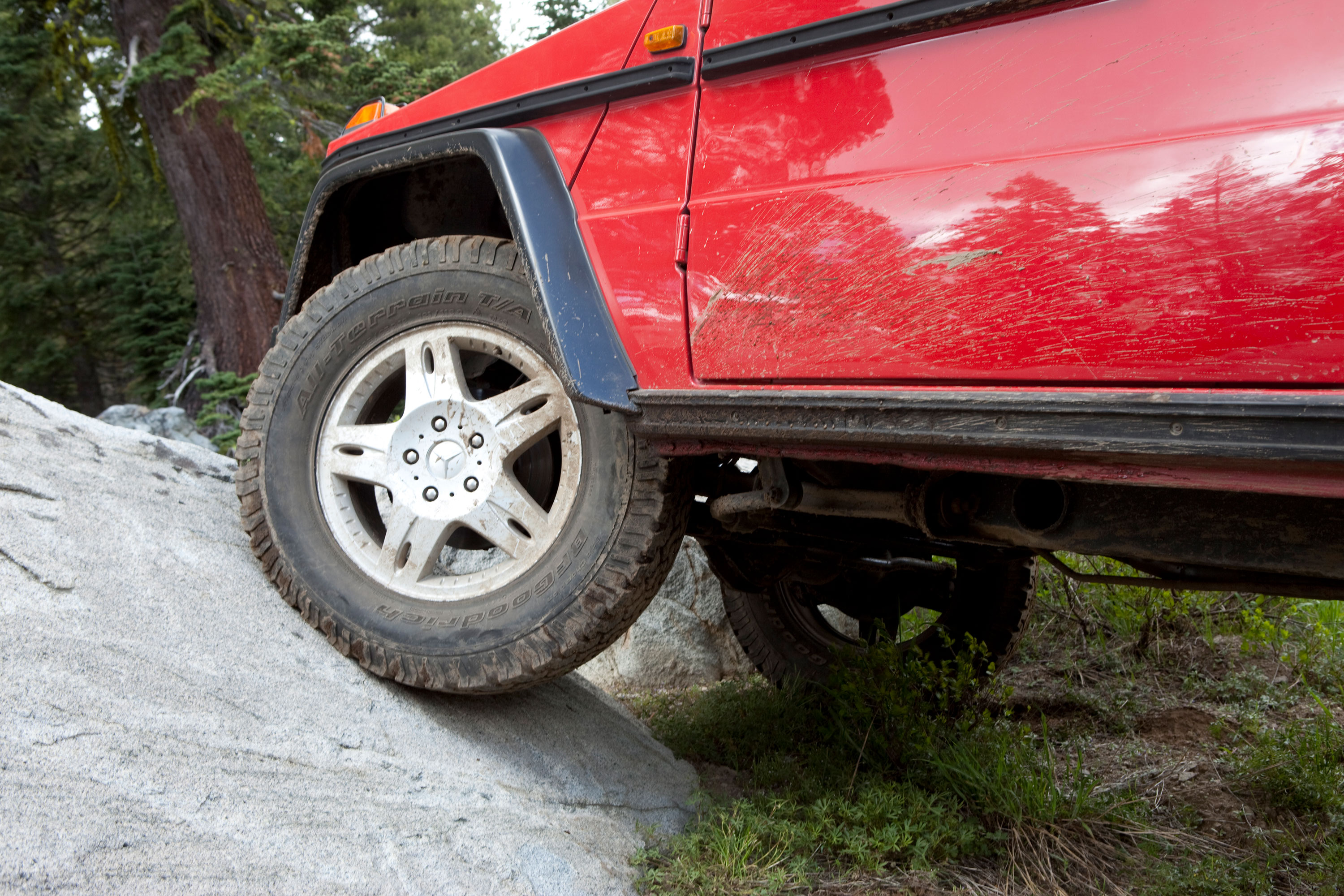 "It'd be better to call it overlanding than off-roading," says Serpe, "It's amazing how much you can get out and see. We encourage people to bring their kids along."
Serpe expresses concerns about the spate of new grey-market G-wagens making their way over, noting that not every dealer is completely trustworthy. If you're looking at getting into the G-wagen lifestyle yourself, best to find an expert to check things over before you buy.
However, after nearly 40 years of production, the G-wagen is plentiful and, if treated well, extremely durable. Try one on for size: if might just make your day, your week, and your year.
Clubgwagen.com's 20th anniversary rally is August 2-3, 2018. Click here to keep an eye on updates.