These gorgeous old-school travel posters show a worldwide love for American car culture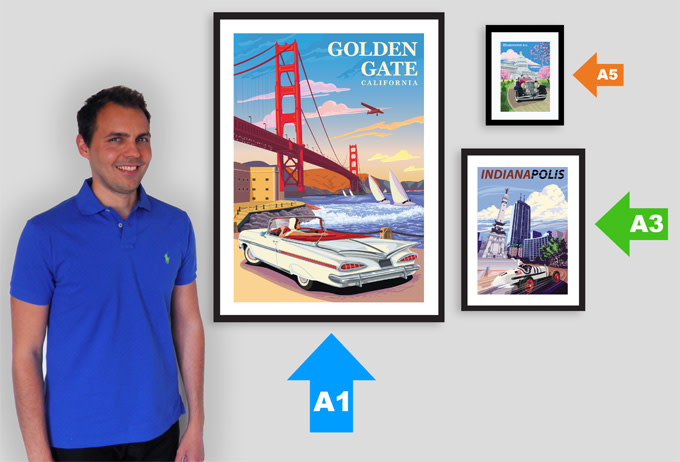 Don't let the name fool you. Piotr (Peter) Jędrzejuk may be Polish, but his heart is all-American. So is his art.
The son of Polish diplomats, Jędrzejuk spent 10 years of his childhood living in Washington, D.C., and he admits to quickly falling in love with America—including the car culture. The mostly self-taught artist, who turns 31 this year, recently released an ambitious 18-month project.
Accurately titled "The American Dream," the collection includes 55 art deco travel posters that depict a classic car in each of the 50 United States and the District of Columbia (some have two versions). Jędrzejuk claims the project is "America's first and largest travel roadside art series."
"The American Dream" is a triumph of cars and color, more so when you consider that Jędrzejuk had no formal art training, although he says he received help and advice from an experienced artist while producing the series.
Among the highlights are a Porsche 911 in the Alaskan snow; a Chevrolet Impala beneath San Francisco's Golden Gate Bridge; several Amphicars circling the lighthouse in New London, Connecticut; a Tucker in Chicago; a Dodge Superbird "dual" in Dodge City, Kansas; a '58 Corvette in Cape Elizabeth, Maine; the Buick LeSabre concept car in Detroit; a '59 Cadillac in Las Vegas; GM's Firebird III concept in Seattle; and President and Mrs. Kennedy in a Rolls-Royce in Washington, D.C.
It all started innocently enough when Jędrzejuk made a discovery while browsing in a store a couple of years ago. "I stumbled upon two small aluminum boxes with cover images based on the famous illustrations of the fifth (1933) and eighth (1936) Monaco Grand Prix Automobile, by Geo Ham," he says. "I appreciated the illustrations so much that I purchased both, although I did not have a real purpose in mind for using them. I just thought they could make good mini gifts for car fans."
Jędrzejuk says found that he "could not take [his] eyes off them," and he went on the internet to search for more Monaco Grand Prix illustrations. "I couldn't get enough of the vintage thing, and I have continued to explore the world of vintage prints—prints of not only cars but everything. The discovery phase lasted about a month, and I realized that there were very few vintage prints of America from the automotive perspective. I thought it would be cool to show America and cool cars all together. I didn't know the term 'travel poster' at the time, but later I realized that's what I was creating—to be more precise, these were 'roadside posters' with cars."
Jędrzejuk says some of the illustrations had been started but hadn't been completed due to the time that such a project requires, but he ultimately decided to dive in.
"Due to my passion for America and automotive design, I had to go all in and bring the project to life." It turned out to be a huge undertaking.
"I was pretty much on my own, and had to discover the cities, streets of America, as well as some of the unique cars which even car enthusiasts, Americans, and most of the world had never heard of," he says.
In his spare time, Jędrzejuk, who works as a project manager for an international digital marketing agency, browsed hundreds of photographs before narrowing his choices. Then he requested the permission to use them. "I did my best to find the best locations, as well as the car which would go with it nicely," he says. "Some of these projects were redone five times just because I found a better spot or car. Only about 10 illustrations weren't altered from the beginning."
There were some hurdles to clear, as well as a few stumbling blocks. For instance, multiple attempts over several months were required to gain permission to use some of the reference photos, and one German manufacturer first gave permission and then recanted; Jędrzejuk was forced to use other marques in their place. "I know that U.S. copyright law is friendly to car art to some extent, but I just didn't feel like dealing with such BS, so I got rid of their cars."
Jędrzejuk calls his company Grand Touring Art and is selling the posters online. Individual prints are $9 (5.83 x 8.27 inches), $25 (11.7 inches x 16.5 inches), and $40 (23.4 inches x 33.1 inches). There is a significant discount for purchasing the prints as a set.
Jędrzejuk says he wanted the series to appeal to the general public, not just car people, so he took extra care to get each one just right. "I called the series 'The American Dream' because it presents America from the best possible perspective," he says. It's a perspective that Jędrzejuk appreciates, all the way from Poland.