Swap to Street 2016: It isn't exactly a 10, but we're loving this body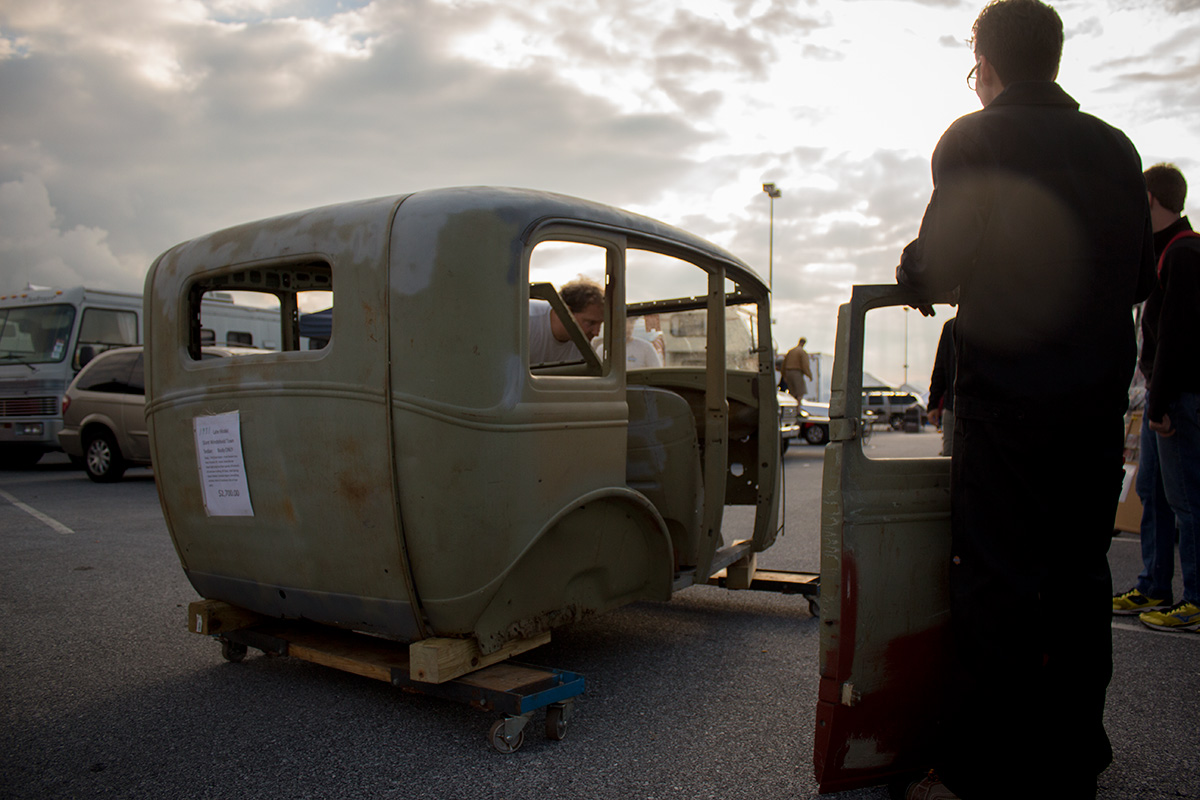 Longtime attendees describe the AACA Hershey (Pa.) Fall Swap Meet as "22 miles of aisles," and they aren't kidding. While we didn't get to every one of the 9,000 vender spaces on Tuesday (frankly, not everyone is here yet), we saw enough to locate a number of Model A bodies that would fi the bill for Hagerty's "Swap to Street Challenge."
In the end, we let our live-stream viewers make the choice, and the vote wasn't even close. But we'll get to that.
This is our second go-around for "Swap to Street." Last year we successfully built a 1946 Ford pickup and drove it 750 miles to Hagerty's home office in Traverse City, Mich. This year we started with the remnants of a 1930 Ford Model A (chassis, non-working engine, transmission and mechanical brakes), and now four Hagerty employees are busy building a car in four days using parts sourced at the meet.
We have a lot of parts to find, obviously, but we secured No. 1 on the list, a body. There were actually a lot of them out there today. Among the shells we considered but ultimately rejected were a heavily welded coupe, a truck cab in need of some heavy duty patching, and a bullet-riddled two-door sedan that many of us felt had the perfect personality for "Swap to Street."
Then our bird-dog parts finders – Kyle Smith and Will Corr – rolled a Yahtzee. Maybe a double Yahtzee. They found a late-1931 four-door sedan with little rust and just the right amount – and color – of patina. Not only that, it had all four doors, all the glass (carefully packed in cardboard), a fuel tank and springs for the seats. So someone else's stalled project has been resurrected, and we were all-too happy to help. Thankfully, our viewers whole-heartedly agreed. You also decided, by the way, that we don't need fenders, so it looks like we're building a hi-boy.
We have to admit, we felt like conquering heroes rolling that hulk of metal back to our work space. But that victorious feeling was short lived. We know there is much more work to be done, and the clock is ticking.
For updates on the team's progress and for more details on the vehicle, visit www.hagerty.com/swaptostreet. If you're in Hershey and want to stop by and see us, we're located on the Chocolate Field near the pedestrian bridge. Those of you who want to watch from home, and potentially affect the build (as with the body selection), can subscribe to the livestream at www.YouTube.com/Hagerty/live.