Ferrari unveils its newest hypercar, the SF90 Stradale
Ferrari has just revealed its latest range-topping, street-legal track weapon, the SF90 Stradale. Named after Scuderia Ferrari and honoring its 90th anniversary, it follows the LaFerrari in the pantheon of Maranello's most powerful hypercars and marks a number of firsts for the company. It's the first plug-in hybrid in Ferrari's history and the SF90's 679-horsepower twin-turbocharged 4.0-liter V-8 will also mark the first time a V-8 has powered Ferrari's flagship. Its direct-injection gasoline engine and trio of electric motors team up for 1000 CV, or 968 horsepower, making it the most powerful Ferrari ever.
In another Ferrari first, each front wheel gets its own electric motor while the rear MGUK (motor generator unit, kinetic) is sandwiched between the engine and the eight-speed dual-clutch transmission, making the SF90 Stradale all-wheel drive.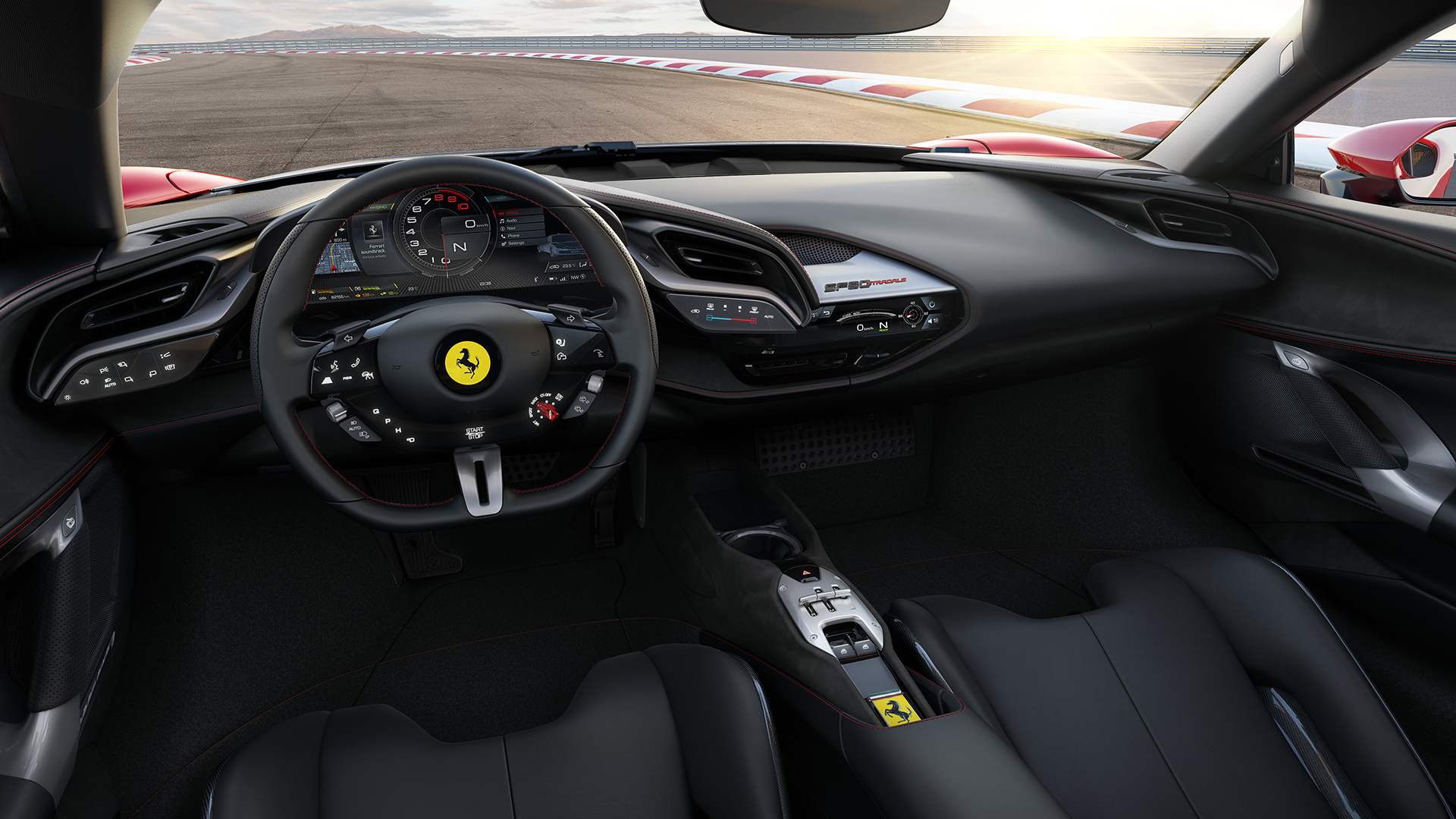 Those two front motors can operate independently from each other, offering torque vectoring for improved track performance, and also without the help from the rear wheels, making the SF90 Stradale part-time front-wheel-drive in eDrive mode.
Ferrari notes eMode is "ideal for city centre driving or any other situation in which the driver wishes to eliminate the sound of the Ferrari V-8." We can't imagine such a scenario, but it's there.
The SF90 Stradale's 7.9kWh battery allows up to 15 miles of all-electric propulsion at speeds up to 84 mph, but that's not what a hypercar is all about, and eDrive is just one of four modes available. Hybrid allows for the gas engine to turn off when not needed and tries to maximize efficiency. Performance mode keeps the engine running to recharge the battery so that all power is available for spirited driving, and Qualify mode prioritizes power output over battery charging for all-out performance.
Its track performance is aided by a host of race-inspired technology including a steering wheel that allows the driver to keep their hands on the wheel and use haptic feedback thumb controls to "control virtually every aspect of the car." Its active aerodynamics package is also race-derived. It uses what Ferrari calls a "shut-off Gurney" that reduces drag at high speeds when downforce isn't needed for braking or cornering, and it monitors vehicle parameters and driver input hundreds of times per second to know just when it should deploy. Top speed is a claimed 211 mph.
For the ultimate track experience, buyers can opt for the Assetto Fiorano specification, which adds Multimatic shocks, titanium springs and exhaust, high-downforce rear spoiler, a set of Michelin Pilot Sport Cup 2 tires, and replaces underbody and interior panels with carbon fiber. It knocks 66 pounds off the car for a curb weight of 3454 pounds. That means it's hauling around just 3.5 pounds per horse. Combine that with all-wheel-drive launches and grippy Michelin tires and you'll be treated with the kind of face-rearranging acceleration that will make plastic surgery obsolete. Ferrari claims 0–62 mph in 2.5 seconds and 0–124 mph in 6.7 seconds.
Filled with technical info and stats, Ferrari's media release didn't mention when or how many examples of the SF90 Stradale would be built, or how much each would cost. If history is any indication, expect the SF90 Stradale to go to fewer than 1000 lucky buyers but at a more affordable entry point than the LaFerrari.