E-type Concept Zero could be just the start of Jaguar Classic EVs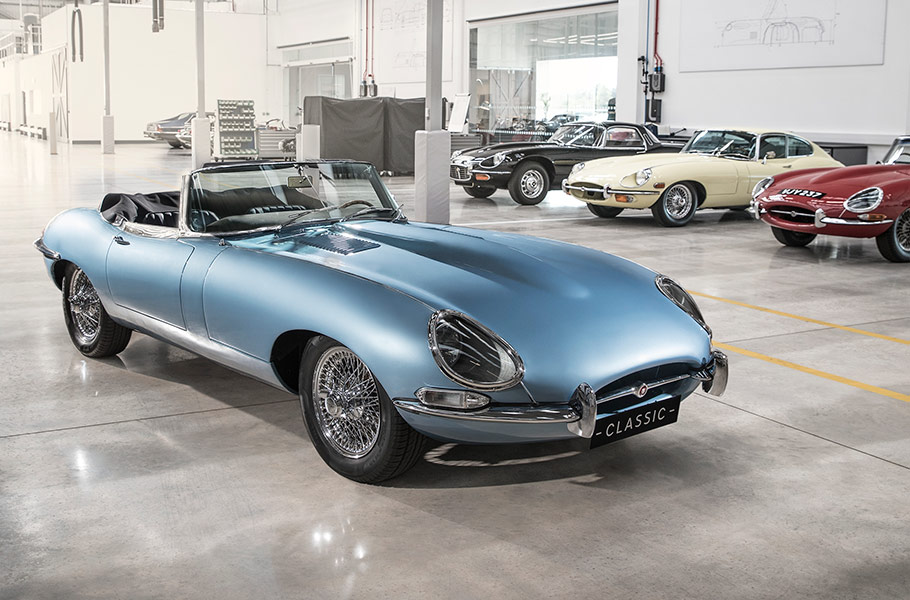 Last year, Jaguar began "future-proofing" classic car ownership. Company engineers at the Jaguar Land Rover Classic Works in Coventry collaborated with outside experts to build a one-off called the Jaguar E-type Concept Zero. In essence, this is the marriage of Jaguar I-PACE electric crossover technology to one of the most stunning sports cars in history—Jaguar's E-type.
Speaking of marriage, the E-type Zero was the star car at Great Britain's recent Royal Wedding. The freshly minted Duke and Duchess of Sussex drove the silver-blue Jaguar two miles from St. George's Chapel ceremonies to their evening reception at Frogmore House in Windsor.
Beyond its newsreel moment as a 21st century Royal carriage, the E-type Concept Zero's mission is to be the foundation for securing a place for Jaguars when gasoline and diesel fuels become obsolete. Mayors around the globe—in England, Spain, Scandinavia, China, and elsewhere—are already discouraging, and in some cases, banning, internal combustion vehicles from their congested inner zones. That's great for Tesla, but brands reluctant to see their hard-won heritage go the way of the buggy whip have something to seriously fret over.
The Concept Zero study made its debut last September at the Jaguar Land Rover Tech Fest, held at the Central Saint Martins University of the Arts in London. During the fastidious restoration of a 1968 Series 1.5 E-type using factory practices and tools, the original 4.2-liter XK inline-six engine and its four-speed manual transmission were removed and placed in storage. A box conspicuously labeled XK330-4, containing a 40-kWh lithium-ion battery pack, now resides prominently under this E-type's hood. A new 220-kW (295-hp) AC electric motor and gear reduction unit fits in place of the original manual transmission. The E-type's final-drive differential, suspension components, and disc brakes required no modification. The space originally devoted to the gasoline tank now houses various electronic control components, some of which came from the new I-PACE.
Jaguar Land Rover Classic's director Tim Hannig explains that the goal of this exercise was "combining the renowned E-type dynamic experience with enhanced performance through electrification." The slightly lighter and more powerful driveline maintains the car's front-rear weight distribution while trimming more than a second from its 0-60-mph acceleration. Top speed is limited to 100 mph. A full charge provides an estimated 170 miles of driving range; replenishing a depleted battery pack takes six to seven hours.
Inside, the classic E-type wood-rimmed, steel-spoke steering wheel lives on, but the instrument panel has been updated with a molded carbon-fiber assembly containing digital instruments and modern climate control and entertainment system components. Original headlamps have been replaced by more efficient LED light sources.
Hannig emphasizes that these modifications are fully reversible while pointing out that the electrified powertrain is suitable for all Jaguar XK120s, Mk2s, and XJ6s built from 1949–92 with XK six-cylinder engines.
British newspapers have speculated that the Concept Zero will be added to the Coventry factory currently devoted to restoring Land Rovers and Jaguars and building continuation models such as the Lightweight E-type and the Jaguar XKSS. A purchase price of £350,000 ($470,500) has even been attached to this electric E-type.
While the Classic department is hesitant to confirm plans to electrify any past Jaguar or Land Rover models, director Tim Hannig has officially acknowledged, "We're looking forward to the reaction of our clients as we investigate bringing the Concept Zero to market." Those with burning interest in joining the electrification movement should visit info@classic.jaguar.co.uk.