The Dealership That Time Forgot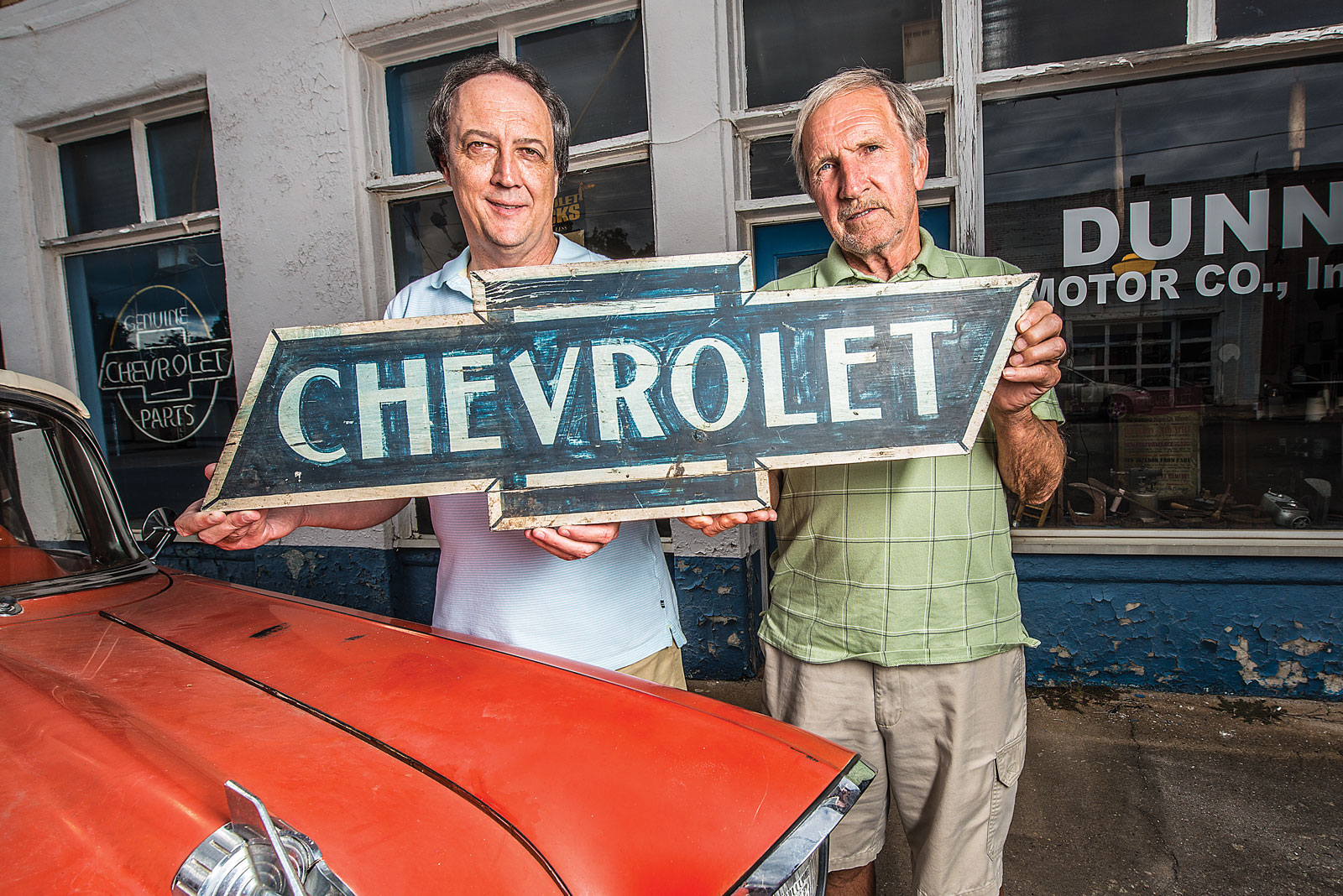 (This story originally appeared in the summer 2014 issue of Hagerty Classic Cars magazine.)
Roanoke, Alabama, is a small former mill town 60 miles southwest of Atlanta. Main Street has a scrubbed look, but many of the stores are empty. And although Roanoke once boasted four automobile dealerships, all that remains are an empty Ford store and the ghost of Dunn Chevrolet/Oldsmobile, with peeling paint and thousands of square feet packed with almost 70 years of memories.
In 2007, James Dunn closed the General Motors Dealership his father opened in 1940. Though he retained the sad-looking building that had been built as a livery stable in the 1920s and later served as a bus station, he sold the contents to Keith Rowell and his brother-in-law, O.W. Taylor.
(Have you heard the legend of the Portuguese barn find of hundreds of classic cars? Read more here.)
Rowell spent much of his youth in Roanoke, attended high school there and remembers accompanying his father to Dunn Chevrolet where the family bought their cars. He wanted to keep the dealership going, but by the time he stepped in, the franchise had been surrendered three months earlier and he was unable to re-establish it.
So why did the Pensacola, Florida, resident take on tons of old GM parts and hundreds of photos, manuals dating back to the 1920s and more in a dusty old building in the small town of Roanoke? Always a "GM man," and the proud owner of a 1970 SS 396 Chevelle, Rowell admits that "nostalgia was the main drive, and the memorabilia was important." Of course, he didn't object to many thousands of new old stock parts and the two never-titled cars included: a Matador Red, original-paint 1957 Bel Air convertible and a 79-mile 1978 Corvette Pace Car. He was also captivated by "the dealer albums, silk banners and the architecture of the building."
Looking in from the street, it's easy to spot the service bays and a front office, but there's no sign of a showroom. Rowell explains that due to the piles of manuals, boxes of unopened factory literature and all kinds of collectibles covering every surface and much of the floor of the former showroom, the new cars were kept outside. Some of the clutter is priceless, including a pristine 1954 Oldsmobile literature portfolio, a palette viewer showing Chevy color options, hundreds of framed photos and ads adorning the walls, old service uniforms, hats and promotional models.
The shop bays are also filled — with old holiday decorations, 40 years of service manuals and miscellaneous junk. There is even a crate full of old comment cards (go to www.hagerty.com/commentcards to see the best of the bunch). Several large boards hold many original service tools and the outlines of missing tools, but the real treasures lie in the parts department and basement.
(We love classic car stories. Share yours here.)
Despite having been closed for seven years, the parts department still looks as if the manager went home one night and was planning on coming back in the morning. Notes sit on the counter alongside several pens and a pair of reading glasses, and the shelves are still in good order.
Those shelves remain fully stocked with bins of hardware and countless factory boxes contain timing chains, connecting rods, sprockets and electronic components. There are also hundreds of NOS key blanks, for the perfect finish to a complete restoration. But to be sure exactly what remains will take a parts book and hundreds of hours.
Bigger parts are in the cellar, reached by a steep stairway lined with NOS oil dipsticks. This cave of wonders holds a new 283-cid V-8 in the crate, a never-used 216-cid engine block, several transmissions, scores of new mufflers, sheet metal parts from the 1940s and '50s, hoses, belts, wheels, hub caps of all kinds, soft and bright trim, water and fuel pumps, rusty springs and far more. Of course, there is also even more junk.
Rowell has plans to empty the old Dunn building before the end of 2014. His greatest hope is that he'll find someone who will keep much of the priceless memorabilia together. There are still no set plans for the many file cabinets filled with sales records, the trove of literature or the parts goldmine. For now, though, Rowell has a Herculean task ahead as he inventories and packs tons of parts and other treasures and prepares to find them new homes.
To see more Dunn Chevrolet photos, visit hagerty.com/forgottendealership.