The test mule that helped save the Chevy Corvette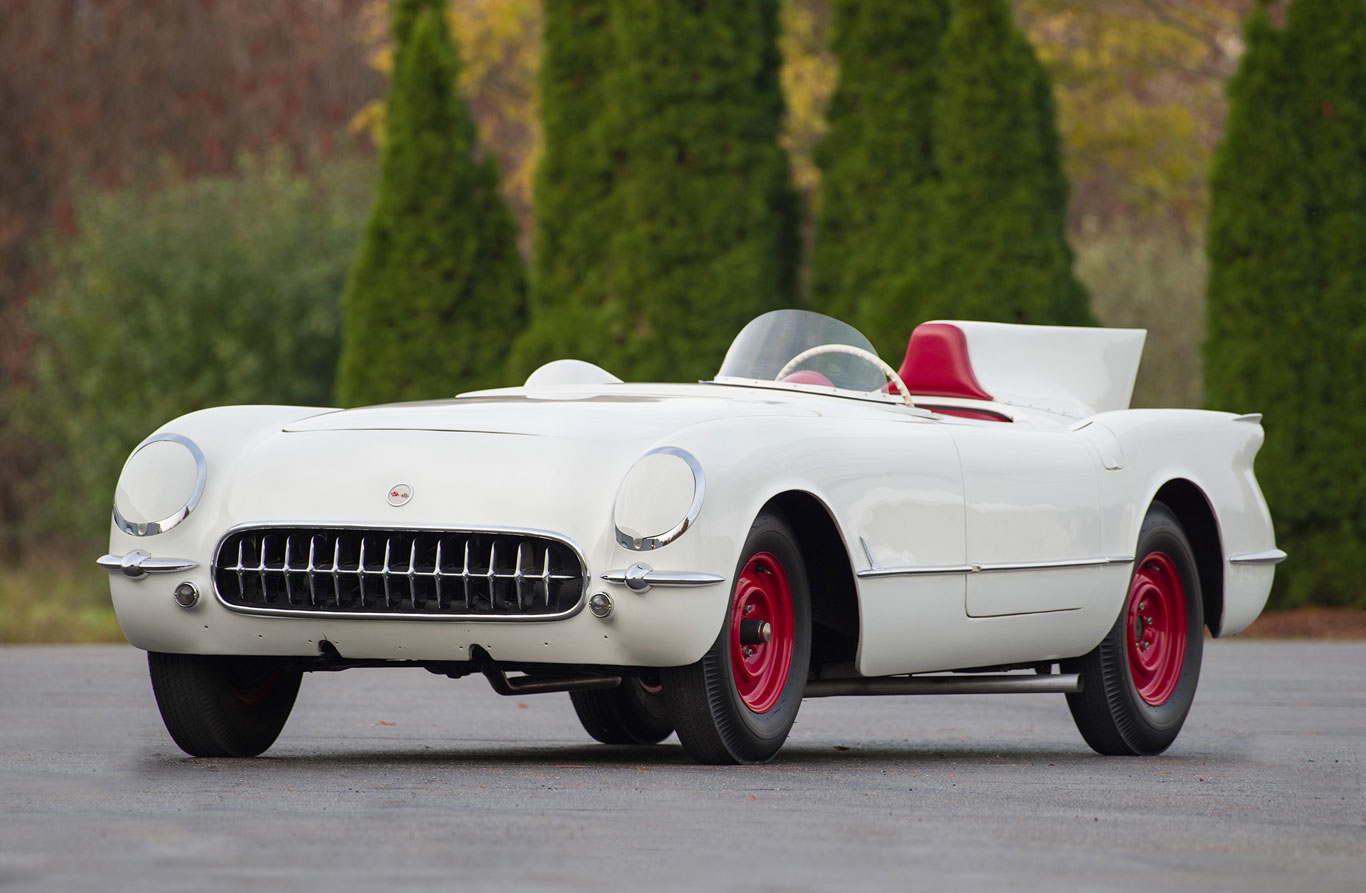 The Corvette started life with a serious – nearly terminal – disadvantage. Chevrolet's new-for-1953 sports car was tragically underpowered, hamstrung by the in-line six-cylinder under its hood, a warmed-over version of the engine used in Chevy sedans. The car's Powerglide automatic transmission didn't help performance, and sales were further hampered by quality problems and a slow production ramp-up.
Cancellation of the model was a distinct possibility, but a timely rescue arrived in the form of a compact, lightweight V-8. For 1955 models, General Motors management, urged on by Chevy engineers, agreed to put the company's new 265-cid Small Block V-8 in the Corvette. Before it could become a production model, though, there was much testing and validation to be done; prototypes, known in the industry as test mules, had to be assembled. Among them was Corvette No. 5951, designated EX-87, a car that would later become a test bed for Zora Arkus-Duntov, Chevrolet's legendary engineer and performance maven.
Incredibly, this Corvette still exists, and commensurate with its vital role in Corvette history, it occupies a place of honor in the collection of Ken Lingenfelter, owner of Lingenfelter Performance Engineering in Brighton, Mich. Over time, during which record-keeping was less than meticulous, many details of the car's service have been lost. Still, the overall picture is clear: It is historically significant.
Lingenfelter purchased the gently restored car in 2009. He has an affinity for General Motors cars and owns hundreds, including, at last count, 65 Corvettes, the model closest to his heart.
With the expert help of Christo Datini, lead archivist for the GM Media Archive, I was able to study documents relating to the car at the General Motors Heritage Center. Many were revealing. For example, correspondence of April 1954 notes that two '53 Corvette bodies were repurposed for V-8 testing. An Engineering Department Build Order of Aug. 1, 1954 requests the purchase of '54 Corvette frames and instructs technicians to modify them to meet '55 specs.
That build order answers a question raised over the years: When and why was the car's '54 frame replaced with a '55 frame? It appears that it wasn't replaced; it was altered before testing began. And since '53 and '55 bodies were identical, 5951 was effectively a '55 model when it went into testing; subsequent documents describe it as such.
After tests at GM's Michigan proving grounds, the car was released to Duntov for use as a mule for engine performance projects, including speed-record attempts. Based on various GM documents, Duntov took delivery of the car in October 1955.
While in initial testing, the car's appearance remained showroom stock. But after being assigned to Duntov it was fitted with a minuscule windshield, a cockpit tonneau cover over the passenger's seat and a tall fin meant to improve stability. A build order of Nov. 7, 1955 signed by Duntov requests reworking of the body, engine, transmission and rear axle. The reason: "To develop a Corvette racing car."
Several engines were tested in Corvette No. 5951. Correspondence dated Dec. 2, 1955, citing modifications to the car for performance testing, describes it as having the '56 Power Pack engine with dual carburetors and "ram's horn" exhaust manifolds, which stands to reason because that engine was arriving in dealerships at the time.
NASCAR racer and engine builder Smokey Yunick may have had a hand in preparing engines, including the V-8 now in the restored car – a 307-cid version of the original 265. It is a true 1955 engine, as it's fitted with early exhaust manifolds and does not have an oil filter.
Duntov, who was a competitive racer, drove the car. His record attempts are not well documented, but by all accounts 5951 was the first Corvette to exceed 150 mph, and its engine was reportedly used in another car to set official records on Daytona Beach (Fla.).
Following its useful life, 5951 was given to NASCAR for use in a promotion that fizzled. The car changed hands several times before being donated to the Bible Broadcasting Network. At some point the engine was removed, "record run" was scribbled on its bell housing, and it was stored in Yunick's shop, in Daytona Beach, where it remained until after he died, in 2001. Years later, collector Steve Tate reunited the car with the engine.