Corvette class is in session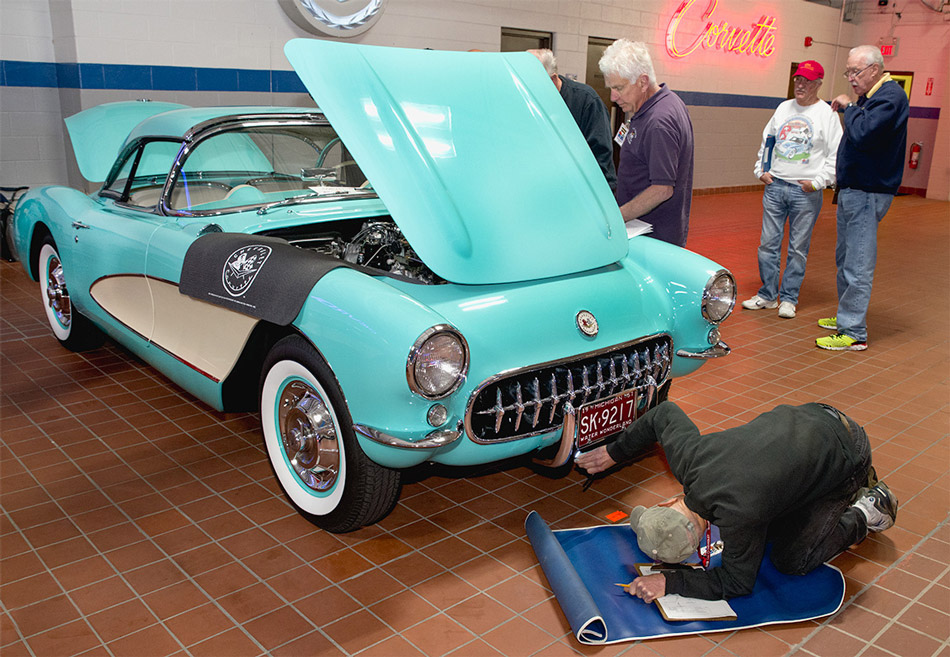 Imagine yourself owning a classic Corvette that you've taken years to painstakingly restore. Every nut and bolt is either original or an accurate reproduction, and you've rebuilt or replaced every mechanical component. The paint has been sprayed by experts and buffed to a factory-finish luster. Still, when National Corvette Restorers Society judge your car, the eagle-eyed scrutinizers point to a number of imperfections.
Would you be crushed? Not if you're a typical NCRS member. Instead, you'd be happy to discover those faults, because that knowledge will help improve the car. You take the NCRS judging session as a learning experience. Such was the case at an NCRS Michigan Chapter Annual Judging in Dearborn, Mich., where 46 judges devoted eight hours to an exhaustive examination of 12 cars.
Pat Fader, owner of a Cascade Green '57 Corvette, went home with a Top Flight Award. An NCRS member for 16 years, he spent the last 15 restoring his Corvette. And to make sure he got it right, he did it with the NCRS judging book in hand.
"I've judged NCRS events," Fader said. " I know what to look for and went through the judging routine in the garage before taking my car to the event. Yet the judges found things that I had missed. NCRS judging is always a learning experience."
Among things that cost Fader points were an incorrect gas cap, paint that was too shiny, a stainless steel exhaust system and radial tires.
"I knew I'd lose points for the radials and exhaust," Fader said. "But I drive the car and built it with roadworthiness in mind. I figured it would be solid enough in other areas to keep me in Top Flight range."
Asked about the paint ruling, the Master Judge who supervised the evaluation of first-generation Corvettes, Richard Dunham, said, "Our standard is that the car should be as it left the factory. No better, no worse."
The NCRS holds chapter, regional and national events. At each, cars are judged in five categories, including operation, interior, exterior, mechanical and chassis, with two judges assigned to each category. There is no competition among the entries; each car is judged only in respect to standards established over many years by NCRS. To guide the judges, the organization publishes a judging manual for each model year. A point total is assigned to each judged item, and points are deducted for faults. If a car earns 94 percent or more of possible points when judged, it will be awarded a Top Flight ribbon. If it doesn't make the grade, it may earn Second Flight or Third Flight.
John Hinckley, a retired Master Judge and Corvette Hall of Fame member, said that car owners often try to fool the judges by hiding a car's faults. He recalls seeing a cylinder block where the owner had ground off the casting number and created a new number with iron filings and epoxy. Having seen thousands of genuine casting numbers over the years, Hinckley readily spotted the fraud.
"I simply made a deduction as I would for an incorrect casting number," Hinckley said. "Outwitting the judges is part of the game, but we usually catch them."