Classic Car of the Month: A 1963 VW bus with a story you won't believe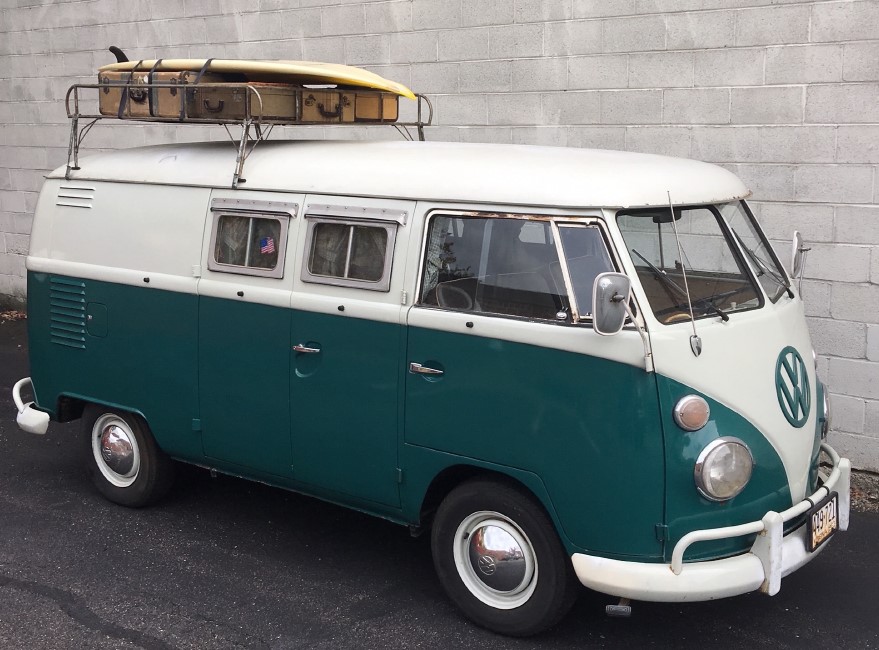 Carol Ann Rudat grew up in southern California during the height of surfing and hippies, so it's no wonder that she's had a lifelong passion for her generation's spirit vehicle: the simple air-cooled Volkswagen. Now living in New Hampshire, Rudat owns shepherds Beetles and recently made room in her life for a very special addition—a 1963 VW Bus/Vanagon with a bizarre history.
In 1964, the '63 camper was sued by the United States Government. No kidding. It was actually the target of a government lawsuit in "United States of America vs. ONE 1963 VOLKSWAGEN CAMPER." You can look it up. It seems the VW's original owner, Thomas Post, a descendant of the Post Cereal family of Washington, D.C., abandoned the vehicle, and the government sued to get the title. It sat in impound until 1972, when it sold at public auction for $175.
The new owners were going through the contents of the bus when they discovered an unused $4 concert ticket to see a certain British rock 'n' roll group make its first-ever public appearance in the United States. Yes, that British rock 'n' roll group. The Beatles performed at D.C.'s Washington Coliseum on February 11, 1964.
While the ticket itself is highly collectible (more about that later), the story behind it is priceless. With a little research, the new owners learned that a women had left a note on the windshield of the bus asking Thomas Post to contact her. She offered to pay him if he agreed to "ferry some people in the bus in a couple of days." The note continued, "I just need you to take my clients to a concert on Tuesday evening. Pick them up at the Shoreham Hotel and take them to the Washington Coliseum. It's your bus I'm interested in. I want to provide them with a spiffy ride to the concert."
Post agreed, and after he delivered the group to the Coliseum, the woman handed him a pair of tickets to the concert. Surprised but delighted, he used one ticket and left the other in the VW. And who were those mysterious clients? None other than John Lennon, Paul McCartney, George Harrison, and Ringo Starr.
A limousine at the hotel served as a decoy, and Thomas transported the Beatles to and from the Coliseum, delivering them to a different location after the concert so they could attend a reception.
Rudat's 1963 VW bus was owned by an elite American family, survived both legal action and imprisonment, carried iconic superstars to historic events, represents hippie/surfer pop culture, and is the subject of a book written by Robert Luther called Hippie Van. It is also a rare breed in the automotive world—a split-window, Twin Barn Door model—with documentation from the U.S. government, retained after its sale in 1972. It is complete with two surfboards, luggage on a period-correct roof rack, and a colorful tent made specifically for VW buses.
And whatever happened to that unused $4 concert ticket? It sold on eBay for $5,111. As the saying goes, you can't make this stuff up. Few people would believe it anyway.
***
Editor's note: Hagerty's Classic Car of the Month begins with a simple conversation. A current client calls Hagerty and shares their story with a licensed agent. Those stories are collected, and a committee chooses a weekly winner. The four weekly winners are shared with the entire company, and employees vote to determine a monthly winner. At the end of the year, there is another vote to determine Hagerty's Classic Car of the Year. Congratulations to Licensed Sales Agent Laurie Lawrence, who provided details about this month's winner.