Legend of the Car Craft Camaro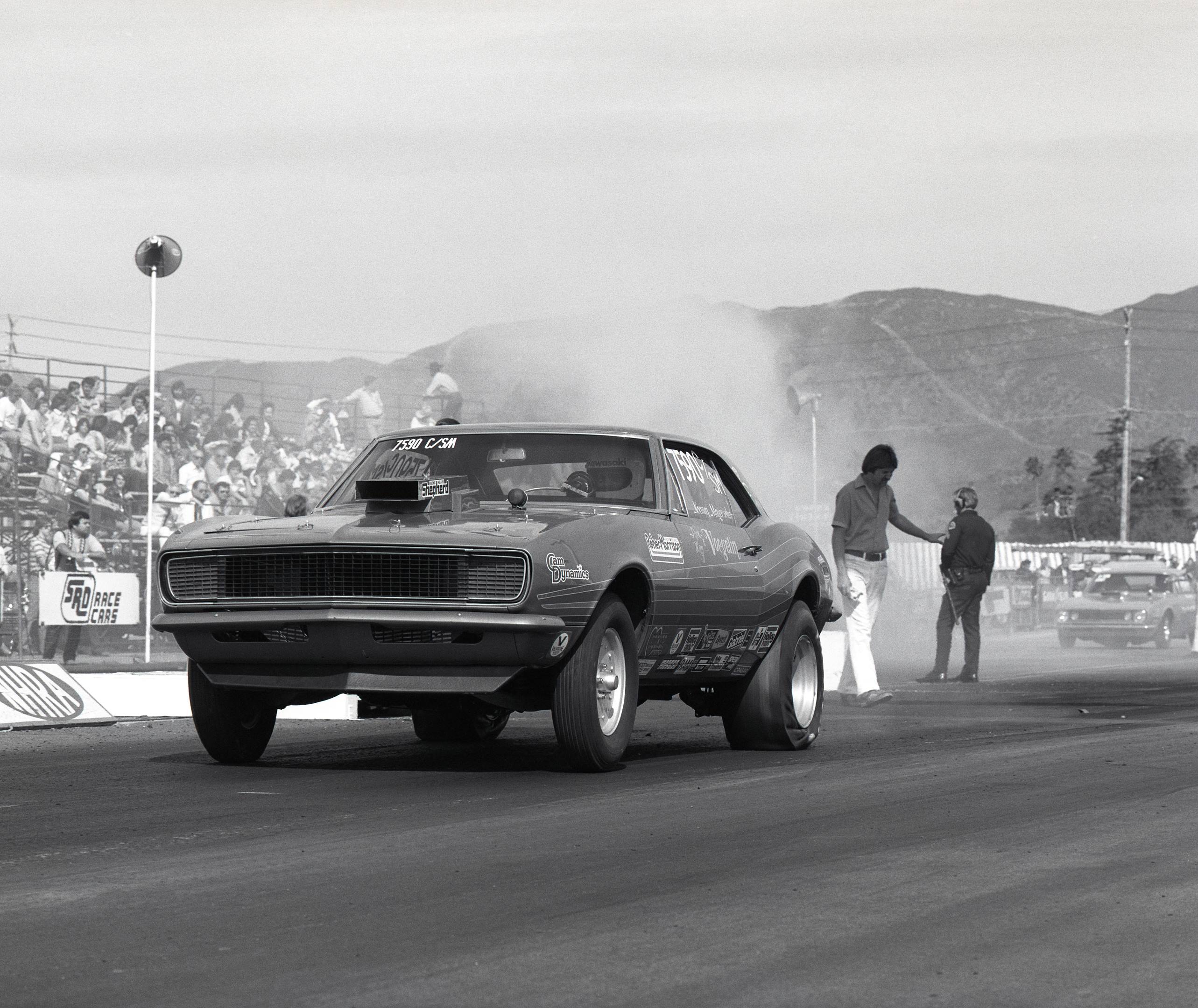 Cheap to buy, easy to work on and served by a universe of factory and aftermarket performance parts, used 1967–69 Camaros became, in the mid- and late-1970s, what the 1955–57 Chevy had been for hot rodders and racers in the '60s.
Repurposed Camaros packed drag-strip staging lanes across the country. One of the most influential was built as much to make a point as to win races.
By 1974, drag racing was getting increasingly expensive for sportsman racers, especially as Pro Stock was taking off. Car Craft magazine Editor John Dianna and staffer Rick Voegelin, while hauling Dianna's Plymouth Duster race car from Bowling Green, Kentucky, to Detroit, hatched an idea to "save door-slammer racing," as Voegelin recalls today.
"Our plan was to start an affordable heads-up class that would be kind of inspired by Pro Stock but slot in around Modified eliminator," he says.
A feature in the magazine's July 1974 issue titled, "Cutting the High Cost of Racing," proposed a new "Pro Modified" eliminator for the National Hot Rod Association. The scheme had a precedent; the NHRA's Econo Dragster category had sprung from a Car Craft article in 1970.
The new concept prescribed vehicle weight of 10 pounds per cubic inch of engine displacement, unported cylinder heads, a single four-barrel carburetor, and a 10.5-inch rear tire limit. Racers would have wide latitude over other engine and chassis specs.
Employing an early form of social media, Car Craft readers could express interest in the idea by mailing in a form from the magazine. Voegelin took binders filled with responses to NHRA headquarters to lobby for "Pro Modified." Making several tweaks, the NHRA created "Super Modified" as a class in Modified eliminator, rather than as its own eliminator.
With the new A/SM class set to debut for the Winternationals at California's Pomona Raceway in January 1975, Voegelin his put money—but not much of it—where his editorial mouth was. He bought a beat-up 1967 Camaro Rally Sport, an original 327-cu.-in. four-speed model and former drag car minus engine and transmission, for a measly $300 and then built the car in the month before the race. In time for the debut, Car Craft's February issue chronicled the "30-Day Wonder Instant Race Car."
"We built the Camaro as a demonstrator for how to build one of these cars," Voegelin says. "The reality was, I wanted to go racing and get the magazine to pay me to do it."
Car Craft staffer Norman Mayersohn, who had a permanent NHRA number and experience driving an 11-second Super Stock 1965 Chevelle sedan he'd built, became the Camaro's driver. Voegelin's then-wife, Kay, a schoolteacher, was crew chief. Among other duties, she repaired transmissions and went to the starting line to guide the car into the burnout box. While the publisher nixed official magazine sponsorship, the car became widely known as "the Car Craft Camaro" thanks to the magazine's coverage.
The build was simple, with minor fabrication to the car done at Ron Butler's shop. Butler was a veteran of Carroll Shelby's operation who was building Pro Stock racers, including Butch Leal's California Flash. The Camaro had a six-point roll bar welded in, and the rear springs were moved to accommodate a narrowed Dana 60 rear axle acquired through Dianna's Chrysler connection. There was no fancy four-link rear suspension, just a set of bolt-on Lakewood "slapper bars" and Moroso subframe connectors.
The motor used a Chevy 307-cu.-in. block with a steel 327 crank, a set of "double hump" iron cylinder heads, mechanical roller cam, Edelbrock Tarantula manifold, and Holley 750-cfm carburetor. Tricks like offset boring, along with pistons modified by Pro Stock builders David Reher and Buddy Morrison, reduced friction and allowed the engine to rev to 8,500 rpm.
Completed the afternoon before the Winternationals, the Camaro was trailered to Orange County International Raceway for time trials. Mayersohn recalls that the sun had set, and the car's dash lights were inoperable. Unable to see the Moroso tachometer's face, he guessed shift points and ran times of 10.70 and 10.80 seconds.
The next morning, a Thursday, the crew hauled the Camaro to Pomona for tech inspection. There were four or five other A/SM cars, Voegelin remembers. The Camaro won its class that weekend, but not without incident. On its third run, the car turned violently sideways as Mayersohn shifted into high gear; the cause was a loose wheel adapter used to get the correct offset with the narrowed axle.
"It was an exciting start, a real trial by fire for all of us," Mayersohn says.
The Super Modified class's popularity grew rapidly. In that September's U.S. Nationals at Indianapolis Raceway Park (Lucas Oil Raceway today), the Car Craft Camaro, which had set a class record of 10.49 at 128.03 mph in June, was one of 32 A/SM cars.
For 1976, the NHRA offered three Super Modified classes—A, B and C with 8.5-, 9.5-, and 10.5-pounds-per-cu.-in. weight breaks, respectively (with driver). Now using a 292-cu.-in.engine, built with a $25 junkyard Chevy II 283 block and a $15 junkyard crank, the Car Craft Camaro ran in C/SM. Mayersohn shifted at 8,000 rpm, although the engine would hit 10,000 rpm at launch.
"We wanted to run the smallest motor we could, because that made the cylinder heads relatively larger," Voegelin explains.
That year, the car debuted a $75 Marina Blue paint job done by a friend of Voegelin's. A custom striped paint scheme and lettering appeared for 1978, but the car got another cheapo blue repaint in 1979 following an engine fire. Mayersohn had just completed a winning round at Orange County when a fuel line came loose; his beard was singed as he escaped the car.
"Rick put it back together and we made the next race," Mayersohn says.
The Car Craft Camaro raced at West Coast, Arizona and Utah tracks, remaining true to the low-budget ethos, even as some racers poured money into their Super Modified cars.
"I don't think we had $10,000 in the whole thing, including an old Chevy C-30 ramp truck I bought for $2,500," Voegelin says.
In 1979, the Camaro raced in A/SM with a 394-cu.-in. big block Voegelin built using a 454 block and an "unobtanium" Can Am short-stroke crank. A 10.04-second run at 134.94 mph at California's Fremont Dragstrip gave the car a national record, one of 16 over its seven-year career. Mayersohn drove the Camaro to NHRA Division 7 Modified championships in 1976 and '78 and class wins at the Winternationals five years in a row. The car made the final round in two NHRA national events.
At the end of the 1981 season, the NHRA ended Modified eliminator, pushing its classes, including Super Modified, into other categories. In what Voegelin called a "final fit of idiocy," they ran the Camaro with a Chevy 90-degree V-6 in K/Gas, a Volkswagen stronghold. After its final race, the Camaro was parked in Voegelin's barn, flecks of rubber from the event's burnouts still splattered on the rear fenders. He still has the Camaro and a pair of its race engines.
Voegelin went on to run his own public relations business, doing work for the Oldsmobile, Corvette, and GM Indy Car racing programs. Mayersohn continues to write for various magazines and The New York Times.