American Pickers pops into the world of bubble-top cars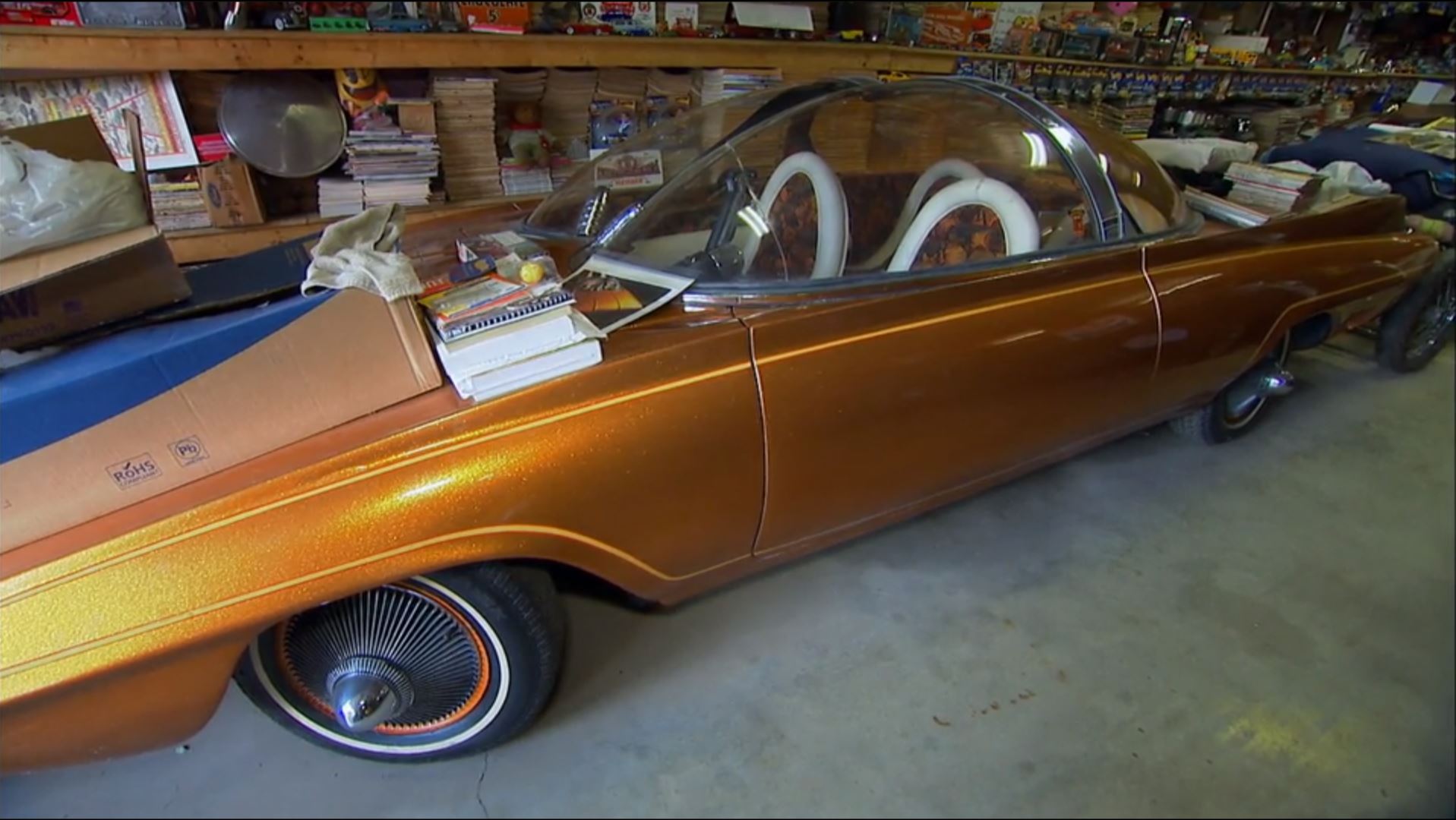 You just can't burst Rick Klibenski's bubble. Not that any warm-blooded American car enthusiast would try. Certainly not American Pickers co-stars Mike Wolfe and Frank Fritz.
Klibenski, who lives near Ann Arbor, Michigan, was recently featured on the History Channel's popular television show, which follows a pair of Iowa antique collectors as they travel the country looking for rusty (and non-rusty) gold. The 71-year-old Klibenski, who has been working on cars for 55 years, was identified only by his first name on American Pickers but was featured in the Jackson News prior to the show.
Recently retired, Klibenski is finally getting around to working on his own projects while maintaining a growing car collection that includes one-of-a-kind customs from the 1960s. That's where Wolfe and Fritz come in—enthusiastically so.
The Pickers' February 5th episode, titled "Double Bubble Trouble," begins with a call from Antique Archeology co-worker Danielle Colby, who points Mike and Frank in Klibenski's direction and suggests that he may be interested in lightening his project load. When the two arrive, a black Camaro Z/28 momentarily catches their attention before Klibenski begins to share his story—and soon—his collection.
"When I was a kid, I wanted to either be a rock 'n' roll singer, or I wanted to be like (custom car builder) George Barris," he says. "So I got into cars and I was doing body work in high school. The next thing I knew I was the body shop manager at a GM dealership. Then one day I decided, 'I'm going out on my own.'"
Judging from the quality of Klibenski's work, the decision was a good one. The Pickers admire an exquisitely restored 1910 Model T, home from a recent stint at a museum, as well as a 1931 Chrysler Model H. "Rich," Wolfe says, "is the real deal."
They ain't seen nothing yet. Klibenski turns up the wow factor a couple of notches. "I'm going to show you guys some stuff you're never seen before," he says, baiting the hook.
The guys are all in. "Rich opens the garage and it's a completely different world," Mike says. "The bubble-top cars have landed!"
Bubble-top cars were all the rage in the 1950s and '60s as designers and customizers—influenced by the space race—went for a futuristic look. They drew plenty of attention at national car shows, but once the excitement wore off, some could be purchased for bargain prices. Take, for instance, the Forcasta, which was created by the legendary Darryl Starbird in 1961. Based on a 1960 Corvair, the Forcasta was equipped with bubble top, television, and center tiller steering, and its streamlined steel body was crafted to give the car a bullet-like appearance. It was featured on the cover of Car Craft magazine.
"The Forcasta golden bubble car? It's like War of the Worlds meets The Jetsons," Mike exclaims, with childlike exuberance. "[Bubble cars] were cutting edge, made by the dreamers, the enthusiasts, the artists…"
The Forcasta now resides with Klibenski, who explains that he was at the Detroit Autorama Show some 50 years ago when he first saw the car for sale. "The guy put a number on it and I thought he was real low, and I bought it right there. Didn't even quibble. You gotta remember, this was a time when this stuff wasn't worth anything and nobody wanted it. And that's when I bought it. All my friends were laughing at me, (but) I think I did OK."
Klibenski estimates the Forcasta is worth about $350,000. He receives no argument from Mike and Frank. The star-struck (Starbird-struck?) pair moves on. They admire another bubble car and other custom creations before Mike discovers a front clip (the attached plate reads Nose #4) that Ed "Big Daddy" Roth once marketed to custom builders who wanted to turn their car into his famous "Outlaw" hot rod. Nope, it isn't for sale. Smaller fish will have to do.
Wolfe scores a non-working Collision Center neon sign for $280, is thrilled to shell out $175 for a vintage "Cars of Distinction / Jackson, Michigan" jacket and "Da-Mar Auto Supply / Rock Island, Illinois" t-shirt, and buys a Pontiac Bonneville remote control car (with a wheel missing) for $75. Frank joins the fun by purchasing a tin 1940s Cadillac toy car, also missing a wheel and a door, for $170.
Mike's final purchase is his largest of the pick, a 1936 Packard pedal car/carnival ride for $500. But he can't stop thinking about Klibenski and his bubble cars.
"Frank and I have come across a lot of cars, but not cars like we saw today," he says. "Rich saw the importance—the significance—of these bubble-top cars. He was a visionary, and he saw all of that before anyone else did."
The rest of the show features another pick focusing mostly on architectural salvage, before it ends with a bang. The guys drive west toward the Grand Rapids area to pick up a now-running 1953 Nash-Healey that they found in North Carolina two years before—a dilapidated shell with a Cadillac engine they cut from heavy brush and pulled from the mud during a rainstorm. Thrilled with the work of Crafty B Nostalgic Speed in Caledonia, Michigan, they can't wait to take the old roadster for a spin, forgetting—if only for a few moments—the bubble cars back at Nick's.