An Alaskan grizzly bear treated this 289 Shelby Cobra like a tuna can
When Tom Cotter walked outside into the crisp Alaska on Wednesday morning, he stopped dead in his tracks. His 1965 289 Shelby Cobra was right where he parked it the night before, except for one teensy development—the convertible top had a gaping hole it. In fact, it looked like it had been violently ripped apart by a grizzly bear.
On any other day, in any other situation, a grizzly bear slashing through a Cobra top like it was a stubborn tube of Pringles would be the punchline to a cruel joke. Not this day.
Cotter, who is the host of our Barn Find Hunter video series, is currently touring Alaska with three other Cobra owners and their guests. On the 11th day of the wild trip, Tom and the gang hopped on a ferry boat to the fishing town of Whittier. They later learned that the only way out of town is to drive through an active railroad tunnel.
"The workers halted train traffic to let us through, but when they saw we were all driving convertibles they insisted we put up our tops," Cotter says. (Apparently rocks sometimes fall from the tunnel ceiling, because of course they do.) "We usually just put on our tonneau covers, because no matter the weather, the tops are sort of frowned upon."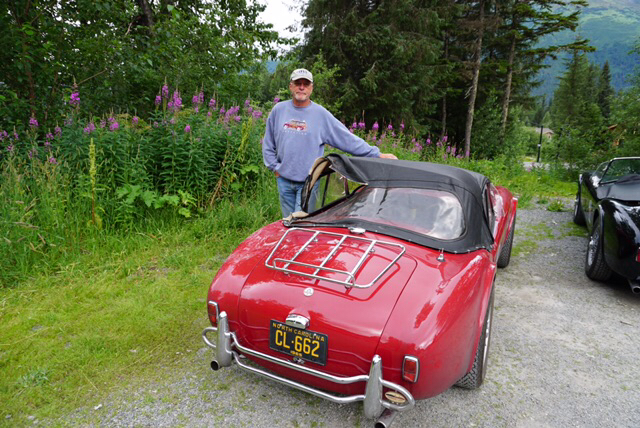 With the exception of one driver who instead borrowed a hard hat, up went the tops. "I haven't even put mine on in several years—lot of stiff vinyl and difficult to assemble and install." The gaggle of Cobras nevertheless made it through to their destination in Girdwood, Alaska, stopping for the night so their owners could have dinner and catch some shut-eye.
When Cotter awoke the next morning, one of the other drivers soon called, telling him to get outside to the parking lot immediately. Lo and behold, there was the mangled remains of the top, along with some muddy paw prints and a few small dents in the rear fender.
The police later arrived, and upon inspecting the prints and finding some scruffy brown hairs, determined it was indeed a bear's handiwork. But before you jump to the conclusion that the grizzly was just more of a Porsche fan, it turned out that all the cuddly guy wanted was a small pack of Fig Newtons that were unknowingly left behind the seats. "Or maybe he wanted a closer look at Carroll's signature," says Cotter.
Through it all, he remained calm and mostly just bemused. "The car's top had survived 53 years unscathed, but couldn't make it 11 days in Alaska," Cotter says. "I've got bigger problems, anyway. My clutch hydraulics went out, so I've convinced a guy to let me borrow his airplane hangar for a bit to fix things. I've got work to do."