1964 Chevrolet Impala SS coupe from "Up in Smoke" is sooooo dope
Early in the classic comedy Up in Smoke, Cheech Marin boasts to Tommy Chong, "I've been smokin' since I was born. I can smoke anything." And he wasn't talking about the tires on his 1964 Chevrolet Impala SS coupe.
The over-the-top Stoner movie—Stoner not only describes the film's stars but is actually the last name of Chong's character—vaulted Cheech and Chong to comedy superstardom, even if it didn't make them rich. (Rolling Stone says they had a falling out with director Lou Adler over the way the money was split. The film cost less than $1 million to make and hauled in $44 million at the box office. That's a lot of hash—er, cash.)
Playing off Cheech and Chong's affection for ganja and brilliantly capturing the spirit of the duo's much-loved "Dave's Not Here" skit, Up in Smoke was released 40 years ago on September 15, 1978. Marin plays pot-smoking musician Pedro De Pacas, who is putting a group together to compete in a battle of the bands, and he picks up Chong's hitchhiking and perpetually high Anthony "Man" Stoner, who has just been kicked out of his parents' house. The word "man," by the way, is uttered 295 times in the film.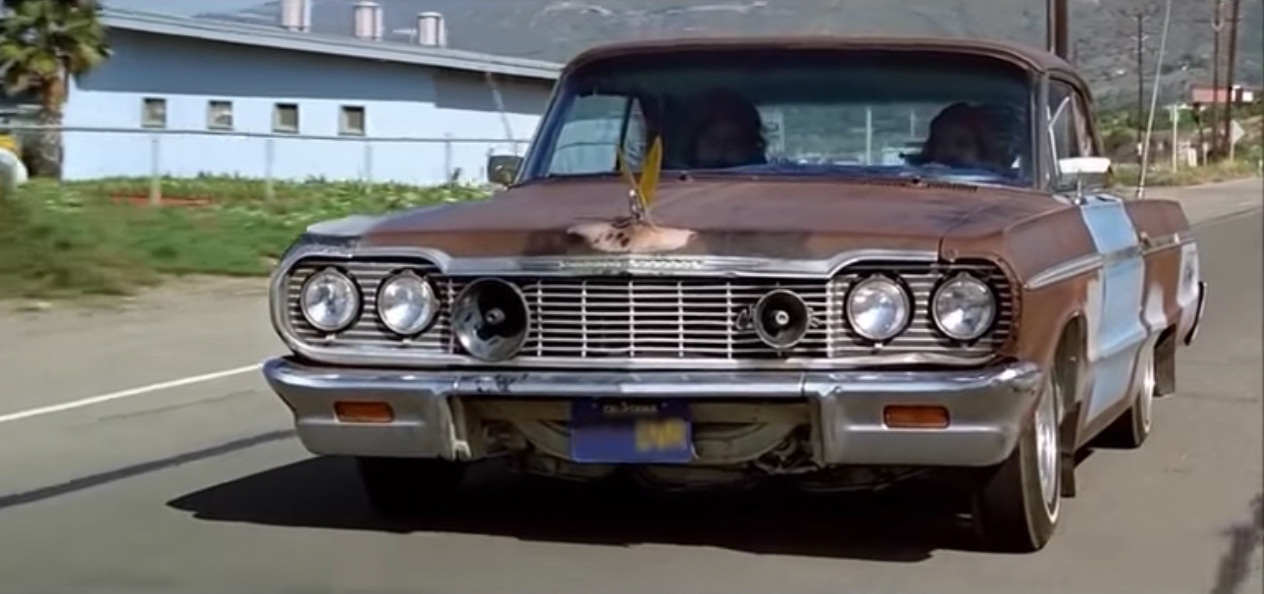 New besties Pedro and Man cruise Los Angeles in Pedro's Impala lowrider, which appears on screen so much that it can be considered one of the film's stars. The once-blue Chevy features a blue carpeted dash and chain-link steering wheel, and its exterior is a delightfully dilapidated mix of patina (a lot of patina) with a light blue driver's door that clearly replaced the original. Pedro's "Love Machine" also carries a personalized California license plate that's a little on the obscene side (you'll have to check it out for yourself).
When Man pulls out the biggest joint that Pedro has ever seen, the hijinks begin. And so does the trouble. When the smoke clears, the two find themselves stopped on the median, the grille of the Impala pressed against a street sign. They are promptly questioned by the LAPD and arrested, but not before eating as much of their contraband as possible.
After being released from jail on a technicality, the two eventually head south to Tijuana to pick up a "Sweet & Low Upholstery" van built mostly of pot. Attempting to drive the van (a 1961 Chevrolet Step-Van 7 P-10, according to imcdb.org) back into the U.S., they are stopped at the border and dispose of a lit joint by tossing it into the open window of a Buick Sportwagon filled with Catholic nuns. The nuns are detained, which gives Pedro and Man the opportunity to elude a narcotics unit led by Sgt. Stedenko (Stacy Keach), driving a yellow 1973 AMC Matador.
A dejected Stedenko reports the team's status: "Attention all units, this is Sgt. Stedenko. We are changing from a code 3, direct pursuit, to a code 347, completely lost due to incompetence."
In case you haven't seen the movie, yes, Pedro and Man make it to the band competition. And yes, they bring down the house.
"It was a day in the life of Cheech and Chong, or Pedro and Man, which was much more interesting than a plot," Marin told Rolling Stone earlier this year. "It's 'two guys meet, they decide to form a band together, but first they need a joint.' Therein lies your plot."
By the way, Cheech and Chong say they were mostly sober while shooting the movie. Chong told Rolling Stone that he rolled tobacco that contained "mostly herbs" from India, and "we got high [socially] but we couldn't do it with dope. We couldn't do those big joints." Marin adds, "We maybe smoked after shooting, but not when we're working. We had to sustain a level of energy, especially making movies. We had long days on set. If we got stoned, we wouldn't get it done."
The whereabouts of Up in Smoke's 1964 Impala SS is unknown, but a well-done replica exists. Steve Kimmel was working as a production designer for a documentary about Cheech and Chong when, according to classiccars.com, he began to wonder what happened to the original car. Kimmel never found the answers he was looking for, so he decided to build a "Love Machine" for himself. He says it took about six months to recreate the car.
Forty years after the movie was released, however, nothing comes close to recreating the perfectly timed, often-adlibbed comedy genius of Up in Smoke. It's 1970s Southern California counterculture at its finest.
And that includes the lowrider.