Auction Preview: Leake's 2015 Dallas Sale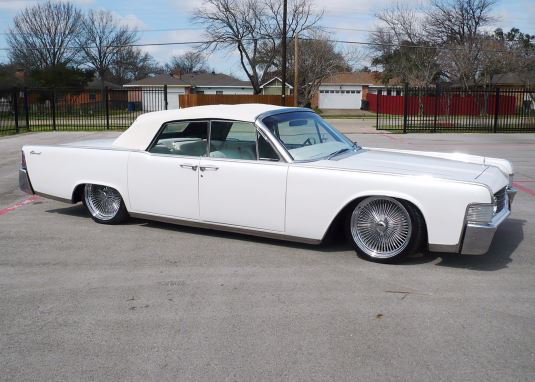 Leake's annual sale in Dallas, scheduled for April 17-19, offers an appealing array of pony cars, '50s luxury, American muscle and restored trucks with the occasional sports or exotic thrown in to the mix. While the sale features 450 cars, trucks and motorcycles, here are five that caught our eye.
1965 Lincoln Continental Convertible
Hagerty Price Guide: $20,800 – $68,300
The fourth-generation Lincoln Continental was designed to help make a new, distinctive and profitable Lincoln brand after Ford in general was in trouble during the late 1950s. These cars – with their simple but well-proportioned styling, unmistakable suicide rear doors and huge 430/320hp engines – certainly succeeded. The Lincoln Continental is one of the great American luxury cars, but Continentals of this vintage aren't worth a staggering amount of money, and Leake's all-white example looks tempting.
1932 Chevrolet 1-Ton Flatbed Pickup
Hagerty Price Guide: N/A
There are a few neat trucks to choose from at Leake Dallas this year, and the 1932 Chevy 1-ton flatbed is definitely one of the neatest. It's restored and updated with 12-volt electrics, and although it's hard to say what if anything you would actually do with a truck like this, it would make a pretty great promo vehicle for a local business.
1970 Chevrolet Chevelle SS 454 LS6
Hagerty Price Guide: $60,600 – $158,000
Optional for 1970 only, the LS6 454 SS was the king of the Chevelles with 450 horsepower and 500 lb-ft of torque. These cars certainly fell victim to the big dip in muscle car values after the recession, but good ones have seen a steady rise and Leake's Cranberry Red example looks to be one of the better ones out there. A body-off restored car, it has the F41 performance suspension, 4.10 gears and the optional bucket seats with center console. This is exactly the kind of top shelf muscle car that the Leake bidders are coming to see and buy, so don't expect a bargain here.
1972 Rolls-Royce Corniche I Drop Head Coupe
Hagerty Price Guide: $20,000 – $49,500
Corniche I values have been fairly flat over the last few years, and they remain a reasonably affordable way to get into Rolls-Royce ownership without paying the premium for some of the grander old cars or the high maintenance costs of some of the more complicated newer cars. Leake's pretty blue-over-white Corniche is a well-equipped convertible that's reportedly been maintained appropriately. The car has a reserve on it, but at a muscle car-heavy sale, vehicles like this sometimes slip under the radar and go for surprisingly low prices.
1970 Ford Mustang R-Code 428 Cobra Jet
Hagerty Price Guide: $42,800 – $102,000
One of the more collectible Mustangs in the sale is this 1970 R-Code car, fitted with a 428-cid, 335-hp Cobra Jet and four-speed transmission. It's a recent restoration and is represented as one of just four R-Code cars finished in black, according to its Marti Report. While 1970 R-Code cars aren't necessarily the most desirable Cobra Jet Mustangs of them all, they are still way ahead of many of their small-block equivalents.