One man's passion for the Yenko Stinger has lasted 50 years… and counting
For many years, if you called WD Auto Service in Canonsburg, Pennsylvania, you were likely in need of repair for your Saab. Most of the calls Dernoshek answers on the shop's landline are from robot telemarketers. But WD is still open after 27 years, even if business has been on a decline since Saab ceased operations in 2012.
These days Dernoshek might have a little time to chat if you were to bend an ear in his direction, as he recounts stories of wheel-to-wheel racing and the behind-the-scenes workings of the infamous Yenko racing operation. And his tie to the Yenko Stinger goes deeper than most.
Dernoshek keeps busy, actively working on a Yenko Stinger YS-057 project that he and his son campaign in vintage racing events. He is a lifelong car guy, growing up just half a mile from the Chevrolet dealership run by Don Yenko. He is a muscle car fan first and foremost, being just eight years old when the dealership opened its doors in 1949.
"I pretty much started out a car guy from day one," Dernoshek said. Let loose with a driver's license on his 16th birthday, he took to the streets and dragstrips of the area. "That was one of the most monumental days to that point in my life."
Sports cars were not on his radar until a friend got him a job working for Don Yenko, right as the Sports Car Club of America gave the Corvair Stinger the green light in November of 1965. Yenko's operation was then in a rush to get 100 Stingers built by January 1, 1966, to qualify for D Production racing. Yenko was going to have to hustle to meet the deadline and Dernoshek was one of the mechanics up to the task.
To complicate matters, there were four versions of the Stinger. The base Stage I cars included mainly stickers and cosmetic items, with an accessory gauge cluster and light engine work, but as the stages increased, more racing horsepower tricks were in play. If the customer ordered a Stage IV car, the car benefited from higher compression, port and polish work on cylinder heads, forged pistons, lightened flywheel, and high-performance distributor. Output was 240 horsepower, compared to 140 hp in regular Corvair, and the Stage IV was meant for track use only.
"I was helping with customer race cars as well as building the Stingers, and it was a mad rush," Dernoshek remembers. "There was a lot of confusion on what cars got what, even though there were only four of us."
Even though the Stingers were sold as race cars, according to Dernoshek, very few went out the door turn-key. Tuning to the driver's preferences and track conditions were required after delivery, which Dernoshek helped with during his time with Yenko. Even after the frenzy to produce the 100 Stingers, such customer support work kept the crew busy.
Now, more than 50 years on, Stingers keep popping up in Dernoshek's life. Thanks to his years of experience, he was contacted to prepare a Stinger for a client who campaigned the car with the Sportscar Vintage Racing Association. Just as he was growing tired of spending all his time preparing a car for someone else, something struck a little closer to home.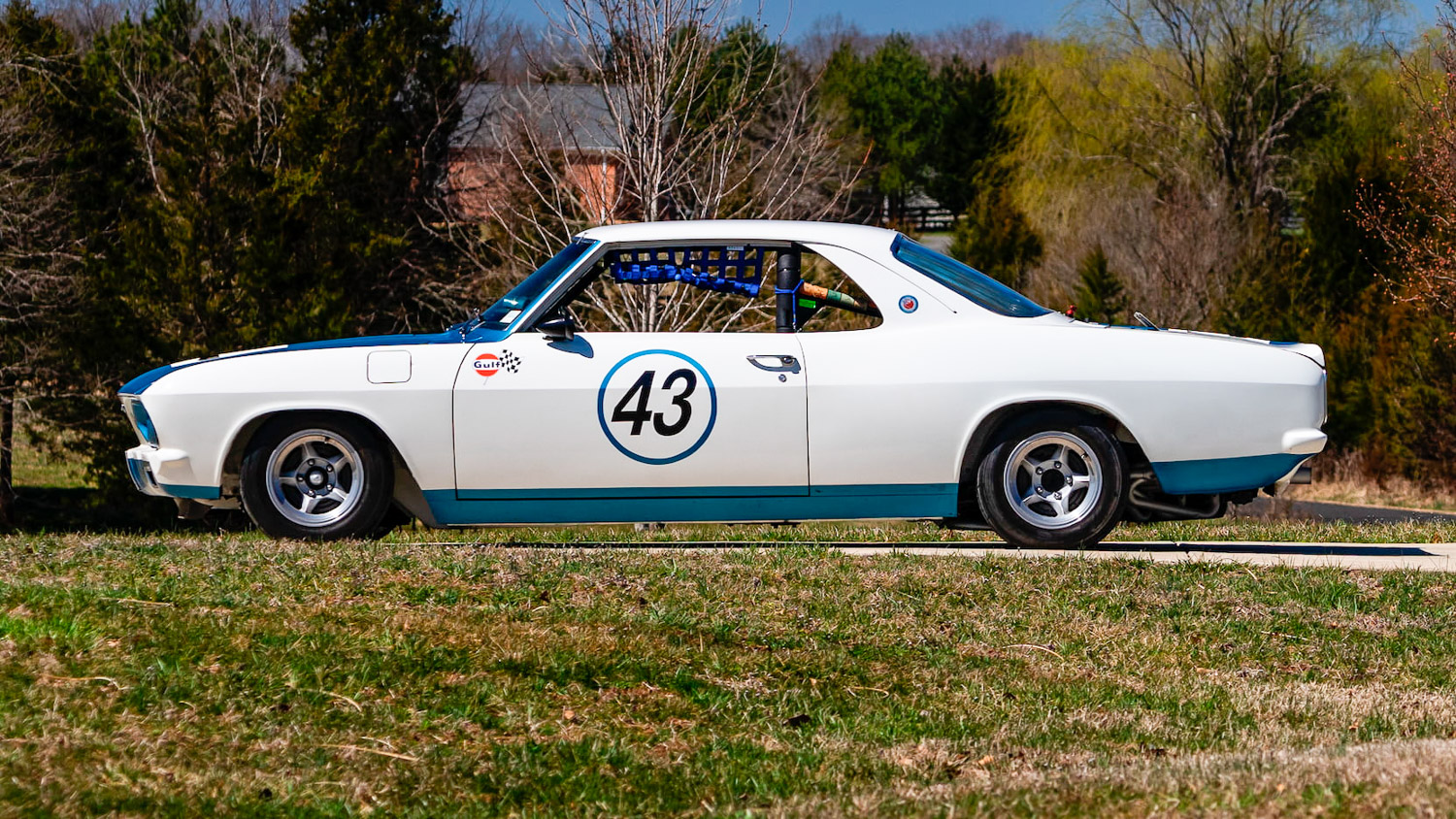 "A regular customer dropped his wife's Saab for some work, and I don't know how we got on the topic, but he mentioned he had an old Corvair that had rusted away but he had kept a bunch of stuff of it," Dernoshek said. "Turns out it was YS-057, and he gave me everything he had from the car."
The body was long ago scrapped due to rust and rot, so he rebodied YS-057 using another 1965 Corvair. Then Dernoshek went about creating a correct D-Production race car out of it. For a driver, he looked no further than his own son Logan, who grew up in the '80s and early '90s through the karting ranks and then spent years carving out laps on dirt oval tracks between Pennsylvania and North Carolina.
Now the father-and-son team run their re-bodied Stinger in SVRA events, where YS-057 regularly runs at the front of the race. Their favorite event is the Pittsburgh Grand Prix, right in their backyard near Canonsburg. Dernoshek also still prepares and consults Stingers for customers. In fact, YS-043 will be at the Mecum Indianapolis sale and features an engine recently built by Dernoshek. Or should we say rebuilt—he put it together in the first place, after all.