We'll remember designer Karl Lagerfeld for his custom 2000 BMW L7 limo
The New York Times calls Karl Lagerfeld "the most prolific designer of the 20th and 21st centuries and a man whose career formed the prototype of the modern luxury fashion industry." That legacy extends to the automotive sphere, as well. Particularly, we'll remember him for his one-of-a-kind BMW L7 limo.
Lagerfeld, who died earlier today in Paris at the age of 85, was a tireless worker whose forward-thinking fashion sense had wide appeal. He was creative director of Chanel since 1983 and Fendi since 1965, and he also founded his own fashion line.
How big of deal was he? A $200 Lagerfeld-inspired Barbie doll—wearing his signature powder-white ponytail, dark glasses, and black jeans, jacket, tie, and fingerless gloves—sold out in less than an hour in 2014. The dolls are currently selling on eBay for $2000 or more.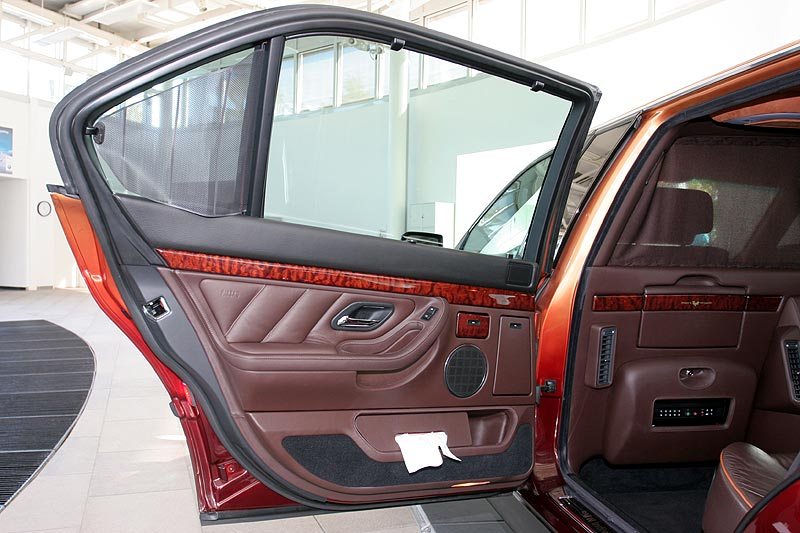 In 1992 Lagerfeld commissioned an E32-generation 7 Series, which would effectively launch BMW's customization program, called BMW Individual. In 2000, Lagerfeld put his most memorable stamp on the automotive industry by adding special touches to an E38-generation BMW L7 limo, one of only 899 examples built from 1997–2001.
The L7 limos were stretched at the B pillar to reach a total length of 131 inches—10 inches longer than the standard 750iL. BMW used the 750iL's 322-horse 5.4-liter V-12, and although the limo weighed nearly 4900 pounds, the engine was more than up to the task. Despite the added bulk, acceleration from 0–62 mph took 7.0 seconds, only 0.4 slower than the 750iL.
Lagerfeld's L7 was painted Chestnut Brown Metallic over Gold Orange Metallic, and the interior featured cushy chocolate-brown leather seats with orange accents and wood trim, folding tray tables, tissue dispensers in the doors, an entertainment system, and a safe for those extra-valuable valuables. "Designed by Karl Lagerfield" is emblazoned in gold on the woodgrain tray door.
Just as Lagerfeld's limo was no ordinary BMW, he was no ordinary person. He once said, "I'm very much down to earth. Just not this earth." No one can argue that.