In 1970, this was the Buick you'd really rather have
Could 1970 have been Peak GM? That's a somewhat divisive assertion to make, but I happen to think it may be true, despite all the goodness present in the 1965 GM lineup. And 1967, and 1968… I can go on. Everything looked good in '65, from Corvair to Cadillac, but 1970 was also pretty great for fans of the General. Incidentally, it was also the last year you could get a C-body convertible from the upper-crust GM brands.
While 1970 was not the complete end of the GM luxury convertible (the Eldorado would keep topless Broughamance alive through the 1976 model year), it was the end of the truly unapologetic topless luxury GM land yacht. True, the Pontiac Grand Ville Brougham, Chevrolet Caprice Classic, and Oldsmobile Delta 88 Royale convertibles lasted through 1975, but those were on the slightly less massive B-body GM chassis. And the '76 Eldorado was certainly big at 224.1" long, but the '76 DeVilles were still bigger that year, at 230.7 inches. For what it's worth, the Buick Electra convertible's total length was 225.8 inches.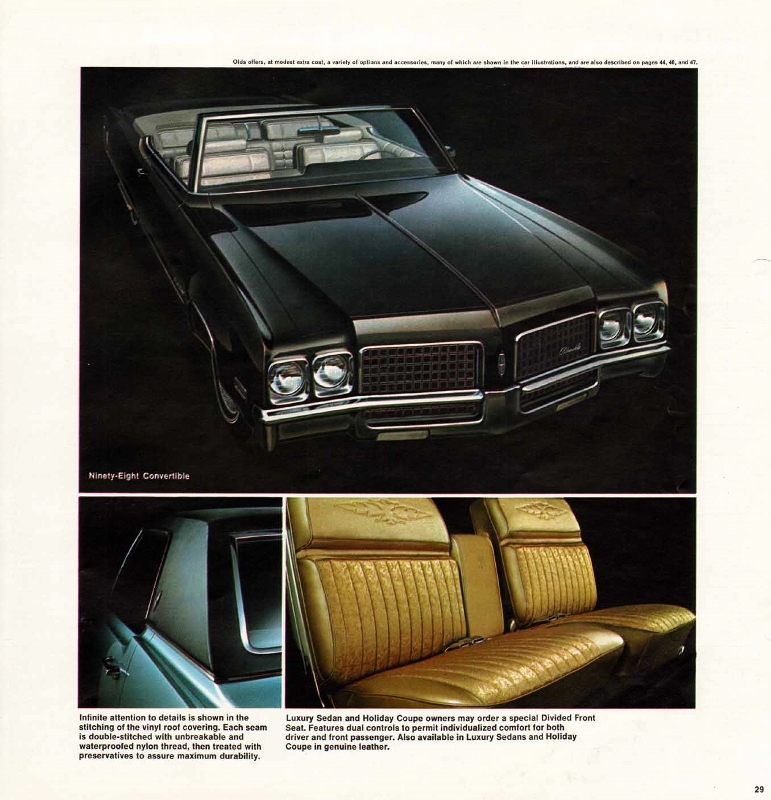 Sadly, 1970 was the one last time you could have a fling with the "standard size" GM lux convertibles—in Oldsmobile Ninety-Eight, Buick Electra 225, and Cadillac DeVille flavors. If you wanted one, now was the time to take action. I would take any of the three, but we're focusing on Flint's favorite today, since that's the car I stumbled upon at the Hot Rod Magazine Power Tour when they stopped for the evening in Bettendorf, Iowa, back in the summer of 2014.
Yes, due to recent safety regulations and the beginning of GM bean-counting, the '70 Electra 225 was perhaps not quite as imposing as, say, a 1965 or '66, but the Nimitz-class convertibles still held their own against any domestic luxury car in the era of the silent majority.
All 1970 Electras were, as expected, mildly touched up for the new model year, receiving a new, more squared-off grille and front bumper, among other refinements. As had been the case for many years, the Electra received more formal styling over the less-prestigious Wildcat (in its final year of availability) and LeSabre, with more squared-up rear quarter panels joined by standard fender skirts. All of these sheet metal differences only made the convertible look more imposing, luxurious, and special—at least in my opinion.
OK, now if I may digress for a moment, I have to mention the black interior. Black interior? On a convertible? Why would you do this if you planned on driving a convertible in, say, the summertime, with, say, the top down? With the sun shining down on those seats? That would be a great way to flash-fry those little decorative seat buttons into the backs of your legs, eh? I love this Electra 225 convertible, but I definitely would have chosen the white interior instead. It would have contrasted nicely with the black cherry metallic paint and kept my legs scar-free in the warmer months. In fact, had it been available, a red interior would have made for a pretty decadent color combo too. At least this one is nicely equipped with Automatic Climate Control and an 8-track player.
There were two series of Electras for 1970, the standard 225 and more ornate 225 Custom. Power steering and power brakes were standard. So was a 370-hp 455-cubic-inch V-8 with a four-barrel carburetor. Convertible availability was restricted to the latter trim level, and prices started at $4802. For comparison's sake, a Ninety-Eight convertible started at $4914 (yes, the "lesser" Olds was more). The Caddy convertible started at $6068.
The GMs had most of the market to themselves, too, as the nearest competitors were the $5195 Chrysler 300 and $4769 Chrysler Newport convertible, $4047 Mercury Marquis, and $3429 Mercury Monterey convertibles—all in their last year of availability, just like the Electra drop top. A total of 1077 Chrysler 300 convertibles were built. I actually have a friend who owns one of these rare beauties—I should write about it sometime. Jim would get a kick out of it.
The cheaper Newport sold only slightly better, to the tune of 1124 fuselage-bodied open-top land yachts. Face it, air conditioning was killing convertible demand. And those who wanted a convertible by 1969–71 usually went for something sportier, like a Mustang. But even pony car convertible volume was declining, and the last year for Mustang convertibles (until the '80s, that is) was 1973.
The Marquis convertible was pretty spiffy with its pinstriping and button-tufted seats (and I simply love the hidden headlamps), yet at the end of the model year only 1233 of them had been sold.
The Marquis was downright common, however, compared to its more modestly-priced sibling. If you've ever seen a 1970 Monterey convertible, you're in rare company, as only 581 were sold. These sales figures make even the sub-10,000 production figure of the Electra convertible look impressive. The market for full-size convertibles was truly dwindling.
Let's be honest: In 1970, GM still had a pretty sterling reputation, and many people would consider nothing else. It was the safe, solid choice for many people. So really, most folks who had the bank account to get a big luxury convertible most likely would have gone for one of the Olds, Buick, or Caddy models.
Only 6045 Electra 225 Custom convertibles were sold, along with 3161 topless Ninety-Eights and 15,172 DeVille drop-tops. Clearly the Caddy was the favorite among well-heeled sun-lovers, but as much as I love the Cadillac version there is still something compelling about the less-common Buick and Olds versions. You just don't see them. I've never seen a '70 Ninety-Eight convertible, even though I attended the Oldsmobile Nationals in Milwaukee in 2015. So I was super excited to view and digitally record this beautiful black cherry Buick.
Now, if I can borrow the Wayback Machine, I want one just like this—but with a white interior.