The 1970 DeVille convertible was a fabulous farewell
There's always been a certain mystique about a Cadillac convertible. In my opinion, at least. The Good Life. A fine home, Sundays at the country club, vacations to Florida. A gin and tonic, followed by a  steak dinner. After World War II, more and more Americans found themselves within shouting distance of that dream. A Cadillac convertible was part and parcel of it, of course. And in 1970, just as the nation was settling in for a tough decade of recession, the final DeVille convertible was offered for sale.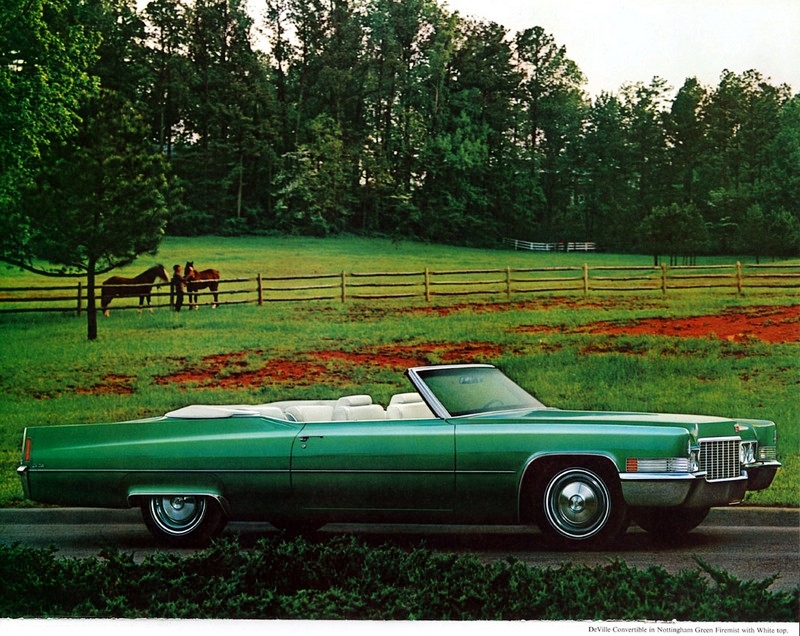 The Series 62 and DeVille convertibles were the glamour queens of Cadillac in the immediate postwar years. Although somewhat eclipsed by the 1953 Eldorado, they still screamed genuine American know-how and success, whether in Olathe, Kansas, New York City, or Europe. Glitzy, comfy and gorgeous. Pretty much every Cadillac drop top from 1946–70 was a beaut.
The 1970 model is one of my favorites for Cadillac design. Sure, it was essentially a mildly facelifted 1969, but there are certain things on '70s that I just love, like the wheel covers, the new grille, and the razor-blade taillights. And the first Cadillac I ever rode in, way back in first grade (circa 1987), was a 1970 Fleetwood Brougham. Whether a factory-built Series 75 limousine, top-dog owner-driven Fleetwood Brougham, or swank Fleetwood Eldorado personal luxury coupe, you were a winner if you drove a new one home from the dealership fifty years ago.
The changes for 1970 included revised upholstery, the aforementioned new wheel covers, changes to the grille and taillamps, a new steering wheel, some fresh colors, and other minor revisions. The lineup remained the same as in 1969: entry-level Calais (please don't call it cheap), volume DeVille (with, as you may know, the sole convertible), upper-tier Fleetwood Sixty Special and Fleetwood Brougham sedans, and the personal-lux Eldorado. The livery market was served by the Seventy-Five limousine and nine-passenger sedan.
The DeVille convertible was suitably swank, and perfect for announcing you'd made it in 1970 America. Classy, and powerful with its standard 472-cubic-inch V-8. That was good for 375 (gross) horsepower at a mere 4400 rpm, breathing through a Rochester four-barrel carburetor.
With a 129.5-inch wheelbase and princely 225-inch overall length, it was perfect for taking you and three of your best friends out to the golf course—or you and your wife to the local supper club for prime rib, cocktails, and fun.
What price success? Well, for one of these, it started at $6068. Of course, many Cadillac buyers wanted, well, Cadillac features. So the many available options likely pushed most out-the-door prices to well over seven grand—a big number back when a Chevy Biscayne could be had for around $2800.
Such additional luxury options, common on any 2020 Malibu or Fusion, but in rarefied air in 1970, included Automatic Climate Control for $516, Firemist paint for $205, cruise control for $95, Twilight Sentinel at $37, power door locks for $68, and Soft-Ray tinted class for $53. A total of 15,172 Cadillac buyers chose a DeVille droptop that year, and most, if not all, were likely very happy with their luxurious Detroit chariot.
Overall, Cadillac had a good year in 1970 too, with 238,745 vehicles produced. Calendar sales for the year were lower due to a GM strike that lasted from September through November, but it didn't affect model year sales, for the all-new 1971 Cadillacs were in production by then. Missing in '71 was the DeVille convertible, for the first time in years, but convertible fans now had an all-new, front-wheel-drive Eldorado convertible to choose.
Today's beautiful example, in San Mateo Red with tan leather, was spotted by my friend Jayson Coombes last October. The event was Bonnie and Clyde Days in Pilot Point, Texas. There were plenty of cool and interesting cars at the show, but as many of you regular readers would expect, I was particularly infatuated with this 1970 Cadillac.