The 1953 Cadillac Sixty Special was long, low, lovely
My appreciation for early 1950s Cadillacs goes way back. When I was in second grade or so, my grandparents got me a hardcover coffee-table book called Decade of Dazzle for Christmas. The topic of this rather sizeable tome was '50s cars, and one of the featured vehicles was the 1953 Cadillac Eldorado. Looking supremely swank in white over red leather, it left quite the impression. And later that same year, out on a trip to the Jewel-Osco with my Aunt Candy, I got a 1/43 scale 1952 Cadillac Series 62 sedan in pink and white. It accompanied me to school several times that year. I just liked looking at it. And I still have it today.
Of course, the 1953 Cadillac was the final update of the 1948 Cadillac, the first all-new postwar Caddy. It inaugurated the classic Cadillac fishtail fin, and in 1949, received an all-new small block V-8. For 1950 it was totally restyled, though it still bore a strong resemblance to the 1948-49 car. Between 1950 and 1953 only small cosmetic changes were made, and you have to be a real aficionado to tell a '50 from a '51 from a '52. But the '53 was set itself apart a little more than its earlier brethren.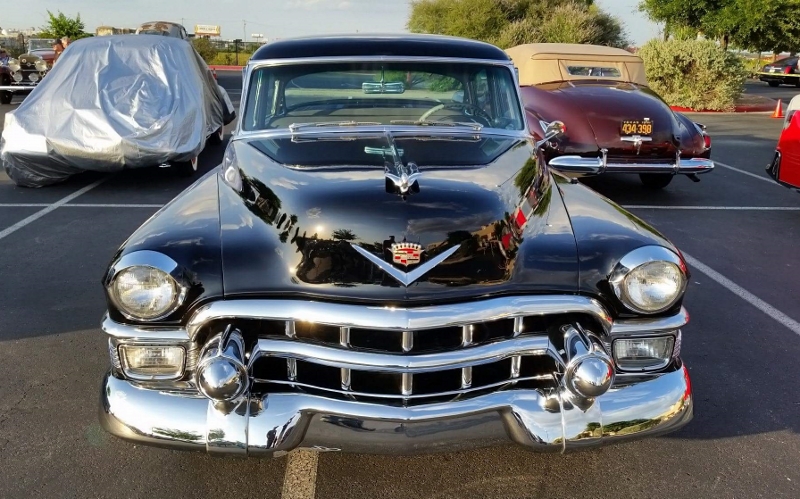 The biggest change was prominent Dagmar bumperettes, which grew exponentially over the 1952's units. That term, by the way, came from a well-known 1950s actress that had, ahem, similar attributes, shall we say? The most famous, and perhaps, most loved 1953 Cadillac made its debut in 1953, the Eldorado convertible. It retailed at a hefty $7750 a pop; 532 were built.
But the gold standard in owner-driven Cadillacs was the Fleetwood Sixty Special. It was, quite simply, the biggest owner-driven Cadillac one could buy. Only the chauffeur-driven Seventy-Five limousines were bigger. Its base price was $4305, a hefty sum; eclipsed only by the aforementioned limousines and the Eldorado. This, at a time when the entry-level Cadillacs, the Series 62 sedan, retailed for $3666 and the Series 62 coupe was $3571. A 1953 Chevrolet 210 sedan was $1761. If you saw someone in a Fleetwood Sixty Special, odds are that person was somebody. Captain of industry, baseball team owner, Mr. Burns of The Simpsons, et cetera.
The 1953 Sixty Special, Model 53-60, body/style 6019X, rode a hearty 130-inch wheelbase, four inches longer than a Series 62 coupe or sedan. Like all 1953 Cadillacs, it was powered by the famed 331-cubic-inch V-8, producing 210 hp at 4150 revolutions per minute. Curb weight of this swanky sedan was 4337 pounds, making a new '53 Sixty Special less than a dollar a pound. Not a bad deal, all things considered. Our featured Sixty Special was also equipped with the Autronic Eye, which automatically dipped the high beams when it sensed headlamp beams from an oncoming car.
Of course, being a Sixty Special, most everything was standard, including the V-8, Hydra-Matic automatic transmission, plush seating and many electric gadgets. But there were some options available, including Autronic Eye ($53), chrome wire wheels (set of five, $325), power steering ($177). The most expensive option, factory air conditioning, could be yours for a wallet-busting $620. Or, to put it into proper perspective, it was one-third the cost of a brand new Chevrolet.
Exactly 20,000 1953 Fleetwood Sixty Specials were built. This showroom new survivor was photographed by my friend Jayson Coombes at the 2018 CLC show in San Marcos, Texas. This one is exceptionally rare, due to the factory air conditioning. Only 2 percent of 1953 Cadillacs had this option. It was also the first year that factory-installed air conditioning was offered by Cadillac.
It took up a large part of the trunk, as A/C technology was still relatively new in motor vehicles, though it had been used in buildings and department stores for decades by the early '50s. Intakes for the air conditioning system on the rear quarter panels made it relatively easy to identify a new Cadillac equipped with A/C.
One other interesting thing about 1953 Cadillacs is that not all of them got the expected Hydra-Matic drive, due to a spectacular fire which occurred at the Hydra-Matic factory in Livonia, Michigan on August 12, 1953.
That event is a story in itself, but the long and short of it is that Cadillac production effectively ceased with no transmissions to install. Cadillac production finally resumed on September 8, 1953. Approximately 28,000 Cadillacs were built with Buick's Dynaflow automatic transmission until the supply of Hydra-Matics finally caught up with demand.
Come 1954, Cadillacs would get yet another redesign, with slightly bigger fins. Which, as we all know, would continue to grow through 1959, when Peak Fin was achieved.
But I love these P-38-finned Cadillacs, and am grateful to Jayson for taking so many excellent pictures. What a beaut!