As theft suspect heads to court, owner of Wild Cherry van sounds off
While Chris Carter is facing a Los Angeles County judge today, Laura Godin will be sitting at home, waiting for news and hoping, she says, "for some justice." What she won't find is closure—not for a while, perhaps never. Such is the saga of the "Wild Cherry" van.
Almost six months after Carter was arrested for stealing the 1975 Chevrolet custom van that appeared in the 1979 movie Van Nuys Blvd.—and after three defense-requested postponements—Carter is scheduled to be arraigned on two felony counts of driving or taking a vehicle without consent, one misdemeanor count of trespass by driving on private property, and one misdemeanor count of dissuading a witness from prosecuting a crime. Carter, of Collinsville, Illinois, is set to appear in the Antelope Valley Courthouse in Lancaster, California, about an hour north of Los Angeles. If convicted on all counts, he could receive more than four years in prison.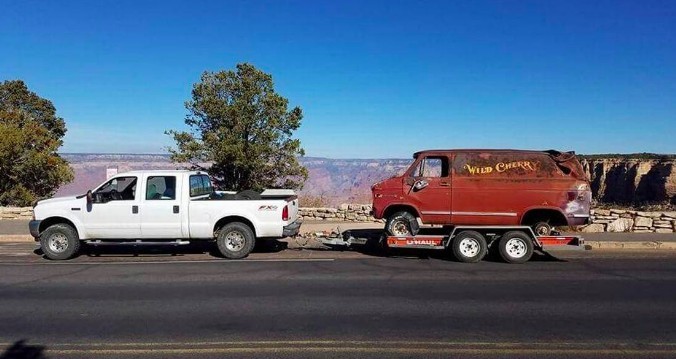 The second misdemeanor charge was added after Carter sued the vehicle's legal owners, Steven and Laura Godin, for ownership. If denied possession, Carter is asking to be reimbursed for the van's restoration, even though the now-vandalized vehicle (which went missing around the time that Carter was charged) is arguably in worse condition than when Carter hauled it off the Godin's property.
"He sued us to scare us," says Laura Godin (pronounced GO-din). "I was like, 'Man, are you for real?' My husband asked me, 'Is it worth it?' Yes, it sure is. In the whole scheme of things, it may just be a hunk of metal, but it means a lot to me. It's the principle of the thing. We didn't do anything wrong. We didn't ask for any of this. We just parked our van on our property and he took it. Plain and simple."
Except that it isn't so plain and simple.
He said
According to Teri Maddux, who has been covering the story for the Belleville News-Democrat, Carter saw a photo of the Wild Cherry on Facebook, and he used Google Earth to locate the dilapidated van off a dirt road in a California wilderness area. Presuming it had been abandoned, he and a friend drove 1900 miles to the location. Carter says that after removing a tree that had fallen onto the roof of the van, he and his friend loaded it onto a trailer and towed it home.
Carter claims he received permission to take the van. He also says he discovered the title inside and used it to reach Godin's son, Steven Jr., who was "ecstatic" that he was restoring the vehicle. Carter also says he spoke to Godin's neighbors, who called the van "abandoned." Those same neighbors unlocked the gate, he says, giving him access to the property.
Carter completely restored the van after accepting parts and assistance from other van enthusiasts, as well as $5900 in donations through a GoFundMe account. To celebrate finishing the project, Carter led a van caravan from Maryville, Illinois, to Los Angeles last September.
Laura Godin reported the van stolen on June 25, 2018, six months after Carter says he removed it. By then, the Wild Cherry was almost completely restored.
She said
The Godins say they never gave Carter permission to take the van, nor did their son. After two fires wiped out their home, they no longer live on the 20-acre property where the van was located but now reside in Burbank. Laura Godin says they don't go to the property often, which explains why so much time passed before she reached out to police. She didn't wait, as some have claimed on social media, until Carter had finished working on it and had increased its value considerably.
"I did not wait. I called the police as soon as I found out it was gone," she says. "We don't go to the property often—the last time we'd been there was about 2½ years before Carter took the van."
Godin says the neighbor who kept an eye on the property passed away in May 2017, months before Carter took the Wild Cherry. The van could not be seen from the main road. Godin didn't learn that the van had been taken until June 1, 2018, when Carter contacted her son via Facebook.
"(Carter) shared a photo of the van on the trailer near the Grand Canyon," she says. "I went to his Wild Cherry Van Facebook page and commented on the photo: 'THAT'S MY VAN! YOU STOLE IT FROM MY PROPERTY!'"
Godin says she went to the police immediately, but she wasn't allowed to file a report until she had paperwork that proved ownership. "All of that had been destroyed by fire, so I went to the DMV. When they finally came through with it, I filed a police report (with the Los Angeles County Sheriff's Department) on June 25."
Godin admits that a neighbor did indeed open a gate and let Carter onto the property. She claims he was reluctant at first, told Carter to leave, and then ran an errand, but Carter was still there when he returned. Carter convinced the neighbor that he had permission to take the van. Godin says she isn't angry at her neighbor, she's angry with Carter.
"He admitted he found the registration (Carter says it was the title) inside from the last time we registered it in the early '90s," she says. "It had our name on it. We don't live at that address, but he could have found us if he wanted to."
She admits that there may have been some confusion since her husband and son have the same name, but she doesn't believe Carter really tried to find the actual owners. "I have to say he already had his mind made up that he was going to take the van," she says. "He didn't drive all that way for nothing. Why else wouldn't he had tried to find us?"
Laura Godin says that her husband bought the Wild Cherry on his 18th birthday "from a guy who worked in the movie industry. It was that or a (Chevy) Nomad, and he went for the van."
Married in their teens, the Godins drove the vehicle for years. "We've cruised in it, traveled in it—places like Big Sur and Yosemite. We literally lived in it for a while. We love that van. We've always wanted to restore it; it was just a matter of when we would be able to. We're like a lot of people who dream of restoring a car or a van or whatever and it takes a lot longer to get to it that you plan."
Now what?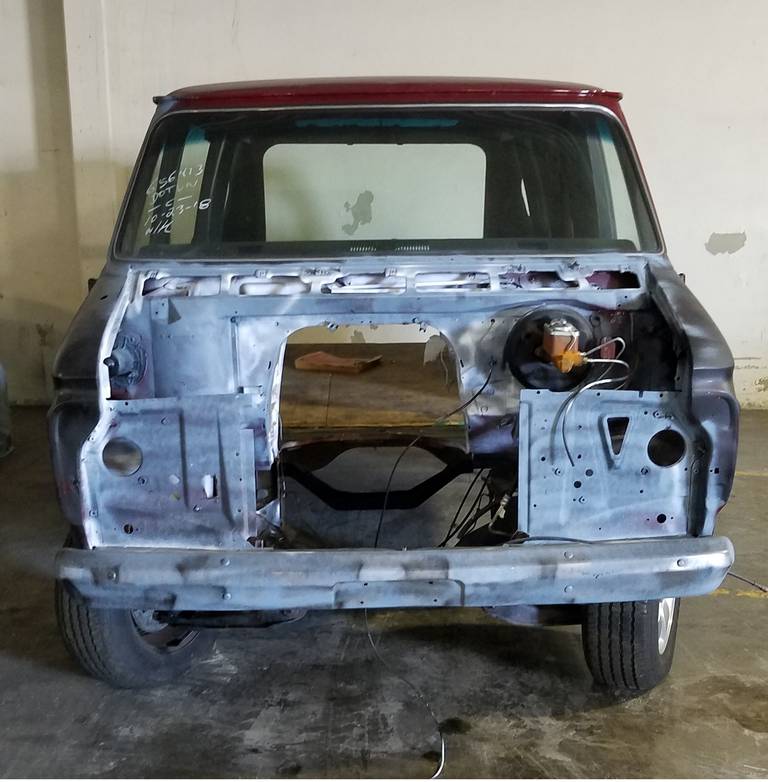 Police couldn't find the van when they arrested Carter on October 3 in Illinois, and he refused to cooperate with the investigation. Authorities located the Wild Cherry on October 23, not far from where Van Nuys Blvd. was filmed. It had been stripped and spray painted, virtually undoing all of Carter's restoration work. Carter was released on bond on October 26.
Godin hasn't seen the van, which is likely still in police custody, but she still wants it, even in the condition it's in. "I want it back—I want it the way it was," she says, "but obviously that isn't going to happen."
Godin says she is still mystified by all that has happened. "If (Carter) wanted a Wild Cherry van, why didn't he just buy a '75 Chevy van and make one himself? People make replicas of other cars all the time," she says. "I just don't understand why someone would just take something that isn't theirs. How many times have you seen a car on the side of the road or in a field and you think, 'I wish I had that'? Do you just go and take it? I hope not."