The newly revealed Ford E-Transit sacrifices nothing other than gasoline
While enthusiasts debate whether EVs can ever replace their fuel-burning fun machines, the more practical side of the market is waiting with open arms for EV vans like the 2022 Ford E-Transit, recently revealed in its zero-emissions glory.
The E-Transit is the Blue Oval's answer to an increasing desire in consumers to reduce the environmental impact of "last-mile" deliveries. This phase of the delivery process involves the last leg of a package's journey, in which it typically travels to a residence within 10 miles of the final warehouse. Larger carriers have relied on medium-duty box vans in order to carry as many packages as possible, but recently, private delivery networks like those operated by Amazon have started to use an increasing number of fleet vans in addition to privately contracted vehicles. Popular candidates include the Mercedes-Benz Sprinter and, of course, the Ford Transit.
2020 has marked a substantial uptick in customers' reliance on the delivery infrastructure, and Ford seeks to capitalize on the opportunity to provide a cleaner solution for last-mile deliveries. For urban regions, the E-Transit has the potential to remove a substantial source of emissions from streets and neighborhoods. It also boasts enough range to serve many small communities, with an estimated 126 miles (for the low-roof cargo bodystyle).
Its 266 hp and 317 lb-ft of torque put the E-Transit right alongside the 275-hp, 262-lb-ft base V-6 offering, though the 310-hp EcoBoost V-6 with its 400 lb-ft of torque is still the burliest option. That said, all 317 lb-ft of the E-Transit's torque is available from 0 rpm; the EcoBoost engine doesn't generate peak torque until 2500 rpm, once the turbos begin huffing.
"Ford is ready to lead the charge," says Jim Farley, Ford's president and CEO, "starting with the all-electric Transit and all-electric F-150 on the way. This is good for the planet and a huge advantage for customers to help lower their operating costs and provide connected fleet management technologies that will help their businesses."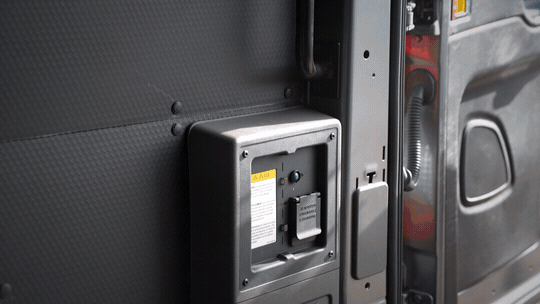 With 67 kilowatt-hours available, 2.4 kW of the E-Transit's battery capacity can be siphoned off to an inverter to power tools and equipment, including the high-powered motors inside a typical circular saw.
Despite stowing its batteries underneath the floor, the interior space of the E-Transit is identical to its gas-powered counterparts, meaning that current interior build-out kits available in the aftermarket will still fit. Commercial buyers won't be sacrificing hauling capacity either, as Ford's projected maximum of 3800 pounds puts the E-Transit's payload square in the range of today's Transit.
If the 126-mile range isn't an issue for you, and you have at least an eight-hour window for the "Ford Connected Charge Station" quick-charger to warm things over (with a standard 240V outlet, charging takes around 10 hours), the E-Transit could quietly replace a gas van with few compromises—and save you some cash in the long run. In fleet applications, the E-Transit has the potential to reduce overhead costs associated with regular oil changes, maintenance and repair of comparatively complex engines, and even transmission service. An electric motor has few moving parts, has practically no consumable fluids, and reduces another chance for failure by driving the wheels directly instead of via a multi-speed transmission.
With GM's EV van answer still pending, Ford seems to be capitalizing on its dominance in the market to get ahead of its cross-town rivals.
Fleet pricing starts under $45,000 with an eight-year, 100,000-mile warranty.