Newscaster fired after literally climbing onto the cars for auto show segment
A Sacramento CBS reporter was fired this week after backlash concerning his on-air antics came pouring into his station, following a live segment from the Sacramento International Auto Show. The first rule of car show etiquette? Look, but don't touch. Not jumping on top of people's cars should go without saying.
Angel Cardenas, a long-time "Good Day Sacramento" features reporter who often got up close and personal with the stories he covered, got far too comfortable with an exhibit of classic Ford Thunderbirds, as well as a brand-new Ford Explorer, on display at Cal Expo.
The segment began with Cardenas standing among a group of first-generation Thunderbirds from the Sacramento Classic Thunderbird Club. After noting that his tour guide for the Ford classics was nowhere to be found, Cardenas thought it would be a good idea to hop up and strike a pose while sitting on the trunk of one Thunderbird. Then, Cardenas moved to a 1956 Thunderbird, hoping to sit behind the wheel only to open the door and hit the car parked at its side. Undeterred, he climbed inside.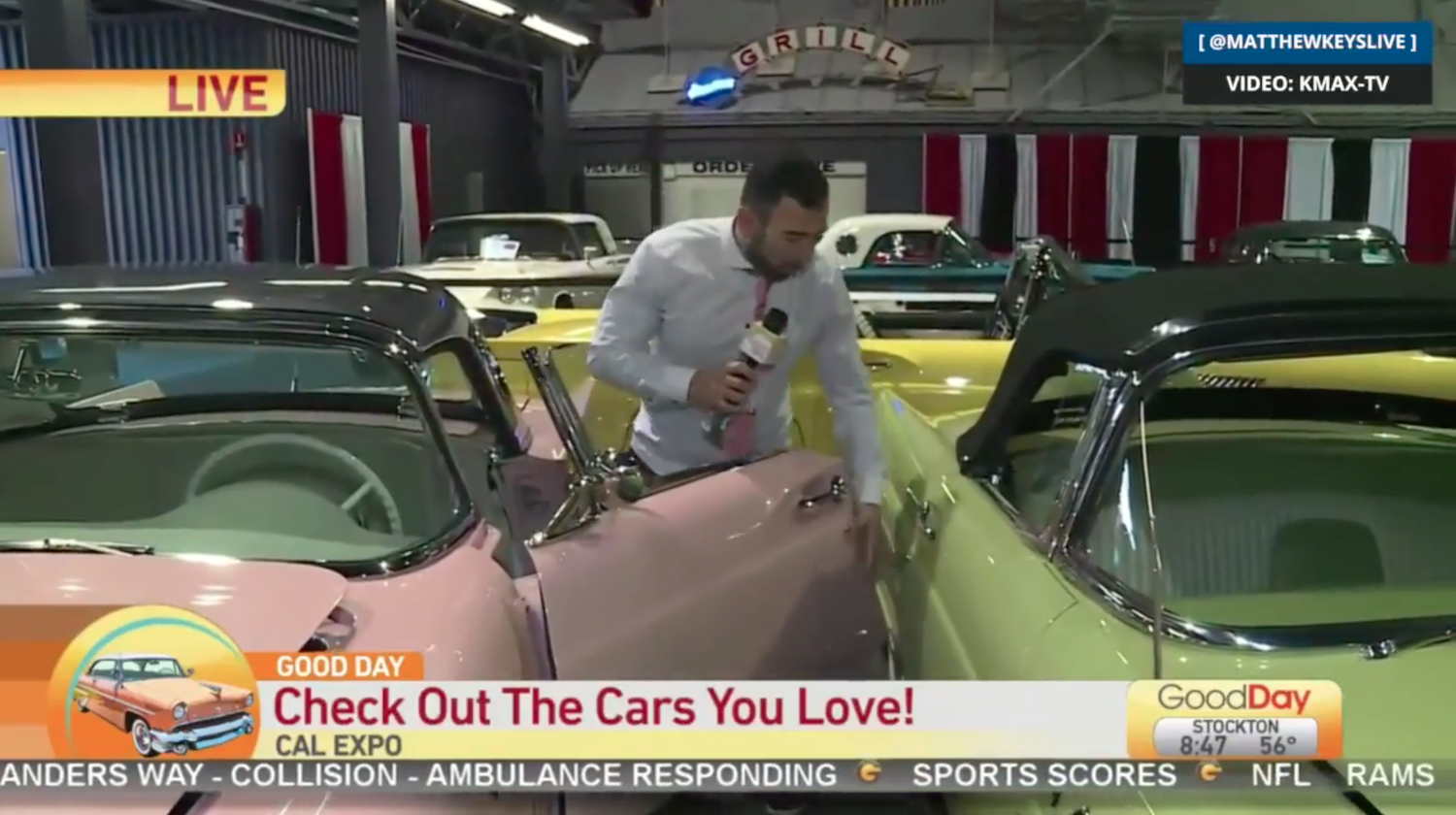 His four-minute segment ended after he bypassed a barrier to a 2020 Ford Explorer on a turntable and vaulted onto the hood, using the same pose he adopted when on the trunk of the Thunderbird but in the opposite-facing direction. At least he's an ambi-turner.
His flippant attitude and actions prompted a deluge of comments on KMAX Sacramento's social media and Cardenas was promptly fired.
I can't believe we have to say this, but here it goes—in case anyone out there doesn't know, it's not proper etiquette to touch cars at a car show. (Yes, this applies to local TV hosts, too.) Everyone should know that it's disrespectful and likely damaging to climb on top of a car, but apparently it bears repeating. Owners should absolutely encourage people to share in and experience their vehicles, but how this kind of nonsense strikes someone as appropriate in any situation is kind of bewildering.