You (probably) can't outrun the new 400-hp Ford Police Interceptor
You can't outrun the radio, as the saying goes. Or a helicopter. But, should you be foolish enough to attempt some kind of high-speed pursuit, hope that the Explorer-based 2020 Ford Police Interceptor isn't doing the chasing. That's because one of the flavors of this new cop-spec SUV packs a 3.0-liter turbo V-6 under the hood. In the upcoming Lincoln Aviator, that same engine makes 400 horsepower. Unlike the Lincoln, however, you probably don't want to ride in the back seat of this Ford.
The new Police Interceptor is based on the upcoming Explorer (we'll have details on that in a few days) with all-wheel drive standard on all variants. The platform is also expected to underpin the next-generation Mustang. Along with the 3.0-liter turbo the Police Interceptor also comes in hybrid and naturally-aspirated gas-powered versions, both using a 3.3-liter V-6. The hybrid version boasts an EPA-rated 24 mpg combined, which Ford said saves $3500 per year in fuel at $2.75 a gallon. In testing by the Michigan State Police, the Interceptor took top honors in the performance categories, boasting a 5.8-second 0-60 mph time and 13.6-second 0-100 mph time. That latter figure is 1.1 seconds quicker than the Dodge Charger Pursuit with the 5.7-liter Hemi.
Cop brakes, cop suspension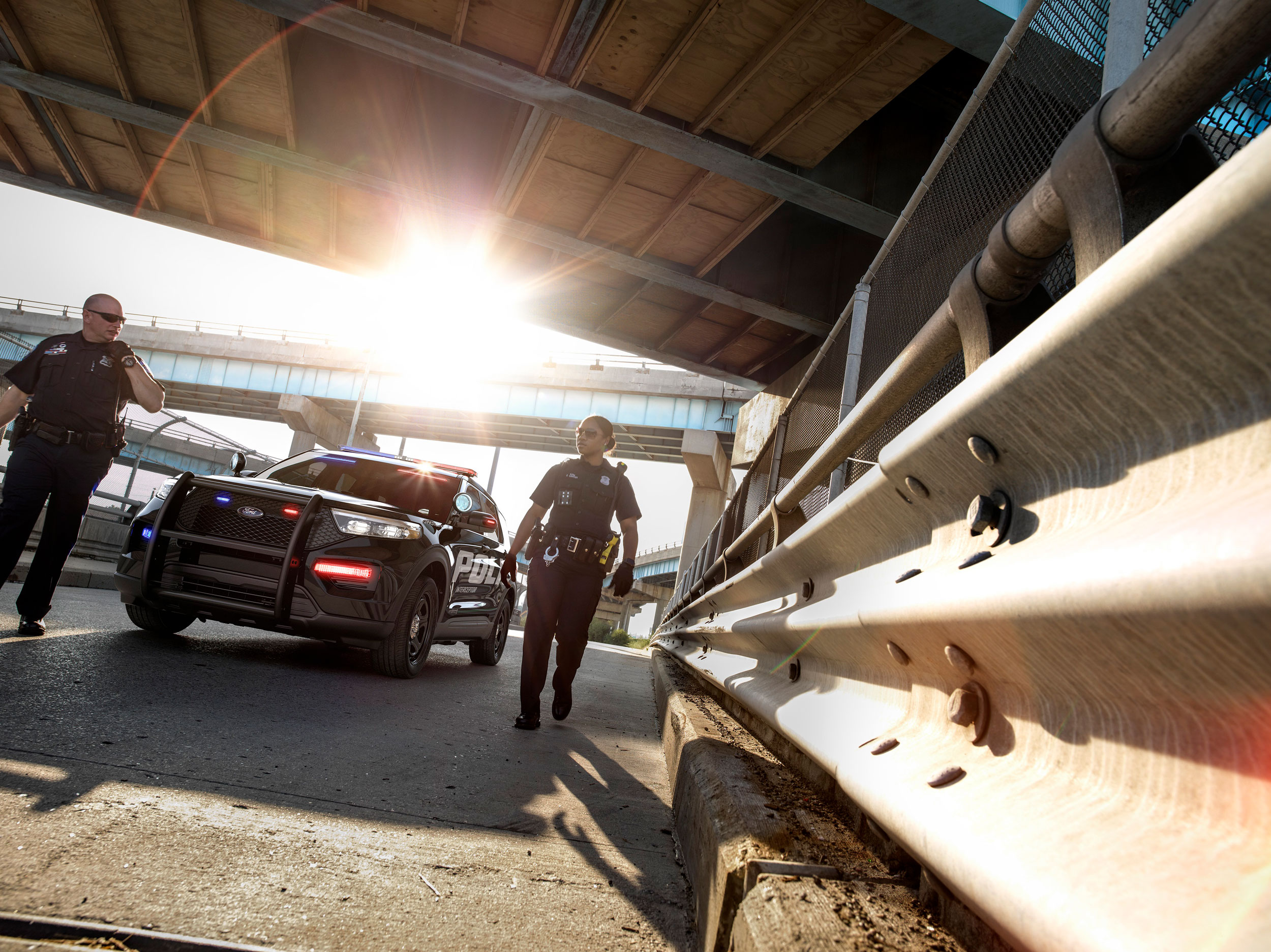 The Police Interceptor starts life on the same line at Ford's Chicago Assembly Plant, but ends up at a nearby upfitting facility and undergoes a number of changes. Primary among that are Police-duty springs, shocks, anti-roll bars, and brakes. The 10-speed automatic transmission is heavier-duty to handle higher torque and payload. The wheels and tires are smaller that the civilian version, to help lower the vehicle and improve dynamics. The cop car also skips the stop/start button and uses an old-school key tumbler. This is because many police departments use a single key that works on every vehicle in the fleet. It also has a column shifter, to aid in the performance of 180-degree reverse J-turns.
A brace of high-strength reinforces the rear structure to withstand 75-mph rear-end impacts which, according to Ford are all too common. A flashing police vehicle on the side of the road attracts distracted and intoxicated drivers like moths to a flame.
Inside, the seat bolsters have cutouts to accommodate belt holsters, and the front seats have a steel plate in the backside to thwart those annoying stabbing attempts by unruly rear-seat occupants. (Sorry, parents, this is not an option on the civilian version.)
One big departure with this latest generation of Ford police vehicle is that all of the exterior lights come pre-installed, to help prevent leaks or questionable wiring. Without a light bar, however, this Police Interceptor is easy to mistake for an everyday Explorer headed to soccer practice.
Cop tech
Autonomous emergency braking (AEB) is available on the new Police Interceptor, which helps prevent calamity during minor distractions, such as when an officer needs to use a laptop while driving. But this system prevents the Pursuit Intervention Technique (PIT), a maneuver more commonly known as spinning out another vehicle. Ford had to program a button to disable the AEB for a brief period of time to make this possible. The Police Interceptor also has Ford's Perimeter Alert system, which, when armed, uses the rear backup radar to scan for any approaching objects.
The new Police Interceptor will start appearing in your rear-view mirror in late 2019.