Charges mount against man accused of stealing Wild Cherry van
Chris Carter's wild ride just got a little wilder. Four months after authorities charged him with stealing the 1975 Chevrolet "Wild Cherry" custom van that appeared in the 1979 movie Van Nuys Blvd., Carter faces another misdemeanor charge in the case.
According to Teri Maddox of the Belleville (Illinois) News-Democrat, the Los Angeles County District Attorney's Office says Carter violated a California law against "dissuading a witness from prosecuting a crime" when he sued the vehicle's legal owner in October. Carter already was facing two felony counts of driving or taking a vehicle without consent and one misdemeanor count of trespass by driving on private property.
After two delays, Carter is scheduled for arraignment on February 20 in the Antelope Valley Courthouse, in Lancaster, California, about an hour north of Los Angeles. He faces more than four years in prison if convicted on all counts.
Carter's attorney, Chad Eberhardt, told the News-Democrat in November that his client intends to plead not guilty to the original three charges. As for the latest allegation, Eberhardt told the newspaper, "We are not the least bit worried about the new charge."
Carter claims he received permission to take the dilapidated van from private property in 2017. After towing it 1900 miles to Illinois, Carter restored the vehicle, financing the project through a GoFundMe campaign that raised more than $5900 and with help from Facebook fans who donated parts. To celebrate finishing the project, Carter led a van caravan from Maryville, Illinois, to Los Angeles in September.
The owner of the land, Laura Godin of Burbank, says that neither she nor her husband Steve gave Carter permission to take the van from their 20-acre property. She filed a stolen vehicle report with the Los Angeles County Sheriff's Department in June.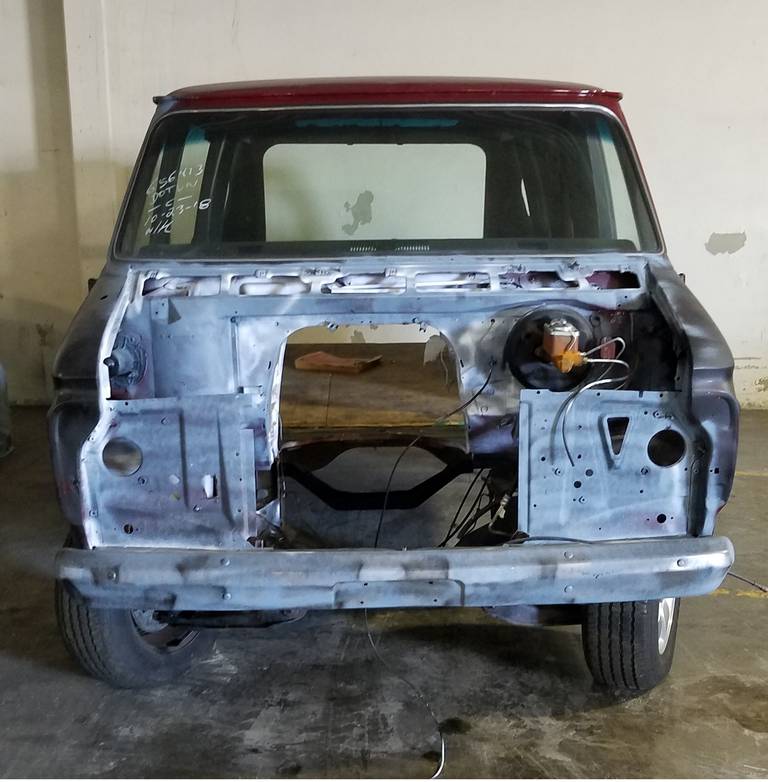 Police couldn't find the van when they arrested Carter, and he refused to cooperate with the investigation. Authorities located it on October 23, three weeks after Carter's arrest, stripped and spray painted, not far from where the Van Nuys Blvd. movie was
filmed four decades ago. Carter was released on bond on October 26.
In the civil lawsuit at the center of the latest charge, Carter asks the court to rule that he owns the van "due to Defendant's abandonment or other legal loss of title." According to the News-Democrat, the complaint argues that Wild Cherry didn't have an engine and "was not even a vehicle" due to its extensive damage. Should the court determine that the Godins did not abandon the van, Carter's lawsuit seeks reimbursement for its restoration even though the vandalized van is arguably in worse condition than when Carter hauled it off their property.
In filing the additional charge, authorities allege that Carter "did unlawfully attempt to prevent and dissuade Steven Godin Sr. and Laura Godin, a victim and witness of a crime, from causing a complaint, indictment, information, probation and parole violation to be sought and prosecuted and assisting in the prosecution thereof."
The story has sparked plenty of debate within the vanning community. Carter has his supporters—some of whom launched a GoFundMe campaign to help cover his legal expenses (so far raising $960 of the $20,000 goal). But Matt Grayson, of Rolling Heavy Magazine and Rolling Heavy on Instagram, is not among them. "All of us who are auto nerds have project cars that are just sitting and waiting until we have the time and money to work on them," he says. "No matter what (Carter) says to justify his actions, you can't take something just because you want it."
Grayson calls Carter's lawsuit against the Godins—particularly his insistence that he be reimbursed for its restoration—"a head shaker."
"His ego is out of control," Grayson says. "He convinced people to donate their time, parts, money. He basically conned them, yet he acts like the victim.
"Vans had a bad rap in the automotive culture for some time, and a lot of people have worked hard to make them relevant. The majority of those people have genuinely good hearts, and (Carter) really took advantage of that."