Vintage Fiat 500 to join MoMA design exhibition
Those of us with a pathological car obsession see beauty and genius in plenty of four-wheeled creations throughout history, but the population at large does not always share that vision. That's why it's such a big deal when car design and car culture are celebrated at the highest levels, whether it be the Ferris Bueller "Ferrari" on display at the National Mall or the re-discovery of the Bullitt Mustang. Now a much more humble, economical vehicle will join these significant pieces of history and be celebrated for its indelible mark on industrial culture and design, as a vintage Fiat 500 F will go on display at the Museum of Modern Art (MoMA) in New York.
MoMA added the mint-condition 1968 Fiat 500F "Berlina" to its permanent collection last year, joining the museum's auto ranks that already include a Cisitalia 202, Willys Jeep, Type 1 Volkswagen Beetle, Jaguar E-type roadster, 1990 Ferrari 641/2 Formula 1 racer, and Smart ForTwo.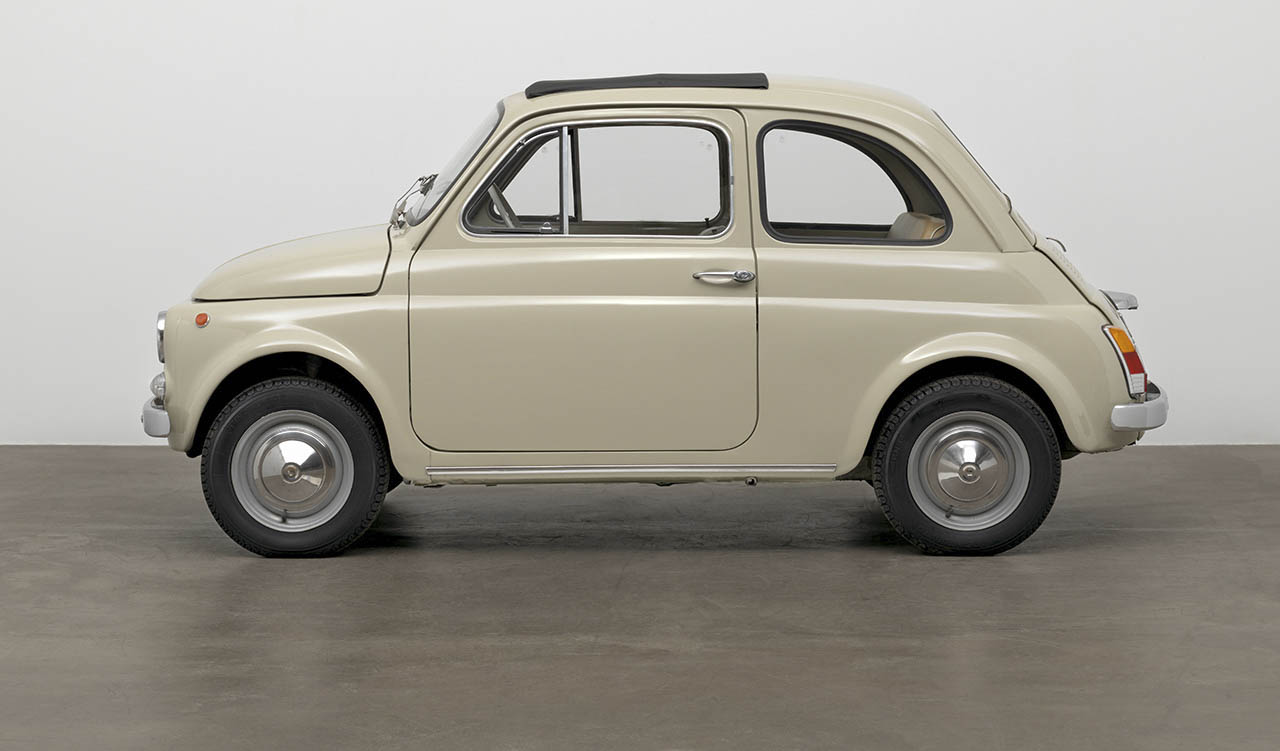 The tiny white city car will make its debut at The Value of Good Design exhibition in early 2019. The exhibition will showcase a range of everyday objects including furnishings, toys, appliances, and sporting goods. These objects serve to represent "the democratizing potential of good design…as a vital tool of social and economic reconstruction and technological advancement in the years following World War II," according to MoMA's catalogue.
The 500F was an evolution of the Nuova 500, and was sold from 1965-1972 with a rear-mounted, 18-hp, 499-cc four-cylinder engine. Compared to previous models it featured forward-hinged doors, a larger windshield, and slightly plusher materials for the well-established interior design. The F was the best-selling variant of the 500, which sold more than 4 million units overall from 1957-1975. Simple, inexpensive, and relatively reliable, the little 500 became an icon of mass car ownership but also of fashion and lifestyle.
Fiat did not sell the 500 in the U.S. after 1961, but so many were made that they're not hard to come by if you really want one. They're undeniably charming and stylish, though tiny and slow. The main issue is finding one that's been spared from destructive rust, but in general neither parts nor maintenance are major concerns. The beach-themed 500 Jolly is most desirable, selling on average for $43,700 in #3 (Good) condition.