Earliest surviving 1939 Lincoln Continental prototype breaks cover
Every Father's Day, Detroit's automotive design community presents the Eyes On Design car show to benefit the Detroit Institute of Ophthalmology, part of the Henry Ford Health System, which grew out of the hospital the automotive pioneer founded. The show is held on the grounds of the Edsel and Eleanor Ford estate in Grosse Pointe Shores, just outside Detroit, on Lake St. Clair. Though it's open to the general public, Eyes On Design is very much an industry insider show, and many of the cars on display were there because of connections with the domestic automakers.
One of the stars of this year's show, the only surviving prototype for the original 1940 Lincoln Continental, doesn't just have a connection to an automobile manufacturer—it has a personal connection to Edsel Ford and its designer, Bob Gregorie.
The first Lincoln Continental came out of Edsel Ford's love of sleek roadsters. In 1932, after returning from a trip to Europe, Edsel asked Ford's first chief designer Eugene T. "Bob" Gregorie to build him a sports car similar to those the automotive scion had seen "on the continent", something "long, low and rakish".
Henry Ford's lieutenants considered Edsel's projects to be far less important than running the assembly lines putting together mass market Ford cars. When Henry Ford bought Henry Leland's Lincoln company out of bankruptcy in the early 1920s, in part it was to give Edsel something to occupy his time and also perhaps stop annoying him about updating the Model T. Though Edsel would eventually be president of Ford Motor Company, his father gave him very little autonomy when it came to making major business decisions.
To avoid the ire of Ford managers, Gregorie used the facilities of Ford Aviation in Dearborn, no longer building the Trimotor airplane, and the Lincoln factory in Detroit, partially idled by the Great Depression, to build three roadsters for Edsel, a custom-bodied boat-tail speedster based on the '32 Ford Model 18, the streamlined Ford Model 40 speedster from 1934 (which was later restyled by Gregorie), and a third car that has been lost to history.
Over the following years, Gregorie and Edsel would often discuss the possibility of producing limited runs of "specials" for sale to the general public, built on production Ford chassis, to burnish Ford's reputation, similar to the upscale Brewster Fords. In an oral history taken by the University of Michigan, Dearborn, Gregorie said the idea for what became the Continental came to him in the fall of 1938.
Edsel had suggested building a special-built model for Ford's new mid-price Mercury brand, and asked Gregorie to look into its feasibility. Again Gregorie ran into interference from Henry's manufacturing managers like Peter Martin and Charlie Sorensen, so Gregorie proposed using the underutilized Lincoln factory. The Model K Lincoln was being phased out and the plant had hundreds of highly skilled workers who finished the trim and paint on custom bodies supplied by coachbuilders.
Luxury car makers had a rough going during the Great Depression. Storied marques like Pierce-Arrow and Marmon didn't survive the 1930s. The market for hand- and coach-built luxury cars dried up. To stay in business, Packard first introduced its "junior" models and then the mid-priced Clipper, and Lincoln came out with the Zephyr in 1936. Though it had a V-12 engine, the Zephyr shared many component designs with conventional Fords. The bodies were not coach-built but were rather mass produced by Briggs company, with final assembly at the Lincoln plant.
In 1938, Edsel, Eleanor, and their five children, took a vacation to Europe. When they returned, Edsel handed Bob Gregorie a copy of Motor magazine from the UK and told him to make a long, low, sporting convertible.
Gregorie proposed to Edsel that they make the special out of the Lincoln Zephyr, which was based on a design of John Tjaarda's that Gregorie had revised to Edsel's tastes. The mechanical components were easily available and the Zephyr's then novel unibody construction would allow for a lower, more sporting seating position since the floorboards did not sit above the frame. Gregorie took a 1:10 scale blueprint of the Zephyr sedan and a yellow pencil and started to sketch in changes. He lengthened the front end by 12 inches, and flattened and lowered the hood, hinging it at the rear, just ahead of the windshield, which was moved back. The Zephyr's chair-high seating was lowered along with the steering column, as was the roofline, and the sketch was finished off with a compact trunk.
When Edsel Ford stopped by the studio that day, Gregorie showed him the drawing and said, "How do you like this?" Edsel replied, "Oh boy, that looks great, looks good," so Gregorie suggested making a one tenth scale model and Ford agreed.
Gregorie then had one of the Ford trade school students, Gene Adams, glue the drawing to a sheet of masonite and cut out the profile.
What became the first Lincoln Continental started out as a simple profile sketch, executed in about a half-hour's time. What famed architect Frank Lloyd Wright called "the most beautiful car ever designed," (he owned two, which apparently weren't so beautiful that Wright didn't think he couldn't improve them with his own rather dubious alterations), took only 35 minutes to design, according to Gregorie.
Edsel liked the profile. "That's it," he said. Reminiscing, Gregorie said, "That was all that was ever made. It was a crude, little sketch. Edsel Ford loved those simple sketches."
Gregorie had a small styling bridge in his office, which he and Adams used to model the front end and front fenders, keeping the Zephyr's rear fenders. Ironically, the Continental's signature rear mounted spare tire, however, did not start out as a styling motif, something Edsel had seen on the European continent. Instead its location was practical, there just wasn't enough room in the trunk for luggage and a spare.
Gregorie and Adams finished the model in about a week, painting it Edsel's favorite gray and giving it white sidewall tires and thin, almost delicate, chrome bumpers. When Edsel saw it, he said, "Well, how long will it take you to get one ready? I'd like to see if we can have one ready for my vacation when I go to Hobe Sound, Florida."
In early 1939, the first prototype was completed and shipped by truck to Edsel's vacation home in Florida.
Two weeks later, Gregorie received a long distance phone call from an excited Edsel Ford. The car was slow, due to about 500 pounds of lead used to restyle the Zephyr, and according to Ford it leaked water like a sieve, but he still loved it.
"Gosh, I've driven this car around Palm Beach ," Ford said. "I could sell a thousand of them down here right away, quick. They couldn't get enough of them. You'd better get over to the Lincoln Plant and talk with Robbie [Robinson, the Lincoln plant superintendent] and see what you can do to set up an arrangement for limited production. In the meantime, you'd better start a second one going right away."
Gregorie had earlier told Edsel that it made more sense to sell a prospective special as Lincoln, not a Ford or Mercury.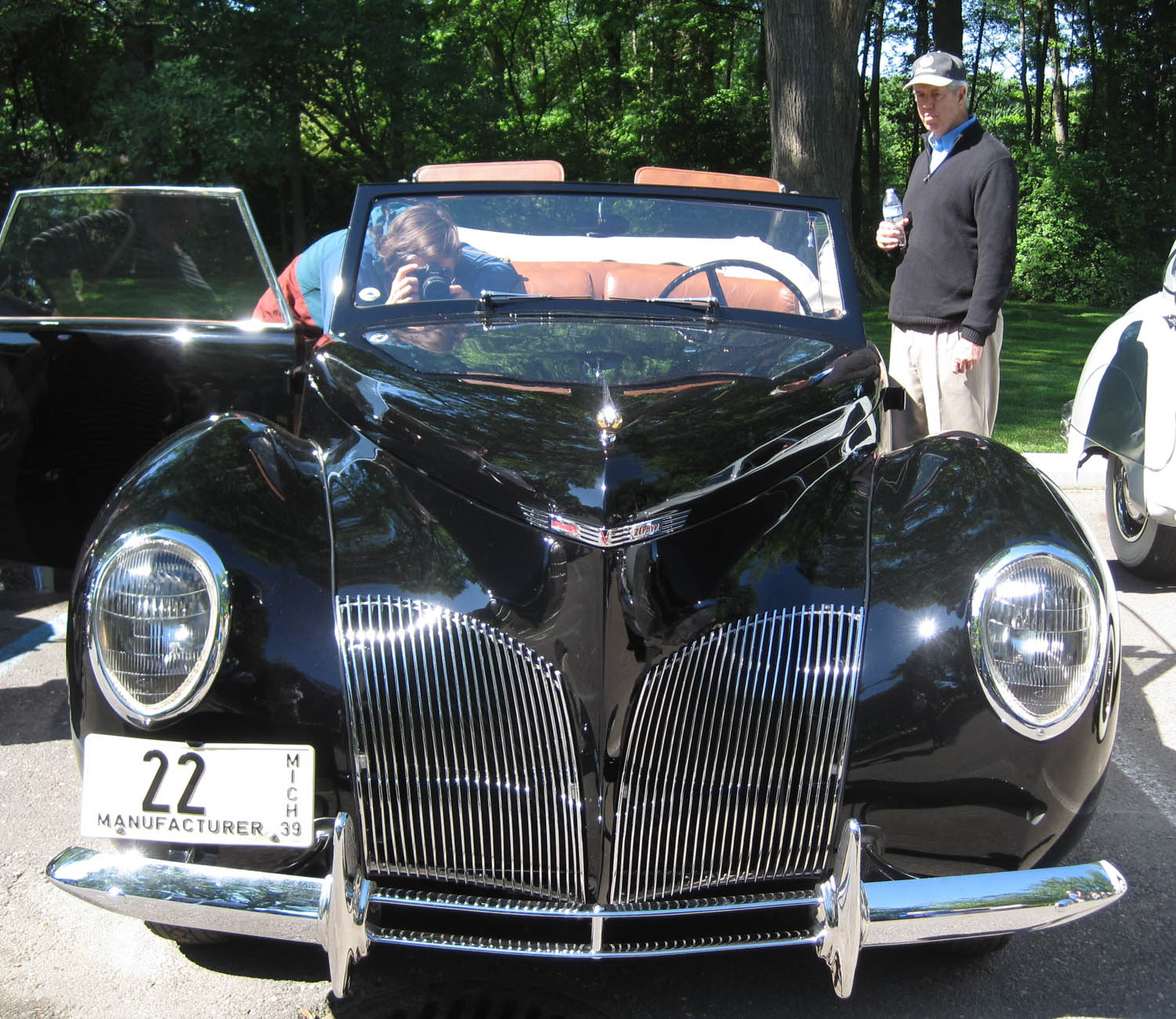 "In the first place, we can get more money for this car," the designer said he had told "Mr. Ford". "Gee, we've got the chassis, frame, we've got the suspension system, we've got the engine, we've got the steering gear and all mechanical parts. We're not interfering with any Ford production. We've got all components in house, right there at the Lincoln plant, and we have the people to do the nice trim work and so on."
When he was finished sporting the prototype around Palm Beach, Edsel shipped the car back to Dearborn where it was dismantled, as was the practice back then.
To prepare for production, Gregorie and the team at Lincoln made a second prototype, also based on a stock Zephyr (the "Continental" spare in the back carries a Lincoln Zephyr hubcap). This one had a slightly shorter eight-inch extension of the hood and front fenders, the doors were moved forward, interior space was increased, and the rear deck was raised for more luggage space. It was painted gloss black, with a two-tone tan leather interior and a tan convertible top. An Art Deco hood ornament with a gold-colored globe and a trailing chrome wing accentuated the long hood. Goodyear tires with double whitewalls finished the package.
Edsel Ford undoubtedly drove prototype #2 but instead of keeping it as his personal car he gifted it to Gregorie in late 1939. Gregorie made some modifications and drove the car for a couple of years, selling it for $800 (about $14,000 in 2019 dollars) in 1941. Over the decades it changed owners a few times, was broadsided in a collision, and then disassembled. Finally, in 1977 it was purchased by an owner who fully restored it with his sons. The Lincoln Continental Prototype was purchased by the Edsel and Eleanor Ford House last year. From the outside it looks ready for production, but if you look closely under the front fenders, you can see signs of hand-work on the chassis.
If you miss seeing it at Eyes On Design on Father's Day, you'll be able to see the only surviving Continental prototype next spring, when the Ford House opens its new visitor center, currently under construction. The opening exhibit at the new facility, Driven By Design, will feature the Continental prototype, Edsel Ford's 1932 Ford Model 18 Speedster, and his 1934 Ford Model 40 Special Speedster. That will be the first time all three cars will be together and also the first time the '34 Model 40 Speedster will come home to the Ford estate since it was meticulously restored in 2011.
For any automotive fan, design buff, or just general history lover, it's a must-see.