The Rolex Monterey Motorsports Reunion is the best car action at Car Week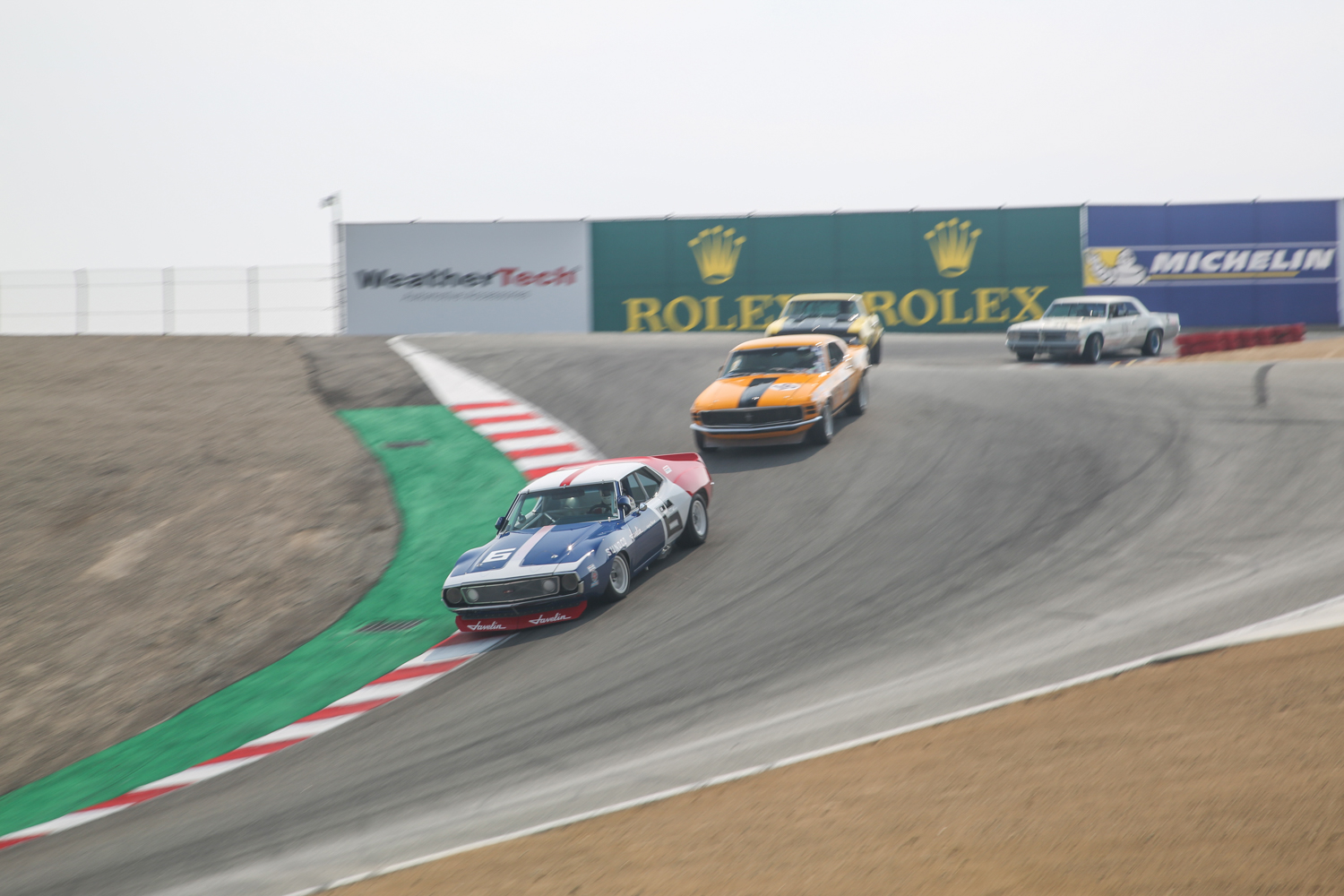 Just a dozen or so miles from the pomp and prestige of Pebble Beach, the Rolex Monterey Motorsports Reunion at Laguna Seca offers an entirely different flavor of eccentricity than what you might expect from the auction and concours crowds. Rather than flamboyantly printed suits, tweed, and dapper hats that are all the rage on the fairways and clubhouses, the paddock at Laguna Seca is filled with drivers in one-piece Nomex numbers that are, to be honest, not as flattering.
But we didn't come to Laguna Seca to talk fashion. This is Car Week, and there's no better place to see, hear, and smell cars doing what they do best than at Laguna Seca. Wide-open through turn one or stacked up through the legendary Corkscrew, the vintage racers of Car Week are competing for bragging rights, and in some case, championship points. Drivers are pushing themselves and their machines, so spins, run-offs, and accidents do occur. There's perhaps more respect and care given for the machines, but this is still racing. Everything from a 750cc Austin Nippy to a big-block Can-Am car will run throughout the course of the day. Where else (besides perhaps Bonneville Speed Week) can you see such variety?
The Rolex Monterey Motorsports Reunion is staffed by the Sports Car Racing Association of the Monterey Peninsula (SCRAMP) and fields 15 separate classes of vintage race cars that each run a 20-minute heat for four days. The classes range from pre-1940 racing cars to 1967–81 Formula One, classic Trans Am, and even more everyday 1950s and '60s sports cars.
Some races, like the 1966–72 Trans-Am class, will field 30 cars that could have run against each other in a 1970 Trans Am Race, while the pre-1940 Sports Racing and Touring Cars class is grouped with the 1927–51 Racing Cars for a field that varies wildly in power and handling ability. Watching either race is highly entertaining, as are the rest of the classes, and we can't recommend the Rolex Monterey Motorsports Reunion enough. If you plan on visiting Monterey for Car Week, make some time and see if you can catch at least one race from each class. You can even wear your finest Pebble Beach attire. Until then, enjoy this gallery of our favorite sights from 2018's Rolex Monterey Motorsports Reunion.