The rare Italian steering wheel I never wish to sell
I drive an Autobianchi A112. By now, my '85 oddball packs a built Abarth engine with a bigger Weber, plus a lowered suspension with sticky Yokohamas, just to make sure I can keep up with modern traffic. However, right when I first hopped into its less-focused version seven years ago, it was clear that such a noisy troublemaker deserved a decent steering wheel in place of the factory polyurethane affair. Franky, even when bone-stock, most pre-airbag cars do. Once swapped, your hands and eyes will equally appreciate the upgrade.
Cash-infused Instagram propaganda will tell you that a Momo Prototipo is the alpha and omega of vintage steering wheels. As pretty as it may be, that hype is why Porsche's favorite dashed and drilled three-spoke design feels so worn out by now. When it comes to the vintage field, there are a number of smaller manufacturers worth looking out for, including Formuling France, Izumi, Raid, and Italvolanti.
My personal choice is the Italian company behind Emerson Fittipaldi's steering wheel design, the "Fitti."
Personal is a mysterious manufacturer that's been connected to the world-famous Nardi brand since 1968. History tells us that, having been established in the early '60s, Personal bought the rights to the Nardi name just two years after Enrico Nardi died from blood poisoning caused by exhaust gases. In 1990, Nardi Italia S.p.A. popped up as a completely new company, only to be reunited with Personal under both companies' new management in 2005. Today, the company is called Nardi-Personal.
Everybody knows Nardi for its wooden wheels, but Personal kept a low profile, despite supplying the Williams, the McLaren and the Benetton Formula 1 teams for over two decades. Between 1980–1997, ten drivers scored fifteen championships by turning Personal steering wheels at braver angles than others.
In order to stay in business for almost six decades, Personal must have also been a major OEM supplier, hidden behind those generic "Made in Italy" stampings. Apparently, one of its known clients was Romano Artioli's Bugatti, who ordered some plush leather-wrapped three-spokes for those mighty quad-turbo EB110s.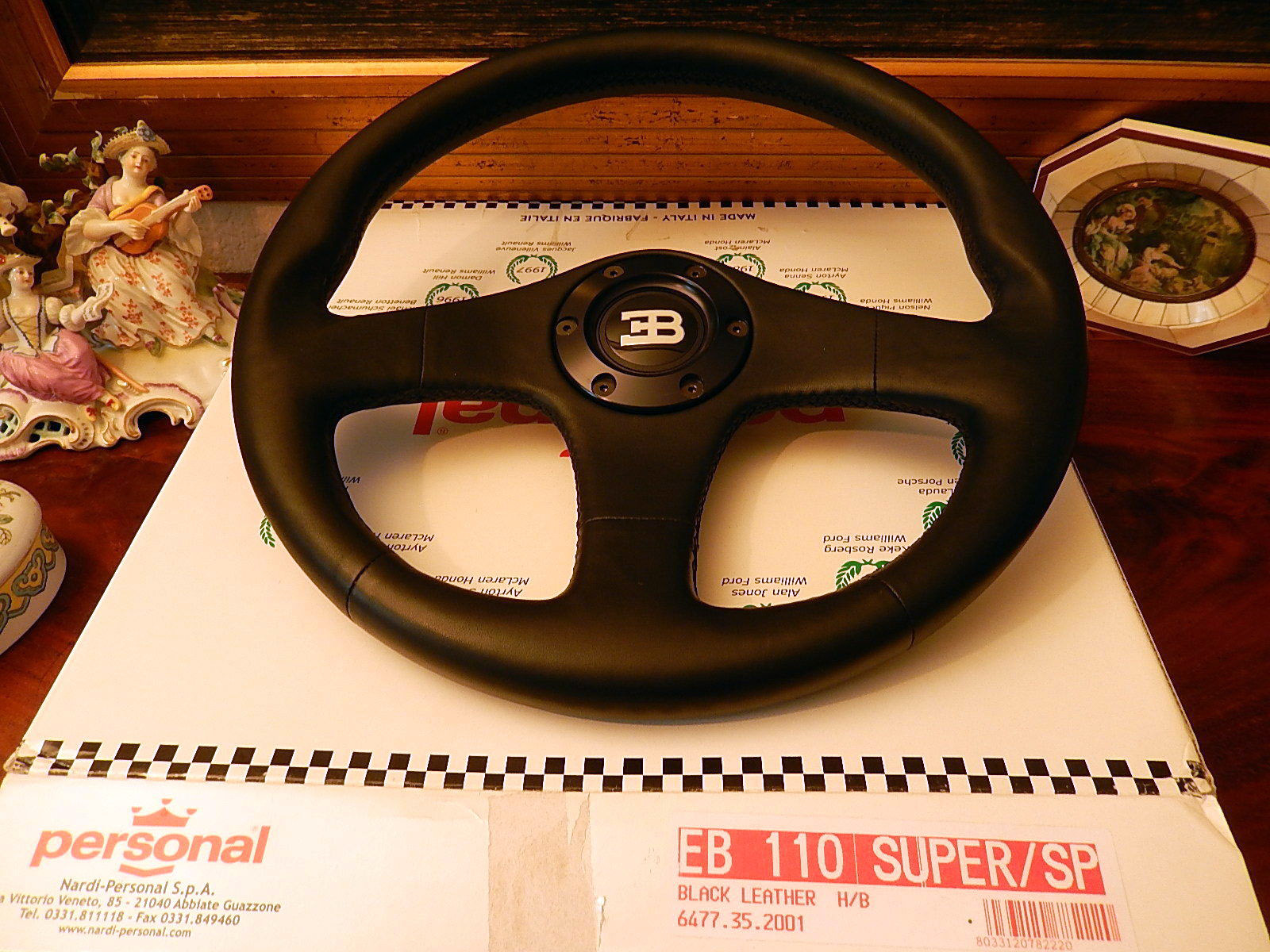 Staying at a much lower price range, I have yet to learn what year my four-spoke, black leather Personal was made. Sometime in the '70s or '80s. Yet what's certain is that it's a rare piece by now. Momo, Sparco, OMP, Nardi, and Personal all stopped making four-spoke designs a long time ago, and if you're looking for a vintage four in leather, your options include a Nardi Gara 4, a Momo Ghibli 4, a Raid Dino 4, or perhaps an even more obscure Formuling France four-spoke. However, as far as I can tell, Personal's equivalent is nowhere to be found—except for the one in my A112.
Seven years ago, this black-spoke 350mm medium-dish piece came from the Hungarian equivalent of Craigslist, sold to me by an older guy whose son bought it ages ago, only never to put it in a car. It was cheap, with tight stitches that were once white, a few minor scratches in the leather, and a factory Personal horn button that's now connected to what is the most ineffective sound-making device Magneti Marelli has ever produced.
My vintage steering wheel is not one of Personal's collectible helmet-badged Fittipaldis. Those you can buy. It must be said that my budget Nardi also continues to be dusty from the missing headliner I have yet to fix. On the plus side, as long as it suits my driving style this well in my current quintessentially manual deathtrap, or the next, this four-spoke remains an absolute keeper.