History roars, chips, and drips when you linger in the pits at a vintage race
My ears are still ringing from a passing AMC Javelin when a red Chevron B19 parked in the WeatherTech Raceway Laguna Seca paddock catches my eye. The driver's unwrapping long ribbons of white fabric tape, and I halt out of sheer curiosity. I'd already marveled at a Sebring-winning Alfa Romeo and a Coca-Cola-liveried Porsche 962, as well as a Le-Mans-going Audi surrounded by mechanics perched on door sills, laptops at the ready. For some reason, the tape throws me for a loop.
"I'm making a seat," driver-for-the-weekend Mikel Miller explains, gesturing down into the knee-high Chevron, which features Zip-Loc bags of towels and strips of blue foam taped to the seams of its unpainted seat.
Hearing the glorious sounds of the 2019 Rolex Motorsports Reunion stirs the spirits. Seeing these true pieces of history doing what they were born to do surely satisfies drivers and spectators alike—but it's walking the paddock, watching these mundane tasks, that really gets the full experience under your skin.
I pause to watch a mechanic, face-up under a Lotus done up in John Player Special black and gold, draining oil. A quilted blue blanket cushions his hip as his shoulder brushes an aluminum pan filled with sludge.
A 1965 Ferrari 250 LM sits parked under a canopy, snorkeling air from a fan butted against its neat oval grille. I'm in the middle of a conversation when a Camaro's snorting exhaust note protests, literally stopping my conversation. The deafening rumble belongs to a 1970 Z/28 that only minutes before careened around the Corkscrew with raw-edged grace; it looks clumsy in the tight quarters of the pits, barely able to fit its butt into its parking spot at the insistence of its crew. Only once the V-8 succumbs to the kill switch can paddock chatter resume.
In between sessions, you can hear the hiss of dry grass as you scramble up the hill overlooking the Corkscrew. My commune with photosynthesizing nature is short-lived, however, because there are full tanks of hydrocarbons to burn. In the background, you can hear when the green flag drops; the sound crescendos, rising in pitch and volume and blanketing the raceway in an ear-filling roar.
The imports are out here, too. There's the continuous burp of backfires and the occasional plume of California dust that could belong to a tail-happy SL or 911. And, of course there are the inescapable credentials of the cars packing the pits.
In other vintage events, the track swarms with perfect replicas, tributes, and backup or qualifying cars that never saw a real race. For this year's Rolex Monterey Motorsports Reunion, over 1000 submissions were winnowed down to this year's paddock of 500 cars. That Alfa Romeo GTZ won its class at Sebring in 1964. Those Cobras around the corner? They're the real deal. And the people—the drivers, owners, and mechanics? Many were around to witness the history.
"See that purple Porsche?" David Klym points down the row of IMSA prototype racers. "I built that." He recites the chassis number, "962-F01." Kneeling and craning my neck into the purple prototype, I spot the gold plate: 962-F01.
Klym founded Fabcar in 1977 and he and his company built chassis and suspension components for everything from this Porsche 962 to seven 944R Trans Am cars, one IMSA GT1 car, and even Pro Stock drag car frames.
His favorite car here is this Coca-Cola liveried 962—maybe because it evokes the red-and-white Coca-Cola branded Porsche 935 he built for Bob Akin.
These days, Klym's the man on call at the Revs Institute, in South Florida, for period-correct parts. "Something's broken, I make it," he says. "They hand me an old picture—a shock absorber, a tachometer drive unit, whatever. I machine it, weld it, fabricate it. I can make it better, but I don't. I make it look 100 years old."
The one car he can't leave without seeing? A rough 1923 Model T hanging around the pits after 60 years in a field. "It's rusty, it's nasty. It's the most beautiful thing here," Klym says, his back to 700-man-hour, swoop-tailed 962s.
I have to find this eccentric paragon of automotive beauty. When I finally trundle down "Pre-War Alley," the Model T is unmistakable.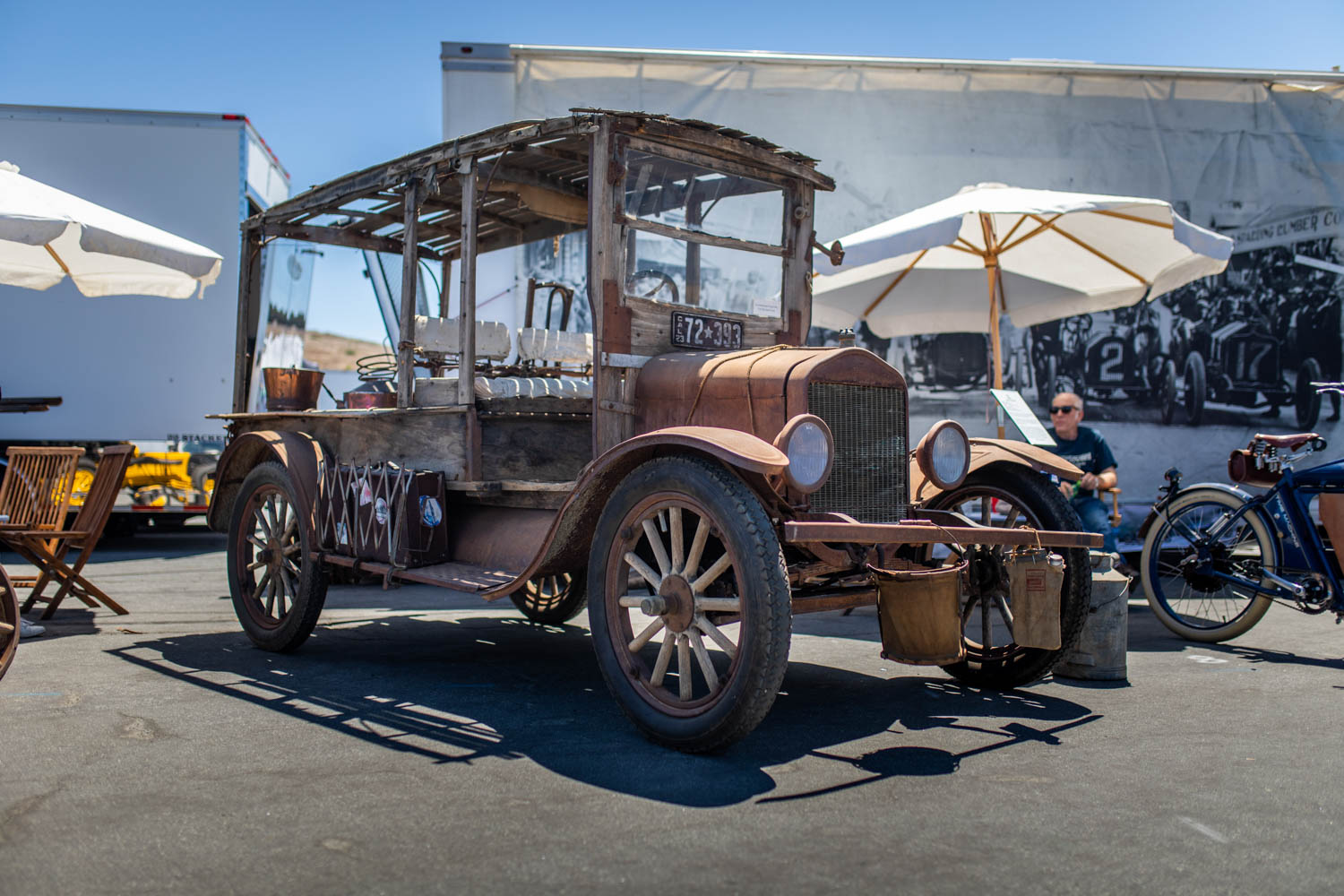 Driver-for-the-day Bill Bennett can't stop grinning while we talk about the car. "The lights work, the speedometer works, the horn works. We have a can of bailing wire, so when something comes apart, we wire it back on. Kinda-sorta keep it in one piece."
All the Model T needed was fresh oil, gas, rubber, and wiring. Now, it happily sheds splinters and rust, stained canvas flapping as it sits on the Laguna Seca paddock.
Fun comes in many flavors when the Rolex Motorsports Reunion rolls around, when Laguna Seca hosts automobiles as eclectic as the Model T and as strong as the 80-degree California sun. Around the corner, I'm introduced to Trudy, a 1968 Greenwood-bodied Corvette.
"She's forgiving in a crazy way," driver Mike Thurlow says. "The crew named her, and she runs through tires and brakes so quick, they always say, 'Trudy likes new shoes.'"
"I also do off road racing, and she's similar to that. She slides, wiggles, and walks anywhere." Thurlow searches for a compromise. "She'll always go in… the same zip code you point her," he laughs.
Even in this land of inflated "normal" standards, the underdog dynamic lives on. Thurlow says Trudy's 401-cubic-inch V-8 makes her "loud and obnoxious, but the crowd loves it because she runs up front with cars that cost a lot more."
The black, red, and orange stripes flare over the rear fenders and kink down across the hood to outline a massive hood dome and accentuate white front fenders, paint spidered with cracks. Even among the exotic '60s GT racers, these cars wear their flaws with pride, and their caretakers take care to restore function, not perfection.
"You can see the paint filler," Revs Institute service tech Mike Ellis says, pointing to a paint chip the size of a dollar piece that exposes the aluminum body of a '64 Ferrari 250 LM. "We might paint over it, but we won't fix it."
Attention to detail is the common denominator around this rolling, roaring pieces of history. The decisions made about those details, though, creates the romance of the event—seeing the cars shimmy, slip, and scream around the track. Paint chips? Who cares. Crack testing suspension, checking fluids, and replacing tires? Before this Ferrari felt the Laguna Seca sun—for only the fourth time in nearly 20 years—you can bet the Revs Institute mechanics checked everything.
What do you choose to change, and what do you leave alone? No one revels in nostalgia for threadbare tires because they're vintage. Purple rivets, though, were worth hand-anodizing to match the original build spec of the low-lying little Chevron B17.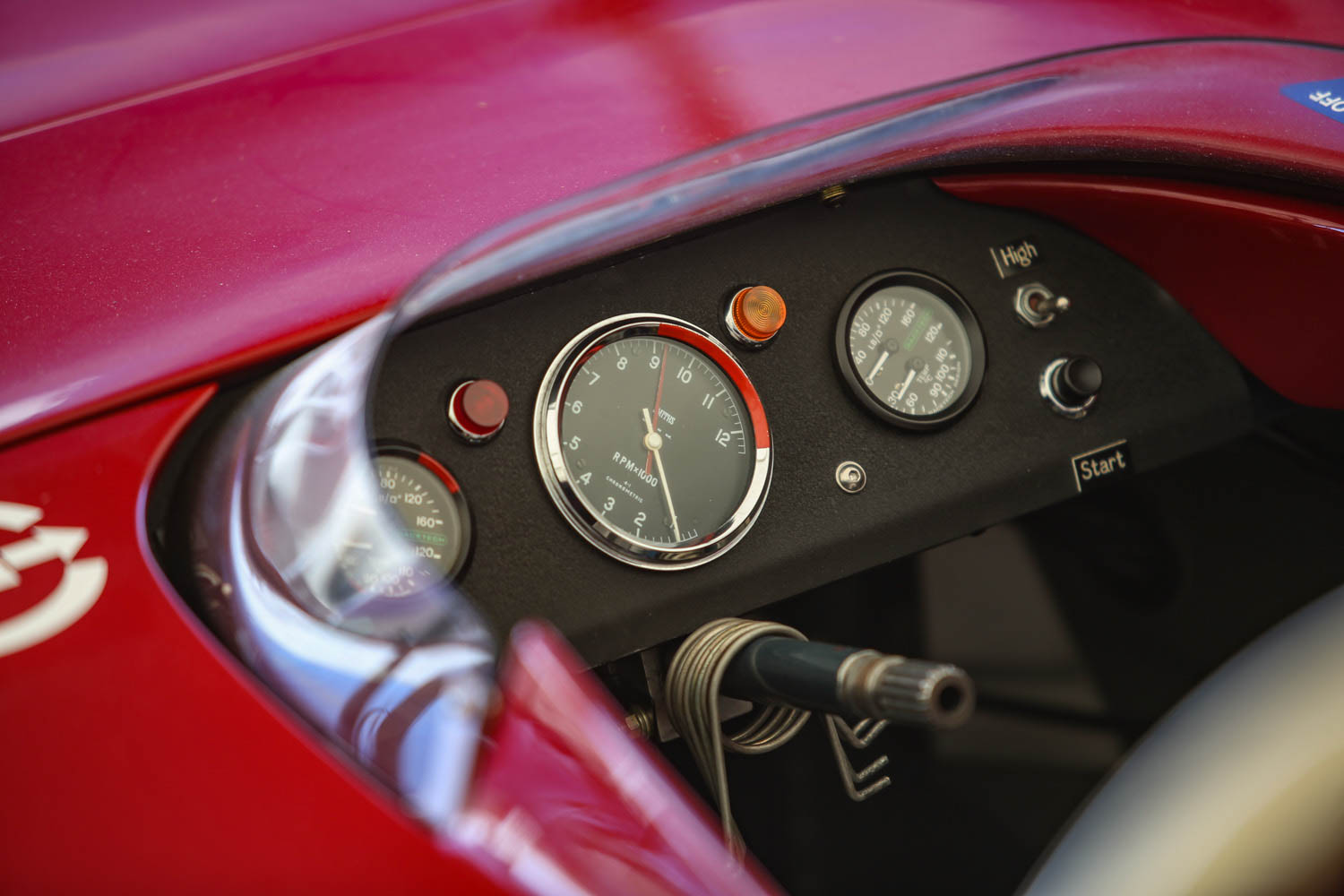 The Rolex Motorsports Reunion is a triumph of rubber and grease and poster-hallowed liveries. It's a celebration of history, and a dream fulfilled by those racing the cars of their heroes.