As the value of originals goes berserk, John Bothwell's copies are having their day
John Bothwell lives in the overcrowded, overpriced suburbs of Los Angeles has spent the past year relying on a 1923 Ford Model T as his daily driver. He is the second owner of the unrestored roadster, which was the first automobile ever purchased by his great-uncle and well-known car collector, Lindley Bothwell. John Bothwell figures he drove this clattering black Tin Lizzie 4000 miles last year, all over Orange County and even to meetings in downtown L.A. some 40 miles away. Since he can't take the freeway into the city, "I had to leave three hours in advance," he said.
If you're going to spend a lot of money on a car, you'd probably want the seller to live the life. Bothwell certainly does. His small shop in Costa Mesa, California, is filled mostly with wood- and wire-wheel ancients such as his 1912 Fiat 9-liter tourer—one of only four surviving, he claims, and part of the collection started by his great uncle almost a century ago. The shop also contains a few cars that look old but were built only in the past couple of years.
Bothwell is the director of Pur Sang, the company in Argentina that creates meticulous hand-made "tool-room" copies of pre-war Bugatti and Alfa Romeo race cars. In the collector world, tool-room copies are considered to be exact replicas of the originals, down to their perfectly recreated engines and running gear. The Pur Sang copy of the Bugatti Type 35 is almost indistinguishable from an original.
Bothwell is also a partner in The Old Racing Car Company, another operation that retails both real vintage cars and high-end recreations. A glossy catalog for The Old Racing Car Company that Bothwell hands out to visitors profiles a tantalizing assortment of perfectly rendered replicas as well as restored originals: A 250 SWB California Spyder built in the early '80s by coachbuilder Giovanni Giordanego that would fetch a fraction of the cost of the real thing; a 1963 Ferrari GTO built on the bones of a more plebian Ferrari 250 GTE, many of which gave their skins to be turned into racing replicas in the 1970s and '80s before they, themselves became valuable; and a pre-war Alfa Romeo 6C 1750 Zagato built up from loose parts and a tool-room copy chassis.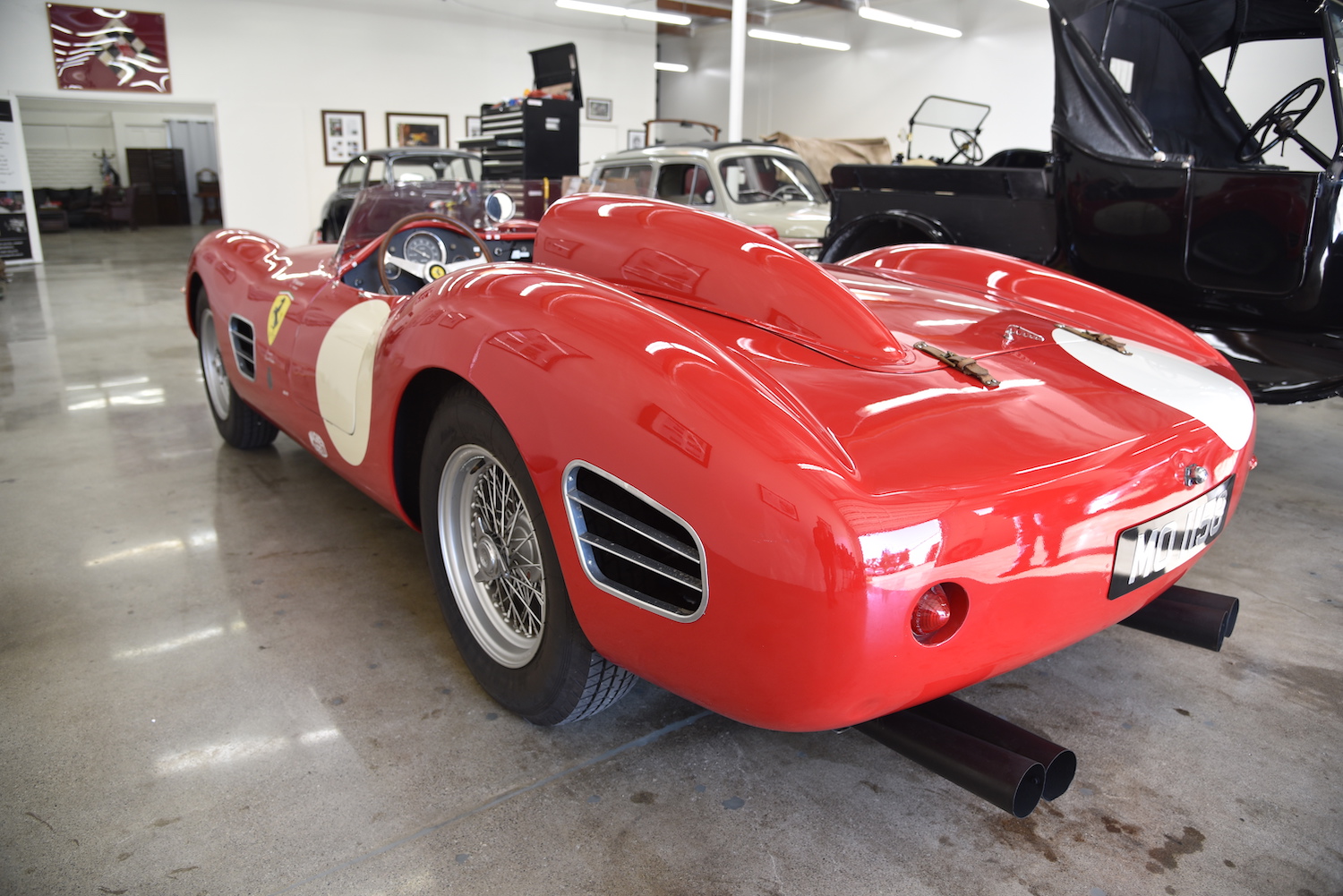 The Alfa sits in the catalog alongside a recreated Mercedes-Benz 300SLR Mille Miglia racer made to look like the famed 722 car with which Stirling Moss and Denis Jenkinson won the 1955 event. All are for sale at far less than the real item would cost, if you could even buy the real item (the actual 722 car belongs to Mercedes-Benz and will likely never be for sale). Says Bothwell of his business plan: "We are trying to create a user-friendly interface for buying and owning a very strange but increasingly desirable product."
At the exclusive top echelon of the collector car world, replicas are anathema, often lumped together with Ferrari-bodied Fieros as shameless imposters not worth the rubber they roll on. But even in that rarefied air, patrons can spend years arguing whether this or that car is really real because so many parts have been changed over the years. Race cars are especially notorious for having cloudy histories, with many of the original bits removed and replaced because of crashes and modifications.
What is real? In Bothwell's shop, nobody really cares. Replicas—at least those with meticulously accurate construction that is faithful to the original—are real enough, and they are starting to have their day. Actually, Bothwell hates the term "replica." He feels that, to most people, the term translates to "just a half-assed attempt to look kind of like the real deal from 40 feet away." Bothwell only touches cars that fall into the more precise definition of a tool-room copy, which in most cases means eligibility for the coveted FIA/HTP designation. This categorization means the cars have the requisite documentation to be welcomed at many events sanctioned by the FIA, the world governing body for motorsports.
More clubs and events are opening up to recreated cars, especially in Europe where event organizers seem to better understand that if it looks and sounds right, people will pay to see it (and if it isn't a priceless relic, racers will perhaps go at it just that much harder). Last year, our own Jay Leno opined in Hagerty magazine that if classic high-value cars are to be appreciated by future generations, they will need to be seen and heard, and replicas—er, tool-room copies—are a great way to expose more folks to them.
Some of Bothwell's cars on offer have been around long enough to have pedigrees of their own, including a replica of a 1960 Ferrari TR60 Testa Rossa that was built in France in the early 1980s and was deemed close enough to real to be accepted to the Goodwood Revival. It now carries a $650,000 price tag, a pittance compared to the perhaps $20 million or more that someone would have to pay for an actual Testa Rossa.
"There is an assumption that a guy who has one of these can't afford to have a real one," says Bothwell. "It's not true." He says the typical buyer for his Pur Sang Bugatti Type 35 is a guy in his 40s who already has a garage full of supercars, and who got exposed at some event to vintage cars and the wonderfully analog experience of driving them. "People are in this arms race of supercars, but it's a very digital experience, there's zero user participation." Bothwell's clients are seeking a car that supplies the roar and physicality of a brass age racer without the multi-million-dollar price tag and associated risk of being casually bumper-tapped by a Corolla.
Despite being passionate about pre-war cars and the history that comes with them, Bothwell says his real motivation is to get people out there driving old cars. "Cars have gone from being for driving to being for concours d'elegance to now being for symposiums." Of course, raging values make it less likely to see a vintage Bugatti just motoring by on the street, but the core purpose of any car is still for driving, says Bothwell. "If the original is too precious to drive, then a well-done recreation must take its place on the road or else we're missing the point of what this is all really about."
Bothwell fell into the business by accident. Back in the early 2000s, he was down in Argentina running an outfitter business for people going on adventure trips when he stumbled on a small shop north of Buenos Aires that was making a replica Bugatti. "I started working there for a while, just doing things in the shop." The original intent, he says, was to have what would otherwise be an unaffordable antique Bugatti, something he had always dreamed of.
Eventually he did—then, "I started running my mouth off, unintentionally selling the product, and then people wanted to buy cars." Pur Sang was born and the company has built around 250 cars, the most popular of which is the Type 35 B Grand Prix which starts at prices "just a little less than a new Ferrari 488," which itself has a base price of around $260,000. Pur Sang currently offers twenty models of cars as well as one-off specials for collectors who may want a unique project designed to their own taste.
Bothwell let us take turns in a Pur Sang Type 35B and a 8C 2300 Monza, both supercharged near-perfect copies of a Bugatti and Alfa Romeo, respectively. The Wall Street Journal car writer Dan Neil called the Pur Sang Type 35 "an Iron Age go-kart," and it is exactly that, with live-wire controls and punchy throttle that blasts the car forward on a wave of torque from its 2.3-liter straight-eight. It'll easily hang sideways around a corner, it brakes sharply, and its four-speed shifter, which is outside the narrow cockpit, is a reassuring and precise thing to work once you're used to its quirks.
The blown 8C 2300 is larger and has 40 or 50 more horsepower than the 140-hp Bugatti replica we drove, but its cockpit is even narrower and more cramped. The noise from the side pipe running just below the cockpit cutout is deafening—passengers need to watch their elbow lest they suffer a nasty burn—and the car feels more like a bazooka to the Bugatti's light and lively scalpel.
Then there's the Runge RS, which Bothwell is selling on consignment with an asking price of $270,000. It has bits and pieces of Porsche 356 baked into a custom-built chassis under a mirror-polished aluminum body meant to evoke sports racers of the late 1950s. "Post-war 'competition cars' were typically .040-inch 3003 or softer aluminum which, in period, showed numerous imperfections—or as as we like to say, 'makers marks'," says car builder Chris Runge, who produces one-off cars and furniture to customer order from a shop in Alexandria, Minnesota. "Symmetry, hammer marks, panel fitment were not of concern so much as to hauling ass."
The Runge RS also has shades of Steam Punk, harkening back to the Art Deco streamliners and air racers of the 1930s. The car was commissioned by a Jacksonville, Florida Porsche and aviation enthusiast named Jeff Hathorn. "I told [Runge] that I didn't want it to be perfect," says Hathorn, "that it should have an industrial kind of look." And indeed the Runge does, with a waviness to the metal and other signs of artistic fingerprinting that might horrify a concours judge but which Hathorn, who waited "two years for the car, not counting a year of talking," finds glorious. Anyone familiar with the loping performance of a conventional Porsche 356 will find the Runge a hilarious diversion, being lower, louder, and faster than anything Porsche sold at the time for road use. The gauges all look right and the aluminum and leather touch points all feel authentic, even if the overall impression is of riding in an art-house sculpture rather than a vintage car.
Alas, it's for sale, because, as Hathorn says, "I'm not a gazillionaire and I have other projects to do before I croak. I'm open to reasonable offers." There are no Porsche badges on the car, only an elaborately ornate eagle logo for Runge himself, so nobody is trying to fool anybody with this car.
And that is pretty much Bothwell's stock and trade: everything is above-board and it is what it is. And in our book, it all seems pretty cool.