The IH Scout is the bargain alternative to the Blazer and Bronco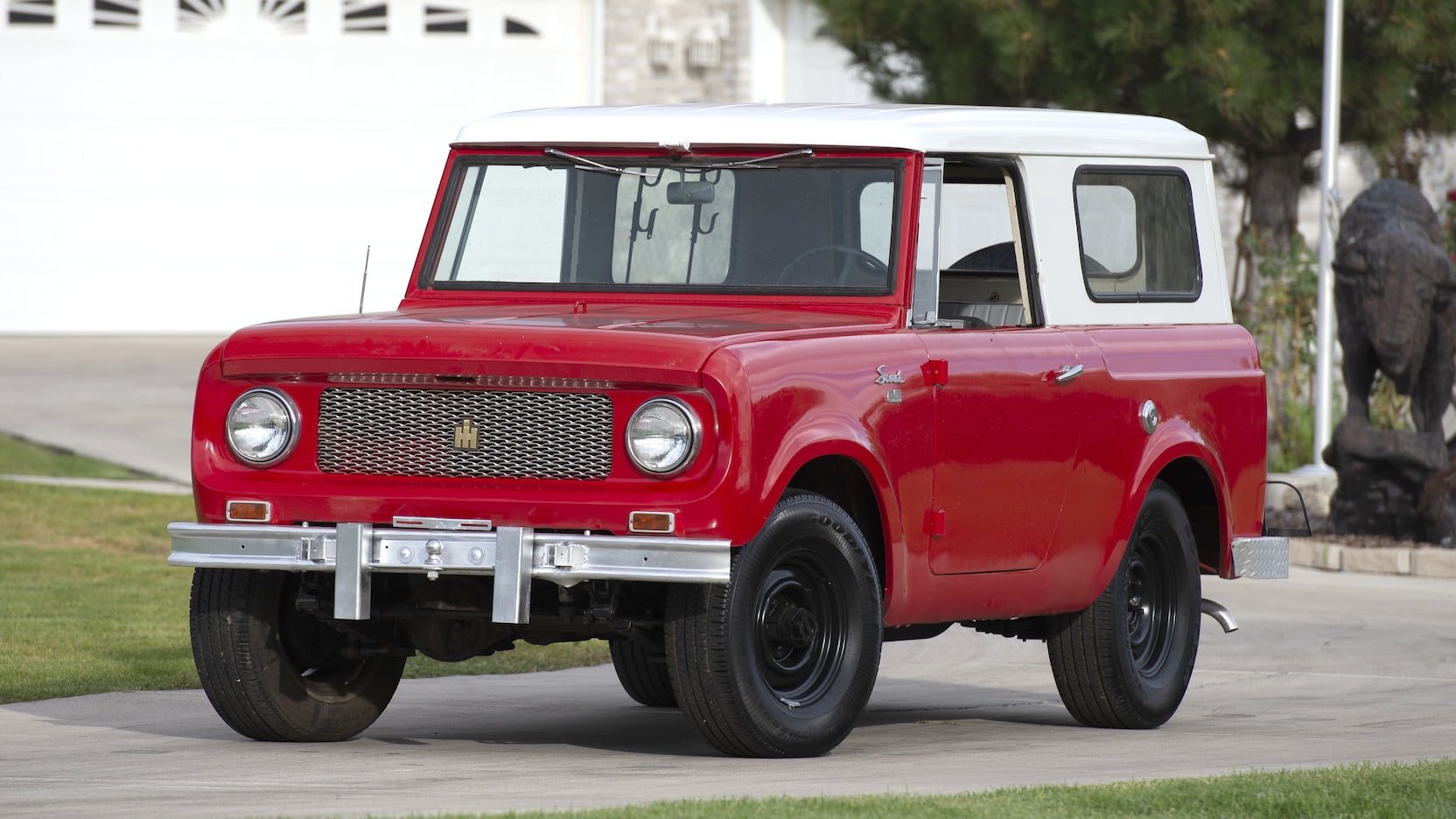 They say a rising tide lifts all boats. Why then, aren't vintage SUVs like first-generation International Scouts riding the same valuation wave as classic Ford Broncos and Chevy Blazers? It's all about interest. And vehicles from International Harvester just don't have the same name recognition—and magnetism—as their Ford and Chevrolet counterparts.
"Even though 1961–71 Scouts are rarer, there's simply less demand for them," Hagerty valuation editor Andrew Newton says. "The more established names are top of mind. A lot of people don't even think about International Harvester. Plus, parts are way harder to find for Scouts than for Broncos and Blazers, which doesn't help."
Values for the first-gen Scout—which were created to compete with Jeep and came before the Bronco and Blazer—are finally beginning to rise, however. Our latest pricing data shows the largest-ever increase for #2 (Good) condition 1961–71 Scouts. It's a 12-percent average jump across all body styles, after values remained virtually flat for three years (other than a slight blip up late in 2016).
Nevertheless, "the increases aren't as sharp as they've been for Broncos," Newton says, putting the numbers into perspective.
Our average insurance-quote value in 2018 is $14,000, up from $12,500 in 2017. Values for high-end Scouts are generally in the $20,000 range, but a 1965 Scout 4×4 pickup sold for a whopping $44,000 at Barrett-Jackson Scottsdale earlier this year.
The average age of someone quoting a Scout I is 46.4 years, fairly young for a 1960s-era vehicle and about six months younger than the average age of those quoting the same vehicles last year.
It seems logical then that more—and younger—enthusiasts are turning to Scouts because they're being priced out of other vintage trucks, a trend that has also sparked the recent rise in values. But interest, as gauged by overall quoting numbers, is actually down. After a 30-percent jump in Scout I insurance quotes from 2015–16 and 8-percent rise from 2016–17, quotes have dropped 7 percent so far in 2018.
When it comes to actual insurance policies, slightly more than 700 first-generation Scouts are on our books, and the average age of those vehicle owners is 53—nearly seven years older than those who are seeking a quote. So what is happening to those younger enthusiasts?
Newton says they're changing course. Slightly. "Early Scouts are no longer the cheap alternative they once were. So as the values of early Scouts rise, younger buyers move to the later, more user-friendly Scout IIs."
Insurance data supports that assertion. Nearly twice as many 1971–80 Scout IIs are insured with Hagerty as first-gen Scouts, and those Scout II owners have an average age of 51, two years younger than Scout I owners.
The bottom line: It's natural for people to turn to the next best thing when their dream vehicle slips beyond their means. That explains the recent jump in first-gen Scout values. But long term, 1961–71 Scouts aren't as usable or as easy to maintain as Broncos and Blazers due to parts availability, and they'll always be more obscure. So it's likely their values will always lag behind their more established and popular contemporaries.