2019 Bull Market List: 10 best collector cars to buy this year
When the gavel came down on lot number 372 at the Barrett-Jackson auction in Las Vegas this past September, it smashed any remaining illusions that modern mass-produced cars will never be collectible. The 1997 Acura Integra Type R with 1191 miles showing hammered at $63,800, a startling figure for what is basically a gussied-up Honda hatchback. Indeed, the Integra outperformed a bumblebee yellow 1970 Dodge Charger 440 and a Highland Green (of course) 1968 Mustang 289 fastback, two collectible-car perennials that went across the same block that weekend. What, you might ask, is the world coming to?
[This article originally ran in Hagerty magazine, the exclusive publication of the Hagerty Drivers Club. For the full, in-the-flesh experience of our world-class magazine—as well other great benefits like roadside assistance and automotive discounts—join HDC today.]
Well, the world seems pretty much the same, meaning that values are still rising on some special cars that were once thought commonplace. However, the era of those cars keeps shifting forward as the clock on the wall keeps spinning. Your high-school dream machine may have had a big-block and a shaker, but the guy next to you at the bar might have wanted VTEC and an 8000-rpm redline. And if he graduated high school in 1997, he's no kid anymore; he's pushing 40 and perhaps ready to purchase a time machine with whatever cash it takes.
In this, our second annual Bull Market roundup, we have again pulled together a list of mostly later-model cars and trucks that the Hagerty valuation team believes are on the move. These 10 vehicles have slid the usual slope of depreciation and attrition, and the higher-quality survivors are ready to start climbing. Or they have already started climbing and are now poised to launch.
As we did last year, we reached out to our Hagerty membership for owners of the cars on our list. And as happened last year, they astonished us with their willingness to take time off from their lives and troop out to the storied Lime Rock Park circuit in Connecticut's pastoral Berkshires to be a part of this event. It couldn't have happened without them. And one of Lime Rock's favorite sons—racer, author, and TV commentator Sam Posey—dropped in to tell stories, such as that time in 1971 when he was burning down Le Mans' Mulsanne Straight at 248 mph in a Ferrari 512M. Posey recalled, "I was passed by Pedro Rodriguez in a longtail 917, and he was as white as a sheet."
So if you're wondering what the collectible-car world is coming to, take heart. From our vantage point, it looks pretty darn healthy.
1972–75 BMW 3.0CSL
So much of BMW's celebrated iconography is rolled up in this one big 1970s coupe. It launched BMW's M motorsport division. It was part of a family of vehicles that introduced the upturned stop to the rear quarter-window line, the Hofmeister kink, that has been used by BMW for decades and relentlessly copied by others. It pioneered the use of BMW's tricolor racing stripes, the blue representing the Bavarian flag, the red honoring an early racing partnership with Texaco (bet you didn't know that), and the purple wedged between them as a bridge. In 1975, the avant-garde painter and sculptor Alexander Calder went to town on one, establishing BMW Art Cars as a thing. Just 1265 3.0CSLs were made, making it as rare as many vintage Italian exotics. On the blue-spinner hierarchy, BMW collectors have recently started valuing them only below the illustrious 507 roadster, the M1 supercar, and the 503 coupe.
The scarcity of CSLs in America is driven by the fact that of the several iterations made—from the earliest 180-hp, 3.0-liter carbureted model that debuted in mid-1971 to the final 206-hp, 3.2-liter injected version that closed out production in late 1975—none was officially imported to the U.S. It was a European homologation special, assembled under contract by Karmann, with thinner steel and several aluminum panels to shave more than 400 pounds from the standard 3.0CS. A warbling inline-six tuned for racing turned the wheels, Bilstein shocks augmented the revamped suspension, and winglets and dams shaped the airflow. One version even came with a big wing tossed in the trunk but not factory fitted because such things were technically illegal for the road—all so BMW could enter the car in the German Touring Car Championship.
If you swear you've seen one before, it was probably a BMW 3.0CS, a lovely autobahn eater that went on sale in the U.S. in 1970. Its four round, 5.5-inch headlights, another BMW hallmark introduced by this model, made the car federally compliant, and it became the face of the twin-kidney brand for two decades. So many firsts and so few examples—that is the essence of a collectible car.
1973 BMW 3.0CSL
Engine inline-six, 3153 cc
Power 206 hp @ 5600 rpm
Torque 211 lb-ft @ 4200 rpm
Weight 2800 lb
Power-to-weight 13.6 lb/hp
0–60 6.5 sec
Top speed 137 mph
Price when new $10,214
Hagerty value $218,500–$264,700
THE HAGERTY VALUATION TEAM SAYS:
These cars aren't common, and their values are up 10 percent in the past 12 months. Even though #2 cars are valued at $250,000, we think there is room to grow. BMWs saw the second-highest insurance-quote increase over the past year (after Jeep), and many of the quotes are for people under 55 years old. BMW and Porsche draw many of the same buyers, and as Porsche values grow and price people out, BMWs get more attractive.
1997–2004 PORSCHE BOXSTER
The recession of the early 1990s had been hard on Porsche, and the nearly bankrupt company was in survival mode. Determined not to be so vulnerable again, Porsche hired a team of former Toyota consultants to help streamline production and rationalize the product line, introducing an SUV and relaunching an entry-level mid-engine volume model akin to the old 914. From the windshield forward, the ensuing 1997 Porsche Boxster was nearly identical to the 996-generation 911, which was released almost at the same time. Jointly developing the two cars drastically cut Porsche's engineering and production costs, helping loft the company to the exalted position it enjoys today as the industry's most profitable company on a per-unit basis.
Although that first Boxster may have benefited from the advice of the makers of soulless Japanese appliances, it is hardly without a soul. Low, curvaceous lines, a wailing flat-six, and highly organic handling made the Boxster an instant car-magazine favorite, moving one jaded journalist to declare it was "so much fun that it's gotta be a sin." The demand for those early cars was so strong that Porsche shelved plans for the more powerful S model until 2000, as the assembly lines in Germany and Finland were already strained to capacity.
The large number of cars built and some known quality issues mean the values for this genuine son of Stuttgart have depreciated into widely affordable territory. You can be lapping up the top-down delights of a Boxster while enjoying nearly perfect ergonomics and carving your favorite road to ribbons—all for $15,000 or less. The Boxster is everything a Porsche should be: luxurious, thrilling, and above all fun.
2003 PORSCHE BOXSTER S
Engine flat-six, 3179 cc
Power 258 hp @ 6200 rpm
Torque 229 lb-ft @ 4500 rpm
Weight 3000 lb
Power-to-weight 11.6 lb/hp
0–60 5.3 sec
Top speed 162 mph
Price when new $51,600
Hagerty value $13,800–$17,200
THE HAGERTY VALUATION TEAM SAYS:
Why this car got cheap: It has the early ugly headlights, the intermediate shaft bearing problem, and a reputation for poor build quality. But 15 years after production ended, there's a fix for the bearing, and most survivors will have had it done. Many people who could buy a $50,000 car new are the kind who do the maintenance and keep records.
1984–93 SALEEN MUSTANG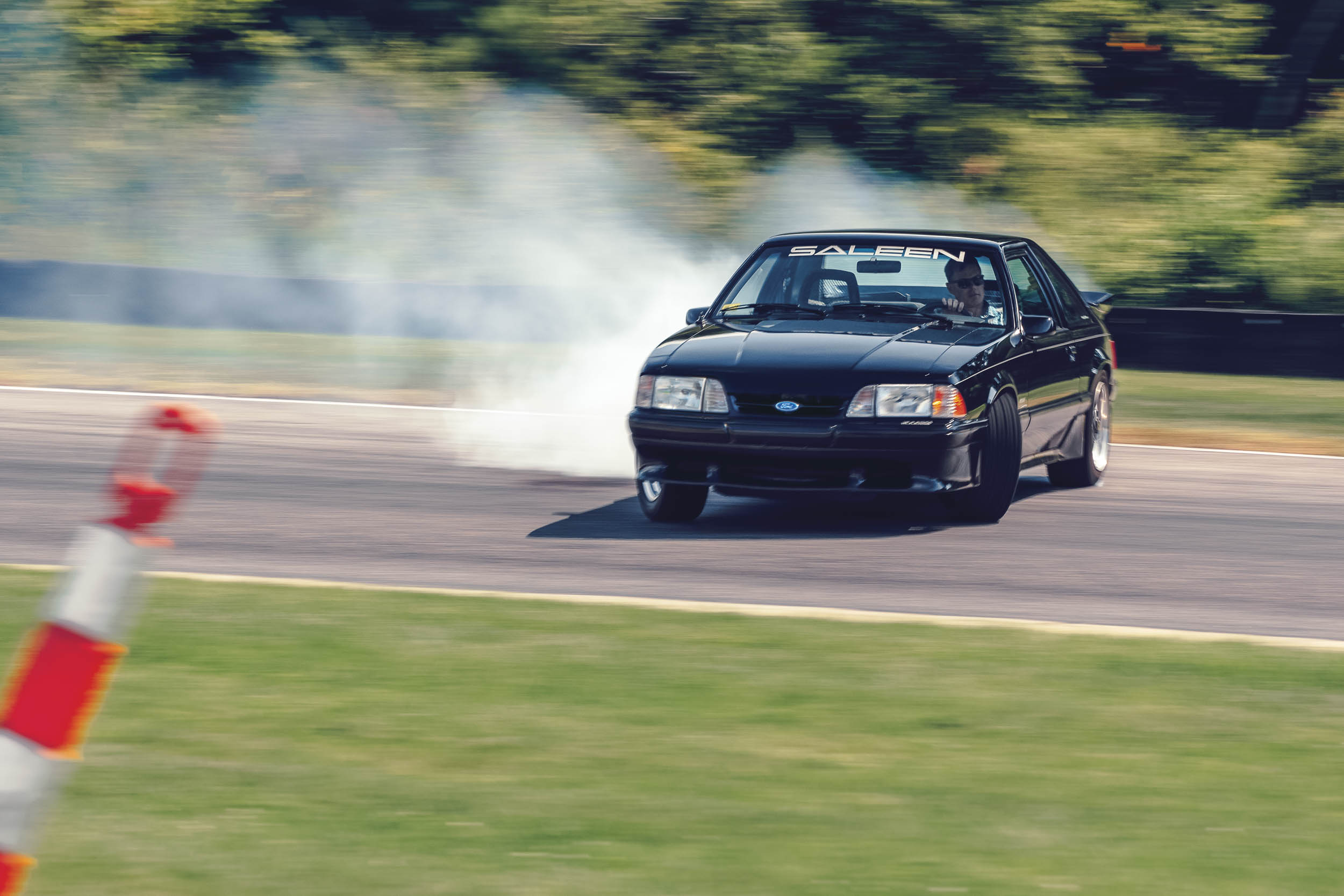 One thing you can say about Steve Saleen is that he's no quitter. The local Southern California car geek rose from a young club-racing greenhorn all the way to IndyCar and went from repainting Mustangs in his backyard to being Ford's selected contractor to build the 2004–6 Ford GT. He started Saleen Autosport in 1983 as a Mustang modification house and was recognized by the federal government as a specialty-car manufacturer, eventually producing his own supercar, the S7. Along the way he saw the rights to his own name snatched away by boardroom wrangling, reemerged with a new company called SMS Supercars, regained his name, and today has new projects including an exotic called the S1, performance-tuned versions of the Ford F-150, and a showroom in Shanghai, China. Set the rewind button to 1989, when Saleen Autosport was turning stock 225-hp Mustangs into SCCA club racers for the street, with firmer shocks and springs, larger brakes, and a variety of cosmetic and functional exterior and interior bits, including Flofit bucket seats and a Momo steering wheel. The cars retailed for about $25,000, a significant bump from the stock Mustang LX but at the time the ultimate tuned Mustang with a warranty.
Behind the wheel, the time trip took some of us straight back to high school as we faced the geometric dash that was a hallmark of the Fox-body Mustangs of the era. The simmering V-8 doesn't make the thunder and lightning of today's muscle cars, but it can spin the tires and pitch the car sideways, as editor-in-chief Larry Webster demonstrates in the photo above. Owner Donald Carter, Jr.'s, father found this Saleen, which had been in the collection of a Ford dealer, in 1993. He bought it not for himself but for Donald's mother, who at the time was in her 80s. "Elsa always wanted a sports car," says Carter. The Saleen became her weekend toy. Her daily driver remained a '71 Chevy Impala. Today, Carter is a full-blooded hot rodder and engine builder, and he keeps the Saleen under a sheet in the garage, there to remind him of his gear-jamming mom.
1989 SALEEN MUSTANG
Engine V-8, 4942 cc
Power 225 hp @ 4000 rpm
Torque 300 lb-ft @ 3200 rpm
Weight 3000 lb
Power-to-weight 13.3 lb/hp
0–60 6.0 sec
Top speed 149 mph
Price when new $25,500
Hagerty value $26,400–$32,500
THE HAGERTY VALUATION TEAM SAYS:
Fox-body Saleen Mustangs are the early Shelby GT350s of the 1980s. Similarities include being created for SCCA competition by a famous driver and incredibly low production numbers. Bone-jarringly stiff, unapologetic, absolute race cars for the street, these early Saleens are still trading for not much more than a garden-variety Foxbody Mustang GT. For now. Don't say we didn't warn you.
1996 CHEVROLET CORVETTE GRAND SPORT
Old names carry big weight in the Corvette world, mainly because Chevrolet, wisely, has never tossed around badges such as Z06, ZR1, and Grand Sport lightly. When you laid out for one of the special Vettes, you truly got something for your money: substantially more horsepower, for one thing, plus exclusive trimmings and maybe a pleasing retro paint scheme. People who buy Corvettes tend to like the fact that they're joining an old and illustrious family, and the 1996 Grand Sport plainly evokes the model's racing heritage.
A one-year gift to the Corvette faithful to celebrate the close of the C4's 12-year production run, the RPO Z16 Grand Sport option was collectible the minute the first of the 1000 examples—810 coupes, 190 convertibles—hit showrooms. Yes, for another $3250 above the Corvette coupe's $37,225 base price, you got more power, as the placard on the center console next to the six-speed shifter proudly proclaims. Besides calling out the LT4's 330 horsepower and 340 pound-feet of torque, the placard tells you in large type that the 5.7-liter engine has a 10.8:1 compression ratio, not a common stat found on an interior car badge.
After building Corvettes for four decades, the Chevrolet of the mid-1990s knew that its Vette customers like to quote figures because they get asked a lot.
You could have any color as long as it was Admiral Blue with an Arctic White "skunk stripe" down the center and twin red hash marks on the driver's front fender. The majority came with black interiors, but a few years ago, John Crynock—who owns two Vettes, this GS and a '98 Indy Pace Car Replica—pounced on one of the 217 Grand Sport coupes delivered with red seats. The C4 will rocket you back in time in terms of interior electronics and GM build quality, but the rumbling LT4 can still rocket you forward with equal ferocity. The view over the wide bat-wing hood has been and will remain a Corvette trademark, at least until the mid-engine Vette arrives next year to once again evolve the Plastic Fantastic.
1996 CORVETTE GRAND SPORT
Engine V-8, 5733 cc
Power 330 hp @ 5800 rpm
Torque 340 lb-ft @ 4500 rpm
Weight 3400 lb
Power-to-weight 10.3 lb/hp
0–60 5.2 sec
Top speed 168 mph
Price when new $37,225
Hagerty value $36,100–$49,500
THE HAGERTY VALUATION TEAM SAYS:
Just 1000 examples built in one year means these cars are rare, fast, and distinctive. In a Corvette—in fact, in most cars—those factors add value. Plus, most Grand Sports were treated as collector cars from new, which means lots of low-mileage choices out there.
2004–07 SUBARU IMPREZA WRX STI
A whole generation of drivers learned the letters STI through video games. Before then, the vehicles produced by Subaru Tecnica International, the company's racing division, were obscure Japanese home-market homologation specials built to support Subaru's efforts in international rallying. By the early 2000s, however, buyers in North America, familiar with cars like the WRX STI from Gran Turismo and other games, were demanding to be let in on the fun. The first U.S.-legal WRX turbo appeared for the 2002 model year, followed shortly by an even heavier-breathing STI version, and Nipon nerds delighted in the brief turbo-tech war that ensued between Subaru's all-wheel-drive hot rod and the similarly exotic Mitsubishi Evo.
The STI had big wheels, a big wing, big suspension upgrades, and a big engine. The 2.5-liter flat-four munched on 14.5 psi of boost to make 300 horsepower and 300 pound-feet of torque in a car weighing 3300 pounds. It's worth noting that, 15 years later, the 2019 model makes 310 horsepower and 290 pound-feet of torque, and the base STI now weighs about 200 more pounds. In other words, unlike many long-running models, that first STI was in some ways the best.
Owner Rich Schaars bought a new WRX in 2002 and in late 2003 tried to trade it in for an STI, but the dealers wanted huge markups. He waited them out over the winter, and by the spring of 2004, dealers were ready to sell at list. More than 100,000 miles and a full engine rebuild later, Schaars's STI is otherwise remarkably well preserved, accelerating and steering as fiercely as it did when new while evoking Subaru racing glory with its gold wheels and British American Tobacco blue paint.
The years have passed, Mitsubishi has faded, and Subaru no longer wants to talk about its rallying days, somehow believing that creates a hooligan cloud over a brand that is trying to move upscale to become a sort of discounted Audi. You couldn't even get blue paint over gold wheels on an STI for a while, and now only the limited-edition $50,000 WRX STI Type RA offers the combo. So, although you can buy a new STI, you can really no longer buy a car as weirdly special as that first one.
2004 SUBARU WRX STI
Engine flat-four, 2457 cc
Power 300 hp @ 6000 rpm
Torque 300 lb-ft @ 4000 rpm
Weight 3300 lb
Power-to-weight 11.0 lb/hp
0–60 4.9 sec
Top speed 155 mph
Price when new $32,000
Hagerty value $25,700–$33,700
THE HAGERTY VALUATION TEAM SAYS:
The real-life versions of the cars we played in Need for Speed were too expensive for the kids who wanted them. But as those kids became adults and made money, the cars got older and cheaper. Good examples are hard to find today, but they are that much more valuable.
1985–89 TOYOTA MR2
The House of Camry isn't really known for its sports cars, but Toyota has produced a few gems, including the 2000GT and lesser known Sports 800, both from the 1960s. It was the memory of the tiny Sports 800 plus the 1970s energy crisis plus the rapidly growing North American market that inspired Toyota to launch the lightweight (and lightly powered) MR2 in 1985. The odd name equated to "midship-engine runabout two-seater." The MR2 may have been a 1970s idea, but it was fully teased-hair, floppy-disk, boombox 1980s when it arrived priced around $12,000 and shaped like Tron's door stop.
A 1.6-liter, twin-cam, 16-valve four producing a mere 112 horsepower growled behind the seats of this junior Ferrari. But the car weighed a mere 2400 pounds, and the engine could zing to 7500 rpm, which ensured that even the dullest commute would have its moments. Everything was light, from the flickable five-speed gearbox to the two-spoke steering wheel that worked the 185/60-14 tires to the way it pranced through corners.
Almost immediately after introducing the MR2, Toyota started piling on features: first, optional T-tops and monochromatic side skirts, then a 145-hp supercharged engine in 1988. The 0-to-60-mph time dropped from about eight seconds to 6.5, but the price jumped to almost $20,000. The MR2 was moving uptown, and a 1990 redesign rounded off all the edges and significantly increased the size, weight, and horsepower.
Owner Jeff Miller was born after his MR2 Supercharged was made and says he had no particular interest in them or in cars in general until playing a video game that included the original MR2. Now Miller owns two of them. A Toyota that converts young people into car collectors? Domo arigato, Mr. Roboto!
1988 TOYOTA MR2 S/C
Engine inline-four, 1587 cc
Power 145 hp @ 6400 rpm
Torque 137 lb-ft @ 4400 rpm
Weight 2600 lb
Power-to-weight 17.9 lb/hp
0–60 6.5 sec
Top speed 130 mph
Price when new $19,750
Hagerty value $10,800–$14,100
THE HAGERTY VALUATION TEAM SAYS:
A car-magazine favorite when new that represents all the cool design things about the 1980s. Clean #2 cars are still less than $15K, but values are up 25 percent. Millennials make up 45 percent of our quotes, which is insane; they were toddlers when the MR2 was introduced. These are people just getting into the hobby, so there's room to grow.
2004–06 DODGE RAM SRT10
Bold, brash, and more than a little bizarre, the Dodge Viper was the American Lamborghini, a wholly unapologetic gas-guzzling, two-seat screw-you to the presumed responsibilities of adulthood. Likewise, the Dodge Ram SRT10 was a kind of American Lamborghini LM002, another truck with a ridiculously overcompensating engine that served no purpose other than to make people giggle. It took Chrysler 13 years after the Viper's debut to answer this absurd "what if" question by shoving the Viper's 500-hp, 8.3-liter V-10 and a big red "start" button into its regular-cab, short-box Ram pickup. The result was a 5100-pound keg hauler that roasted 60 mph in under five seconds while slurping up the juice at the rate of 12 mpg.
During the brief years of production from 2004 to 2006, a four-door variant appeared, offering an automatic transmission and a 7500-pound tow rating (the original had no tow rating owing to the lowered ride height and worries about clutch life). Weighing more than 5600 pounds, the SRT10 Quad Cab was a $52,115 hulking hunk of high-caliber freedom that could at least perform some of the duties of an actual pickup truck. The factory built nearly 10,000 SRT10s of two- and four-door variety, as well as a few special editions such as the Yellow Fever and the Night Runner.
Car and Driver magazine summed up the SRT10's behind-the-wheel experience as follows: "Cement-truck ride, cement-truck noise, fuel mileage worse than a cement truck's." We would only add that the combination of the heavy clutch and lanky shifter, plus the typically slushy pickup-truck steering, makes navigating a twisty road feel like performing spinal surgery with a CAT excavator. Yet listening to that V-10 make its distinctive syncopated roar as it roasts the rear meats (our photo truck had nonfactory side pipes) is a hilarious joy. A hot-rod pickup seems an anachronism today when factory performance trucks such as the Ford Raptor are really about off-road prowess, but that is part of the Ram SRT10's brutish charm. It apologizes for nothing.
2004 DODGE RAM SRT10
Engine V-10, 8277 cc
Power 500 hp @ 5600 rpm
Torque 525 lb-ft @ 4200 rpm
Weight 5100 lb
Power-to-weight 10.2 lb/hp
0–60 4.9 sec
Top speed 150 mph
Price when new $45,000
Hagerty value $26,700–$35,000
THE HAGERTY VALUATION TEAM SAYS:
Our insurance quotes are up 40 percent, and 61 percent of those are from Gen X and millennials, meaning the interested parties are under 55. Auction sale prices are up 15 percent. At the Mecum sale in Monterey, a 1500- mile truck went for $56,000, 10 grand over the original MSRP. They're really hot right now, they're moving, and there really isn't a substitute. A pickup with a V-10 and six-speed is an uncommon combination.
1980–86 FORD BRONCO
Of course, the later versions of Ford's original sport-utility vehicle will be forever associated with the events of June 17, 1994. That's when retired NFL defensive end Al Cowlings gave his buddy O.J. Simpson a lift down a Los Angeles freeway as 95 million people watched on television. That particular 1993 white Bronco now lives in the Alcatraz East Crime Museum in Pigeon Forge, Tennessee, and no doubt aficionados of later Broncos shudder at the connection. Their beloved trucks are so much more than a single tawdry TV moment that must come up in every gas-pump conversation with strangers.
These latter Broncos are everything people love about big two-door SUVs. They're huge, comfortable, fun in their own easygoing way, and plaid-and-plastic time machines back to the pre-motherboard era. The owners of this particular third-generation example have five Broncos in their fleet, and when the local Bronco club last met, 50 of them convoyed under police escort because "there's something about a Bronco and a police escort," said the fellow who brought the car on behalf of the owners. Well, at least they have a sense of humor.
Now that values of the first-gen Broncos have reached the level of surreal, the later full-size ones (as well as the few surviving Ranger-based Bronco IIs) are moving as well. Don't blame yourself if you can't picture the second-gen Bronco; Ford only built it for two years, from 1978 to '79, and finally abandoned its special platform. Like the Chevy Blazer, the Bronco at that point became simply a bobtail version of the contemporary full-size pickup but with a fiberglass cap. The third gen debuted in 1980 with an eggcrate grille and inset headlights—the flush headlights didn't appear until the fourth gen in 1987—and a range of engines that topped out in 1984 with a high-output (okay, 210 horsepower) 351 V-8. The third-gen was also notable for the adoption of an independent "twin traction beam" suspension, which made the ride pleasantly less agrarian.
With a new small Bronco expected for the 2020 model year, Bronco interest is higher than ever. Perhaps even higher than in the summer of 1994.
1983 FORD BRONCO
Engine V-8, 4917 cc
Power 130 hp @ 3800 rpm
Torque 222 lb-ft @ 2000 rpm
Weight 4100 lb
Power-to-weight 31.5 lb/hp
0–60 14.4 sec
Top speed 86 mph
Price when new $10,858
Hagerty value $13,400–$18,100
THE HAGERTY VALUATION TEAM SAYS:
Just as with later Benz SLs, there's a strong substitution effect by people priced out of the first-generation vehicles. There wasn't a big performance difference between all the model years, so there isn't a big falloff in values from the '70s to the '80s. Millennials are twice as likely to quote a third-gen as a first-gen because they're cheaper; a #2 value of $15K is a lot more accessible. The fact that they are bringing the Bronco back stands to help long-term values.
2008–09 PONTIAC G8 GXP
The House of Wide-Track was still listing heavily to starboard from the Aztek debacle when the first Australian import, the GTO, arrived in 2004. Life on planet Pontiac was suddenly a lot more interesting, but hip-shooting product planning chief Bob Lutz's strategy to further cultivate Holden's rear-wheel-drive catalog didn't advance again until the G8 sedan—né Holden Commodore—finally sailed in for the 2008 model year. It was a critical time lapse; by then the U.S. economy was in free fall along with the dollar, making the G8 unprofitable to import, and the new-car market had plunged to its lowest level since 1983. The G8 lived for two model years until GM strangled Pontiac as part of its bankruptcy reorganization.
The division went out swinging with the 2009 415-hp G8 GXP, likely the closest thing we'll ever see to a four-door Corvette and the most powerful factory Pontiac ever made. The 6.2-liter LS3 V-8 could be paired with a six-speed automatic or, blessedly, a six-speed manual. Despite a curb weight of 4000 pounds, the car was good for 4.7-second holeshots to 60.
Owner Terrence Benton didn't know any of this until his son, who worked at a Pontiac dealership, called and said, "Dad, you just gotta see this car." Benton saw it, then ordered this silver automatic, then waited a full year to receive it. He put 60,000 miles on it as his daily driver until his son called again and said, "Dad, you gotta get another daily driver and garage that car." Benton again followed his son's advice, parking the GXP under a cover from which it emerges only on nice Sundays—and for Hagerty photo shoots. When asked if his car could be used for burnout shots, Benton said, "Sure, that's what it's for."
2009 PONTIAC G8 GXP
Engine V-8, 6162 cc
Power 415 hp @ 5900 rpm
Torque 415 lb-ft @ 4600 rpm
Weight 4000 lb
Power-to-weight 9.6 lb/hp
0–60 4.7 sec
Top speed 146 mph
Price when new $39,900
Hagerty value $40,700–$47,800
THE HAGERTY VALUATION TEAM SAYS:
The last hurrah of the Pontiac brand, the GXP was the only G8 available with a manual trans. Members of the Pontiac fan club are crazy excited about their cars in general, and when the brand was discontinued, they went nuts and became even more enthusiastic. Values are up 10 percent over last year's. There's no downside to this car, and it will never get any cheaper.
1994–96 BUICK ROADMASTER ESTATE WAGON
This elephantine throwback to an earlier age of family wagons with wood paneling and rear-facing kid seats seemed archaic on arrival in 1991, when Buick dug deep into its closet to pull out the Roadmaster name after a 33-year absence from the catalog. It and its considerably rarer Oldsmobile doppelgänger, the Custom Cruiser (there was a cheaper Chevy Caprice wagon, too), were nonetheless streamlined for the modern age, riding on GM's giant B-body platform and basically being a state police cruiser underneath. Luxury touches for the Roadmaster included pillowy leather sofa seating, acres of faux wood filigree, and the mushy DynaRide rear air suspension.
The first "Roadmonsters" wafted their way up the driveways of the best antebellum estates with a 170-hp, 5.0-liter V-8, but the 1994–96 wagons are the ones to go for, having come standard with the 260-hp LT1 V-8 from the Corvette. Sure, the Roadmaster can shroud a whitewall in smoke—just one, because of the open differential—but the last great American road hog is best when it exudes a certain old-fashioned southern charm (hey, they were assembled in Texas) while lazing down the freeway on a wave of whipped buttermilk. Today's buyers who want size XXL go for pickups and SUVs, which makes the big American car a rapidly disappearing animal. But a Roadmaster Estate looks far more swish than any pickup while swallowing a four-by-eight sheet of plywood through its tailgate, which folds down and also opens to the side. Not to mention it can tow up to 7000 pounds. Take that, crossover lovers!
Owner Jack Thomas's Roadmaster in Light Driftwood Metallic is proudly unsporty, with doughy tall-sidewall tires that absorb bumps like punches to a fat roll. A retired insurance broker who has driven his Roadmaster daily for years, Thomas's business card now advertises "used cars, whiskey, land, chicken manure, nails, fly swatters, racing forms, bongos, & oysters."
Meaning he's exactly the kind of guy GM had in mind when it built this car.
1994 BUICK ROADMASTER
Engine V-8, 5733 cc
Power 260 hp @ 5000 rpm
Torque 335 lb-ft @ 3200 rpm
Weight 4300 lb
Power-to-weight 16.5 lb/hp
0–60 8.1 sec
Top speed 118 mph
Price when new $26,400
Hagerty value $13,300–$18,300
THE HAGERTY VALUATION TEAM SAYS:
Is this the AMC Pacer of the '90s? The number of insurance quotes we give on this car leads the overall market by 14 points. The quoted values have pretty much bottomed out, which means they are done depreciating. We don't see them at the auctions yet, but they have a big cult following on social media, and there's nowhere for Roadmasters to go but up.