Auction Recap: Gooding & Company Amelia Island 2016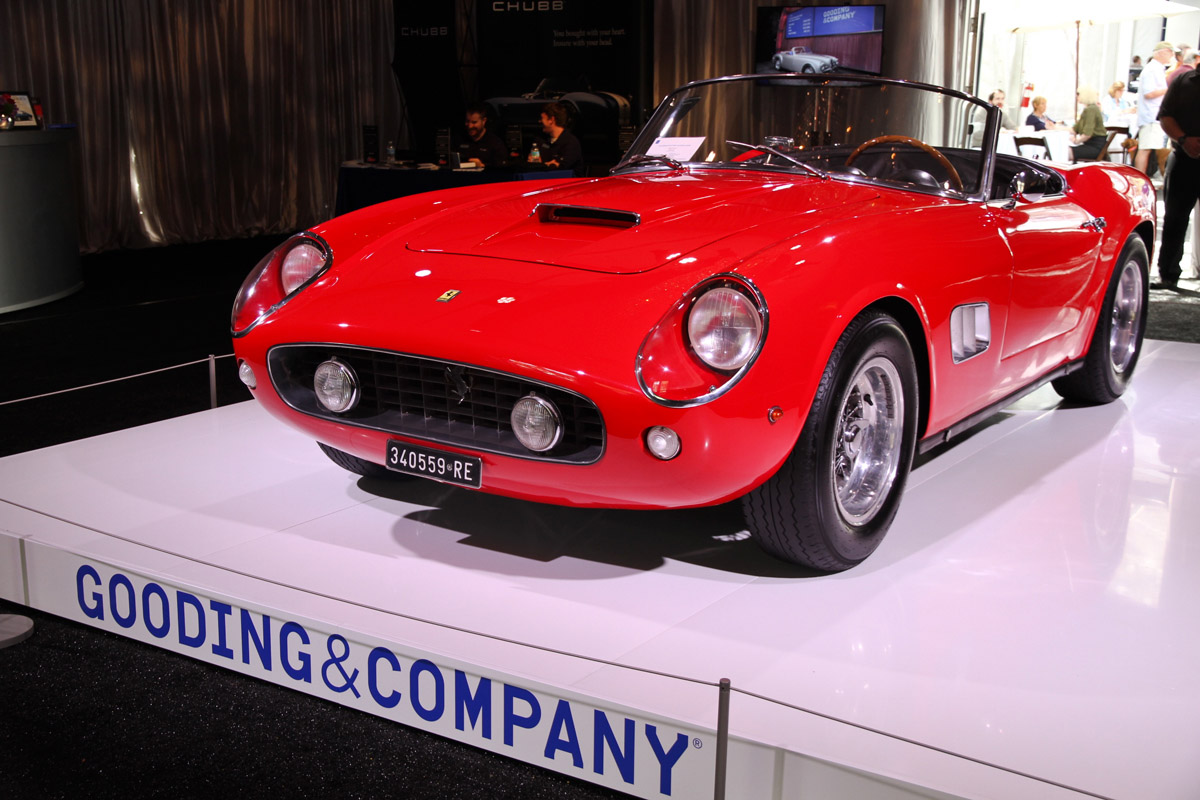 Gooding & Company only holds three auctions per year (Scottsdale, Amelia Island and Pebble Beach), but they make them count. Of the five auction companies in Amelia and of the over $130 million in total sales in Amelia this year, Gooding was by far the most successful with $60,161,950 in total sales, well over twice the $27 million they achieved last year. With no less than 15 sales over $1 million, the auction had an average sale price of $872,000 and 69 of 79 lots sold for a sell-through rate of 87 percent. To give some historical perspective, it's worth noting that in 2011 Gooding & Company sold 70 cars in Amelia Island for $17.9 million.
Gooding also scored the week's biggest PR win too with entertainer Jerry Seinfeld's consignment of 18 cars (16 Porsches and two Volkswagens). All but one of them sold for a total of over $22.2 million, and almost all of them were in fantastic show car condition except for his 1955 550 Spyder, which was a mostly original and remarkably well preserved example.
Even without the Seinfeld cars, this would have been a remarkable sale. Gooding's top lot was a covered headlight Ferrari 250 GT SWB California Spider, one of 37 built, which hadn't been exhibited since 1983. At $17,160,000, it's the most expensive car ever sold at Amelia Island. A very good Ford GT40 Mk I road car also sold for $3.3 million, and a 1931 Duesenberg Model J brought $2.64 million.
In an auction where the average price approaches one million dollars, there aren't many bargains to be had. Even so, there were plenty of interesting cars that sold, including a 1953 Muntz with its outrageous optional snakeskin vinyl interior for $205,000, a gorgeous Ford-powered 1972 Iso Grifo at $396,000, a 1958 Porsche Jagdwagen military vehicle (one of Seinfeld's cars) for $330,000 and a 1966 Abarth 1300 OT Periscopio for $506,000.
Overall top 10 sales:
1. 1961 Ferrari 250 GT California SWB Spider (closed headlight) sold for $17,160,000
2. 1955 Porsche 550 Spyder Roadster sold for $5,335,000
3. 1966 Ford GT40 Mk I Road Coupe sold for $3,300,000
4. 1973 Porsche 917/30 Can-Am Spyder sold for $3,000,000
5. 1959 Porsche 718 RSK Roadster sold for $2,860,000
6. 1931 Duesenberg Model J Murphy Convertible Coupe sold for $2,640,000
7. 1974 Porsche 911 Carrera 3.0 IROC RSR Coupe sold for $2,310,000
8. 1995 Ferrari F50 Coupe sold for $2,310,000
9. 1963 Ferrari 250 GT Lusso Coupe sold for $1,875,000
10. 1990 Porsche 962C Coupe sold for $1,650,000
Gooding & Company's next collector car auction will be at Pebble Beach on August 20-21, 2016.