Oddball 4x4s from 2018 Overland Expo West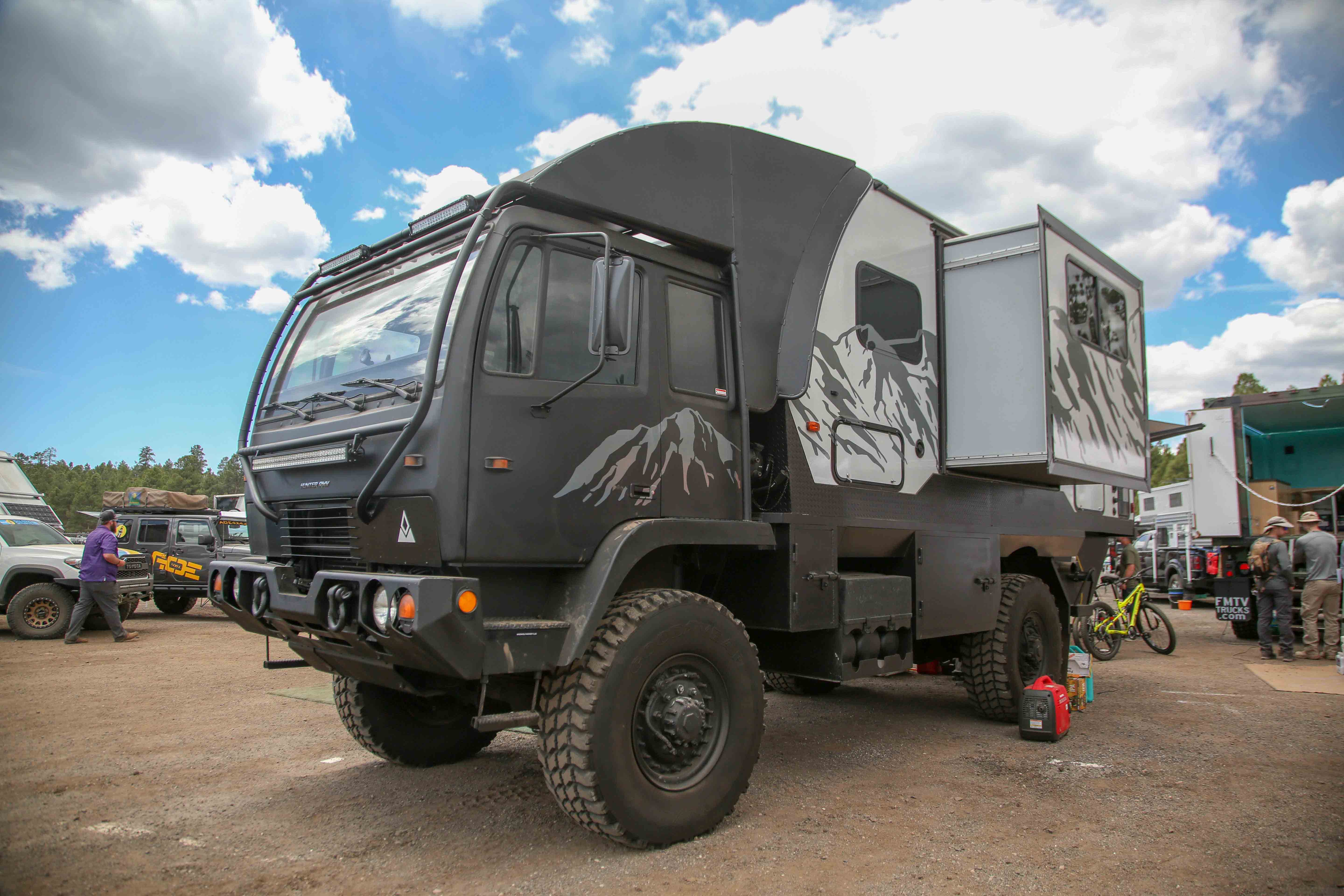 You couldn't swing a Hi-Lift jack at Overland Expo West without hitting a Jeep Wrangler Unlimited with a roof-top tent. Late-model Jeeps along with trucks and SUVs from Ford, Chevy, Ram, and Toyota made up the bulk of the overland-equipped vehicles on display, with a smattering of vintage rides scattered throughout Flagstaff's Fort Tuthill County Park. However, there were a number of weird rides that made us stop in our tracks and take notice.
Acela Monterra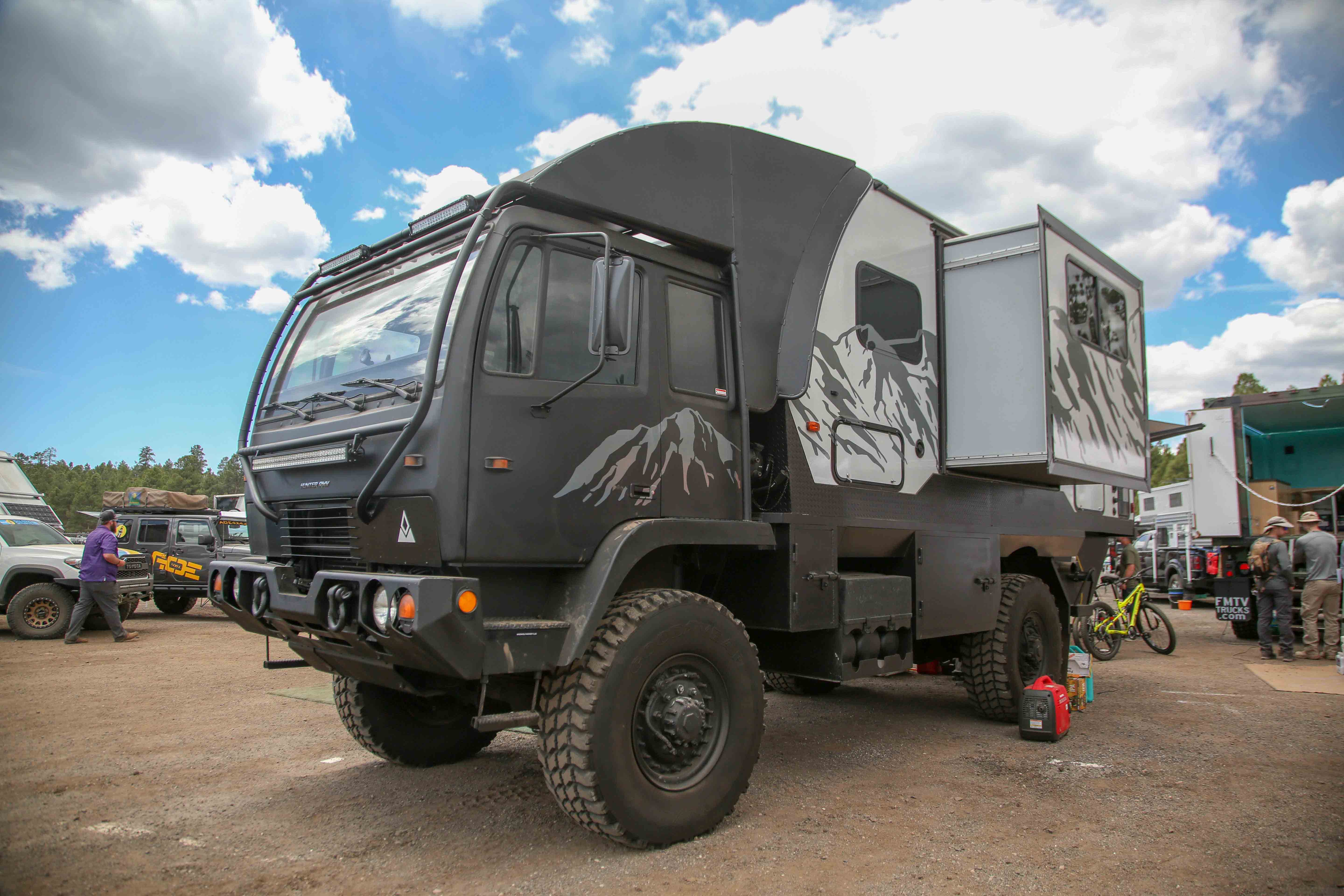 The Monterra is produced domestically, although it is rarely seen on the highway. Available in 4×4 and 6×6 versions, the Monterra is made for commercial and military applications, although its high ground clearance and excellent approach and departure angles provide a great platform for an off-road expedition vehicle. We spotted one fully built by Hunter RMV and one in its stock flatbed pickup design. New models are powered by a 330-horsepower, 7.2-liter Caterpillar inline-six turbo diesel and use a central tire inflation system to air down for trails and air back up for the road. Care for some more stats? It uses 46-inch-tall tires, has a 153.5-inch wheelbase, and has a top speed of 74 mph when equipped with optional high-speed gears.
Toyota Land Cruiser 70 Series
The Land Cruiser family tree branched off in 1967 with the introduction of the more family-friendly J50 line of four-door station wagons. Each successive Land Cruiser model after that was offered in the U.S. as a four-door only. Meanwhile, in the rest of the world, the J40 line soldiered on until the J70 replaced it in 1984. Since then, the J70 has had several upgrades, but the basic style and utilitarian nature remain, and it's still being manufactured for most global markets outside of North America. They're available in two-door short wheelbase and two-door long wheelbase, as shown here, as well as four-door and pickup configurations.
Earthroamer VX-HD
The Earthroamer XV-HD was the largest, most plush, and also the priciest overland vehicle we found at Overland Expo. Built on a burly Ford heavy-duty chassis, the ginormous RV can carry 115 gallons of diesel fuel along with 250 gallons of fresh water for extended trips off the beaten path. Inside, its wood floors and cabinets, dark brown leather seating, marble countertops, and glass, marble, and tile shower give it the look of luxury chalet rather than your typical RV. Each XV-HD is different though, as each one is custom built and available in a number of floorplans. Its $1.5M price tag is lofty, but if you'd like to take a civilized basecamp with you into the wilderness, it probably doesn't get much better.
While its name might lead you to believe it's fragile, Delica is actually a portmanteau of "delivery car," and the compact van was offered for a short while in the United States. Now that it is more than 25 years old, 4×4 models are being imported to fill the market for capable, nimble off-roaders that have a lot of usable space inside. If you're in the market for one of the imported right-hand-drive versions, head west; we spotted two of them at Overland Expo and see them occasionally in California. Don't underestimate the humble Delica, either—its short, 96-inch wheelbase belies its considerable cargo capacity.
Mitsubishi Fuso
There were several of these 4×4 Fusos in attendance at Overland Expo. Their large production numbers and affordability compared to the other cabover 4x4s make them one of the more popular platforms in the overland community. This FG4x4 model is powered by a 161-hp, 3.0-liter turbo diesel engine and is one of two Fuso-based offerings from EarthCruiser.