The 7 best Ford muscle cars that aren't Mustangs
Ford essentially ruled the world's racetracks in the 1960s. Its "Total Performance" program stretched from the drag strips and big ovals of America to the East African Safari Rallys and Europe's historic road courses. Ford even kicked Enzo's culo at Le Mans. Company chairman Henry Ford II, with the help of men like Carroll Shelby, Bob Tasca, and Holman and Moody, was collecting checkered flags all over the globe in nearly every form of motorsport to improve the image of his brands.
But on the street, in the muscle car wars, Ford was playing catch-up. Even with the Mustang. The pony car's first few years were small-block only, and they were fed to GTOs on a nightly basis. The 1967 model with a 390 was better, but it was out punched by Chevy's big-block Chevelles, Corvettes, and Camaros, and Mopar's 440. Yes, there were dual-quad Shelby GT500s, but they were rare and expensive, and 427-powered Galaxies and Fairlanes were exotics built in tiny numbers for Henry Ford's favorite racers. Despite what you see in movies like Hollywood Knights, 427 Cobras were not regulars at cruising and street racing hot spots.
That all changed in 1968 with the 428 Cobra Jet. That engine, under the hood of the Mustang, finally gave Ford some serious street cred. And the list of legendary performance Mustangs that followed is a list of some of America's greatest high-performance cars, including the Cobra Jet powered Mach 1, Boss 429, Boss 302, and Boss 351.
But Ford's new-found street performance wasn't limited to the Mustang, although it still gets all the attention. All the fanfare. Well, maybe it shouldn't. Here, in chronological order, are our picks for the 7 Best Ford muscle cars that aren't Mustangs:
1968 Mercury Cougar GT-E
When the Cougar debuted in 1967, it won Motor Trend Car of the Year. Many think it was a gussied up Mustang, but it wasn't. The Cougar was larger and had a three-inch longer wheelbase than the Mustang. But the two did share engines. And in 1967 a 390 was the meanest mill available in a Cougar. In 1968, however, Mercury added the Cougar GT-E 7-Litre to the lineup, first powered by a 390-hp single four-barrel 427, which was never offered in the Mustang, and then, after December, the 335-hp 428 Cobra Jet.
According to the Cougar GT-E Registry, Mercury built 357 with the 427 engine and a C-6 automatic transmission and just 37 with the Cobra Jet, three of which were four-speeds.
1968 Ford Fairlane Torino GT
Ford redesigned its Fairlane Torino in 1968 with a Mustang-esque fastback to streamline the car for NASCAR's super speedways. The new shape was available with a long list of engines—289, 302, and 390—but Ford built 600 of these sexy hardtops with the 428 Cobra Jet and C6 automatics. And 193 of them got a stiff 3.91 rear axle ratio.
Interestingly, Ford didn't adorn these cars with much decoration, just a small 428 badge on each front fender. A detail easily missed out on the boulevard late at night, and easily removed to turn a '68 Cobra Jet Torino into a sleeper built to sneak up on unsuspecting L35 Chevelles and Camaros.
1969 Mercury Cougar Eliminator
Like the Mustang, the Mercury Cougar also got a redesign in 1969. And like the Mustang the Cougar grew, gaining 3.5 inches of length and 3 inches of width. There was also a new hot model called the Cougar Eliminator. Think of it as the Mach 1 and the Boss 302 of Cougars. It got a stripe down its flanks with the word Eliminator, a sizable hood scoop and a rear wing similar to the Mustangs.
A four-barrel 351 Windsor was standard, and the 390 was still available, but buyers could also get the solid lifter Boss 302 rated 290 hp and for $336 the Q-code 428 CJ with 335 hp (R-Code with Ram Air). Both engines are believed to have been underrated and the big engine was offered with a C6 or a four-speed.
These are rare cars. Mercury produced 2250 Cougar Eliminators in 1969, with only 169 getting the Boss 302, which all got four-speeds, 59 with the Q-code 428 and 243 Ram Air cars. The Cougar Eliminator continued in 1970 with minor tweaks. The 390 was gone, but the Boss 302, 428 CJ and 428 SCJ (short 3.91 or 4.30 rear gear, oil cooler) remained.
1969 Ford Talladega
The Talladega and the similar Mercury Cyclone Spoiler were homologation specials and Ford's entry into NASCAR's aero wars against the 1969 Dodge Charger 500, Charger Daytona, and finally the Plymouth Superbird. Richard Petty raced one and then went back to Plymouth to drive a Superbird. NASCAR only required Ford to build 500 units to make the Talladega eligible to race, but the company actually built 736 and all were equipped with the 428 CJ and a C6 automatic with a column shifter.
To create the Talladega, Ford extended the Torino's front ends 15.5 inches, added a 30-degree slant and a flush mounted grille. Ford also took the rear bumper, modified with a V-shape and mounted it up front, altered the rocker panels for aerodynamic benefit, and staggered the rear shocks. Badging was limited to a couple of T emblems above the door handles and one on the fake gas cap in the center of the tail. Three colors were offered and all got black hoods.
1970 Ford Torino Cobra
Ford gave the Torino another overhaul in 1970, and this time it was a mean looking mother. Still a fastback, the 1970 Torino finally had all the style and attitude to take on the Chevy Chevelles and Road Runners prowling L.A.'s Van Nuys Blvd., the Connecting Highway in East New York and Detroit's Woodward Ave. The Torino Cobra was the hot one, powered by a new 429 cubic-inch engine. Well, three actually. The standard engine was the 429 4V with two bolt mains, 10.5:1 compression, a cast iron intake, a 600-cfm carb, and a 360-hp rating. For $164, however, buyers could step up to the 429 Cobra Jet with 11.3:1 compression, more cam, and a bigger carb for 370 hp. Another $229 got you a shaker hood scoop. Ford also offered the 429 Super Cobra Jet (J code) with the Drag Pack option. This engine got a Holley carburetor, four-bolt mains, forged pistons, and a radical solid-liter camshaft. It was very underrated at 375 hp. Ford built 7675 Torino Cobras in 1970 and the model continued into 1971 with just some trim changes.
My father, Joe Oldham, road tested a 1971 Torino Cobra 429 SCJ four-speed for High-Performance Cars magazine back in the day and rewrote the story for his 2007 book Muscle Car Confidential. The car ran the quarter mile in 13.7 seconds at 106 mph, which he said made it one of the fastest cars available that year.
1973 Ford Falcon XB GT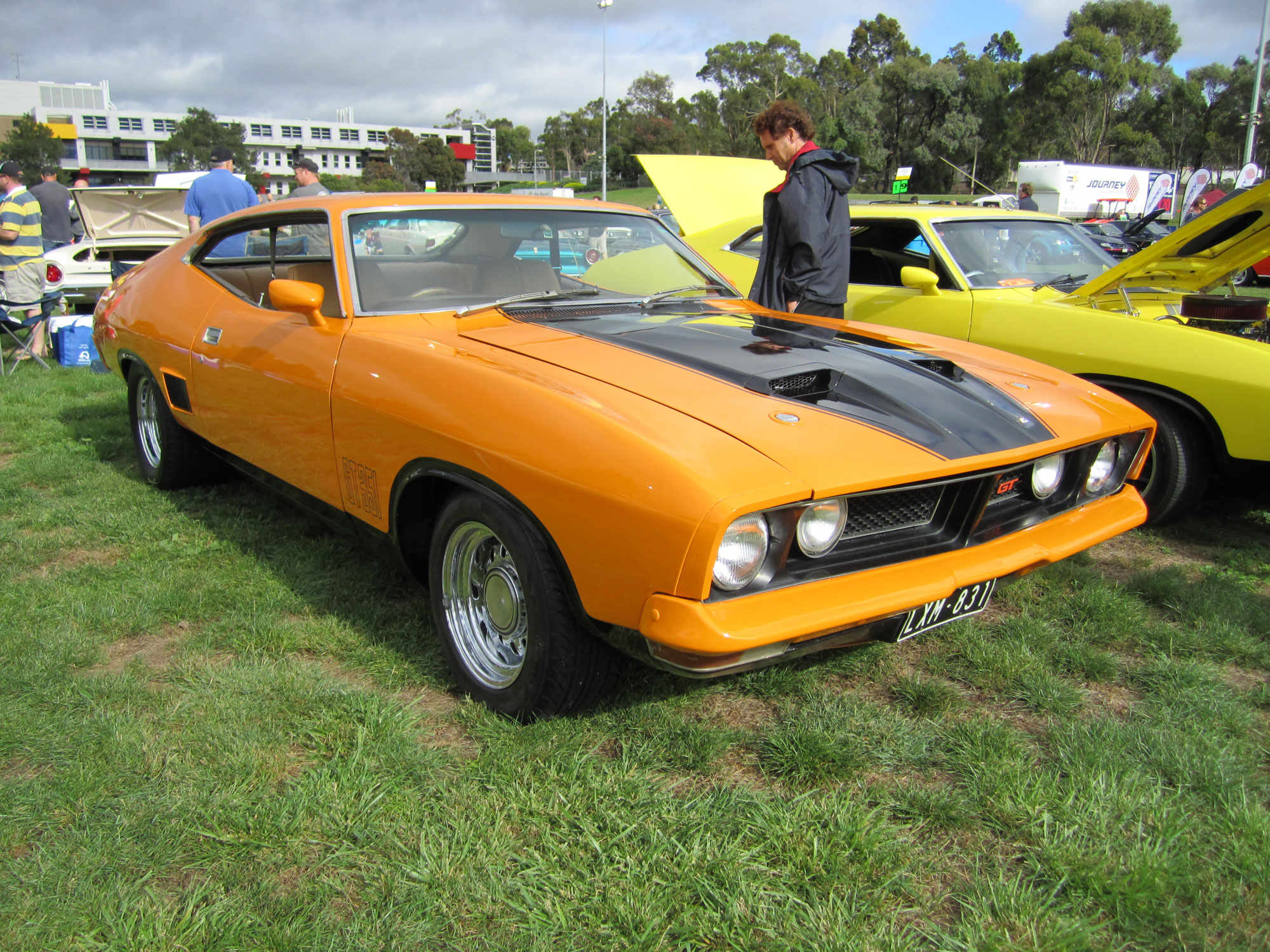 Yes, Mad Max drove one, but that's not why this Australian legend makes our list. OK, it's part of it. But the third-generation of the Falcon has become a performance legend for many more reasons. For one, it looks awesome. A cross between a 1970 Torino Cobra and a 1973 Mustang Fastback. It's not radically different than the previous generation, but the new front end and other changes, which include a new twin-scoop hood similar to the Mustangs, make this the one to have.
The GT was the one for gearheads (or is it petrolheads?) with a standard 351 Cleveland that made 300 hp and 380 lb-ft or torque thanks to a lack of emissions standards that had already killed most performance cars in America. A four-speed was standard, and the Ford 9-inch rear end was fitted with tall gearing for the Aussies wide open spaces. According to Hemmings, only 949 XB GT Coupes were built between 1973 and 1976.
1999 Ford F-150 SVT Lightning
In 1999 I drag tested a Ford F-150 Lightning at Pomona's historic drag strip and ran a best of 13.62 seconds at 101.16 mph. Zero–60 mph took 5.34 seconds. That probably makes it the quickest ride on this list. Not bad for two-wheel drive pickup truck that weighed 4670 pounds.
This was the second-generation to the SVT Lightning, and under the hood of these hot rod stepsides was a supercharged 5.4-liter single overhead cam V-8 with eight pounds of boost and a factory rating of 360 hp and 440 lb-ft of torque. These trucks used a four-speed automatic transmission with a column shifter, 18-inch tires (295mm wide in back) and cost about $30,000. In 2001 Ford added 20 hp, an aluminum drive shaft, staggered Bilstein shocks in the rear to fend off wheel hop, and a 3.73 rear axle ratio. These trucks were built from 1999 to 2004 with more than 28,000 produced.