12 amazing engines to celebrate the V-12 days of Christmas
Keep your partridge in a pear tree. This Christmas, wouldn't it be far better to find a Cosworth-tuned Aston-Martin in your stocking? Think of it: 6.5 liters of naturally-aspirated perfection, spinning up to a stratospheric 11,100 rpm and cranking out a glorious 1000 hp. Built for Aston's upcoming Valkyrie supercar, this 12-cylinder masterpiece doesn't even need a chassis to be appreciated. Eat your heart out, reindeer.
Hybrid hypercars most likely represent the last stand of the V-12. Where once luxury car companies turned to a bent 12 to best summon performance and prestige, now many manufacturers are cutting back on cylinder count. McLaren makes do with twin-turbo V-8s. The Acura NSX has a hybrid drivetrain with a twin-turbo V-6. Tesla builds dragstrip-fast sedans that don't have combustion engines at all.
Thus, seeing as I'm in a festive mood, let's ponder 12 lovely ways to celebrate the V-12 in all of its gas-burning majesty. Start those 12 drummers drumming, because this is the V-12 days of Christmas.
Packard Twin-Six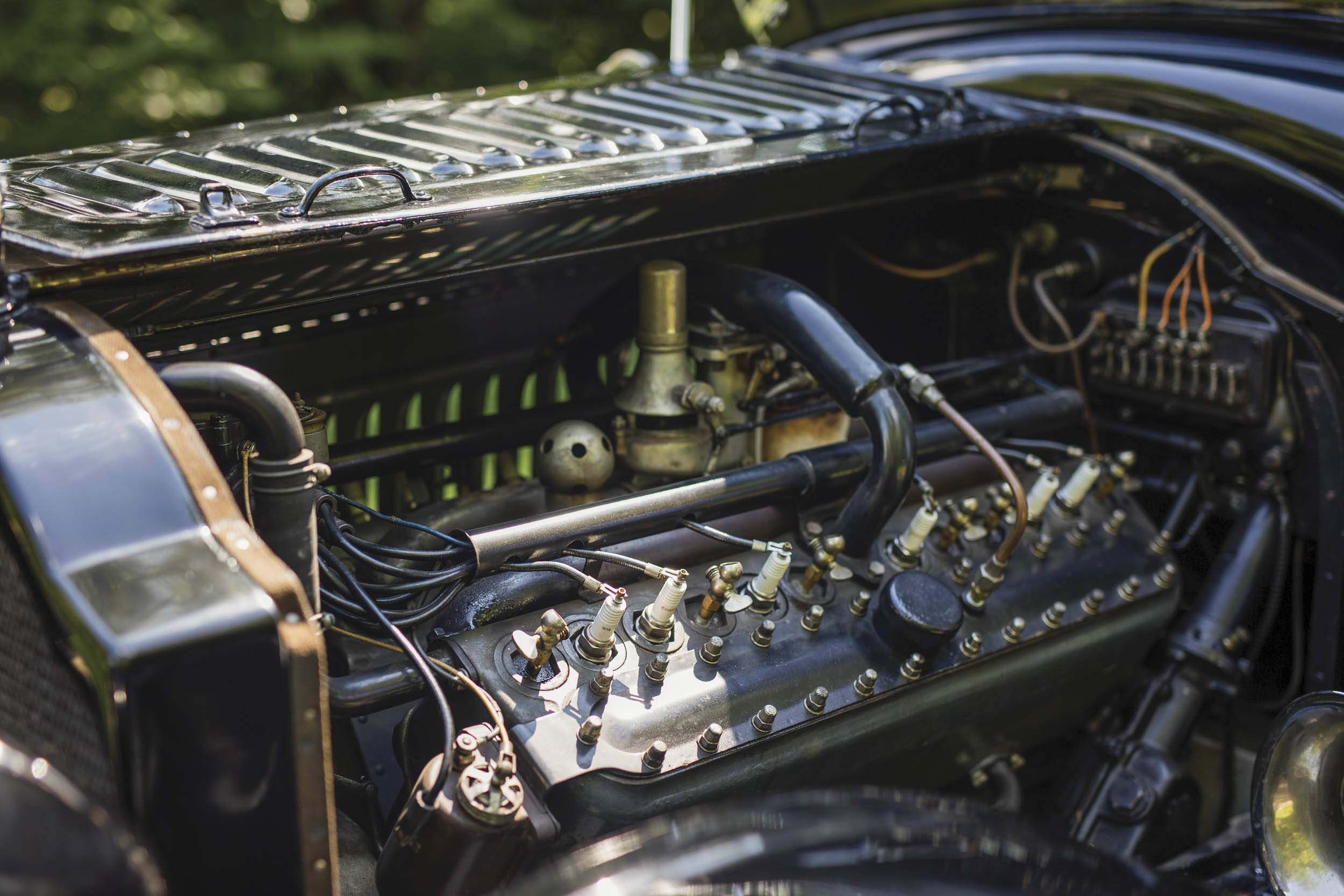 It's a great shame that we'll likely see a mid-engined Corvette soon, yet nobody seems to be working on a return of the V-12 to American automotive manufacturing. In the period after WWI, a V-12 was considered an absolute necessity for the most powerful and luxurious machinery on the road, and some of the best of those 12s came straight outta Detroit.
The Packard Twin-Six was introduced in 1915 as a 1916 model, and was both a pioneering effort and a smash success. The engineering thought process was fairly simple: Packard's inline-six engines were beautifully balanced, but making them more powerful would have meant adding weight. Doubling the cylinder banks allowed for even smoother running, and increased horsepower and torque. The Twin-Six displaced 6.9 liters and make roughly 85 hp, 25 more than the contemporary Cadillac V-8.
Over eight years, Packard sold more than 35,000 Twin-Sixes for between $2750 and $4800, establishing the V-12 as the engine to have. It also partly inspired the military Liberty V-12, developed in just five days in May 1917, that would go on to power so many Allied tanks and aircraft. American can-do at its finest.
Rolls-Royce Phantom III
The last Rolls-Royce to be personally overseen by Henry Royce himself was built for just three years before the outbreak of World War II. It had a stately elegance, and a 7.3-liter V-12 engine that allowed it to waft about like a dowager aunt with perfect manners.
The Phantom III wasn't built in large numbers, but it received some fame later in life. In 1964, a certain Auric Goldfinger appeared on screens in a black and yellow Phantom III, its V-12 more than up to the task of smuggling gold.
Campbell-Railton Bluebird V
From its earliest days, the V-12 was associated with prestige, smoothness, and elegance. However, it could also go like an absolute bat out of hell when provoked. British land speed record-holder Major Malcolm Campbell MBE was just such the provocateur to do it.
A former motorcycle dispatch rider and pilot during WWI, Campbell began breaking records with V-12-powered machinery in the 1920s. By 1935, his obsession had birthed the colossal Blue Bird V, 27-feet long and weighing in at nearly five tons. Its engine was a monster too, a 36.7-liter Rolls-Royce V-12 aircraft engine. Supercharged for added beans, it produced some 2300 hp.
On September 3, 1935, Campbell successfully drove the Blue Bird V to an official record-setting 301.129 mph at the Bonneville Salt Flats in Utah. The V-12 pushed the first man past the 300-mph barrier.
Ferrari 250 GTO
The most expensive car in the world, the 250 GTO can't possibly be left off anyone's V-12 list. It would be like Christmas without Santa.
Built between 1962 and '64, the GTO is popular for its beautiful proportions and racing provenance. However, it's that Tipo 168/62 3.0-liter V-12 that's the beating heart of what's probably the ultimate Ferrari. Fully alloy in construction with an integrated dry sump, it produces nearly 300 hp at 7500 rpm and sounds like Pavarotti singing Nessun Dorma.
Lamborghini Countach
The "palace revolt" that saw Giotto Bizzarrini fired along with most of Ferrari's engineers was, in retrospect, a pretty good thing for any supercar fan. Bizzarrini was the father of the GTO, and when Ferruccio Lamborghini needed a genius to build a V-12 for his 350GT grand tourer, Giotto was right there.
That basic architecture continued right through from the gorgeous Miura to the ferocious Diablo and Murciélago. However, it never found a more shocking and iconic home than in the Countach. For preference, make it a later European-spec LP5000S Quattrovalvole with six Weber carburetors feeding that 5.2-liter V-12 masterpiece.
Mercedes-Benz CLK GTR
AMG is an acronym formed from the initials of its founders, but it could also just be translated as the German symbol for sledgehammer speed. Having long made standard roadgoing Mercedes-Benz vehicles faster by the application of brute horsepower, AMG has become a household name. With the CLK GTR, they went completely crazy.
If you squint, you can see a little bit of the look of the CLK coupe remaining, but the rest of this car is a carbon fiber racing machine, fitted with an AMG-tuned V-12 mounted amidships. Basically a homologated GT1 racing machine for the road, only a handful were built.
Pagani Zonda
You can also thank AMG for the engine in one of the wildest supercar companies out there: Pagani. The Zonda and its successor, the Huyara, use V-12s built by AMG in several displacements. The craziest is probably the last-of-breed Zonda HP Barchetta, which gets a 789-hp, naturally-aspirated, 7.3-liter 12-cylinder screamer. It has no roof, costs a reported $15M, and Pagani only made three.
Jaguar XJ12C Broadspeed
Jaguar has a long association with the V-12, but regrettably the Jaguar V-12 also has a long association with being familiar with your local towing company. True, anyone who's a fan of British Leyland build quality has to be some kind of masochist, but when a Jag V-12 is running right, there's nothing quite like it.
So, it's in for a penny, in for a pound with one of the most brutish examples of V-12 Jaguar thuggery ever: one of the factory-supported XJ12C coupes from the late 1970s built to racing specification by specialist outfit Broadspeed. Complete with blistered wheel arches, a massive airdam, and quad side-exit exhausts, it's about as genteel as a punch in the face. Wonderful.
BMW X5 Le Mans
BMW's contributions to the world of V-12s can't be overstated, as we'll get to at the end of this list. However, if we have to pick just one V-12 machine that actually wore the blue-and-white roundel on the hood, let's pick something fun. How about an X5 with a Le Mans prototype engine stuffed underhood, lapping the Nürburgring faster than a V-10 M5?
A one-off running concept, the X5 Le Mans proved that Germans really do have a sense of humor, just one that involves silly levels of horsepower. To create the X5 Le Mans, BMW took the 6.0-liter V-12 out of the LMR open racing car, removed the restrictors to take it up to 700 hp, fitted a six-speed manual transmission, then stuffed it into a X5, and threw veteran driver Hans-Joachim Stuck the keys. He was able to turn a lap time of 7:50, which is about what a contemporary Gallardo could manage.
Toyota Century
The lone Japanese car on this list, the Century is the finest vehicle ever produced by Toyota, and makes the contemporary Rolls-Royce Silver Seraph look like pretentious garbage. Upholstered in fine wool, fitted with electric doors, and styled so discreetly as to be almost invisible, the Century can be seen plying the crowded roads of Tokyo, gliding past like whale sharks.
The jewel of the car is its 5.0-liter V-12, the only 12-cylinder engine ever put into production by a Japanese automaker. Officially rated at 276 hp, per Japan's "gentleman's agreement" limiting horsepower, the V-12 Century moves with alacrity when prodded to action, indicating there's maybe more underhood than the specifications would indicate. Tuning company Top Secret once stuffed one of these into the nose of a fourth-generation Supra and added twin turbos—it went 220 mph.
Aston-Martin V-12 Vantage
Even today, late-model versions of the "baby" Aston-Martin Vantage are an underrated buy in the sports car market place. Yes, they can be problematic, and the early cars are a bit less desirable than the latter 4.7-liter V-8 ones, but it's a pretty special machine. And when Aston broke out its biggest shoe horn and stuffed a 5.9-liter V-12 under the hood? Magic.
With 510 hp on tap, and a manual transmission in your hand (avoid the sequential automatic, driving it is about as comfortable as being kicked in the shins by David Beckham), the V-12 Vantage is a masterpiece.
McLaren F1
Like the V-12 itself, it's unlikely that we'll ever see something like the McLaren F1 again. Peerless as a road car, it was so effortlessly fast that it ended up beating the prototype racing machines when it was entered in a lower class at Le Mans. It was and is horrendously expensive to purchase, but many owners drive them regularly. It is, perhaps, the pinnacle of supercardom.
No small part of that legend is the F1's BMW-sourced 6.0-liter V-12. Capable of producing a maximum of 627 hp at peak, it has incredible torque, more than 400 lb-ft available by 1500 rpm, up to a 500 lb-ft at 5600 rpm. As the F1 only weighs about as much as a first-generation Miata, this huge 12 gives the car effortless flexibility. And also it can hit 230 mph. Still the king of engines, still the king of cars.