5 Mercurys that struck out swinging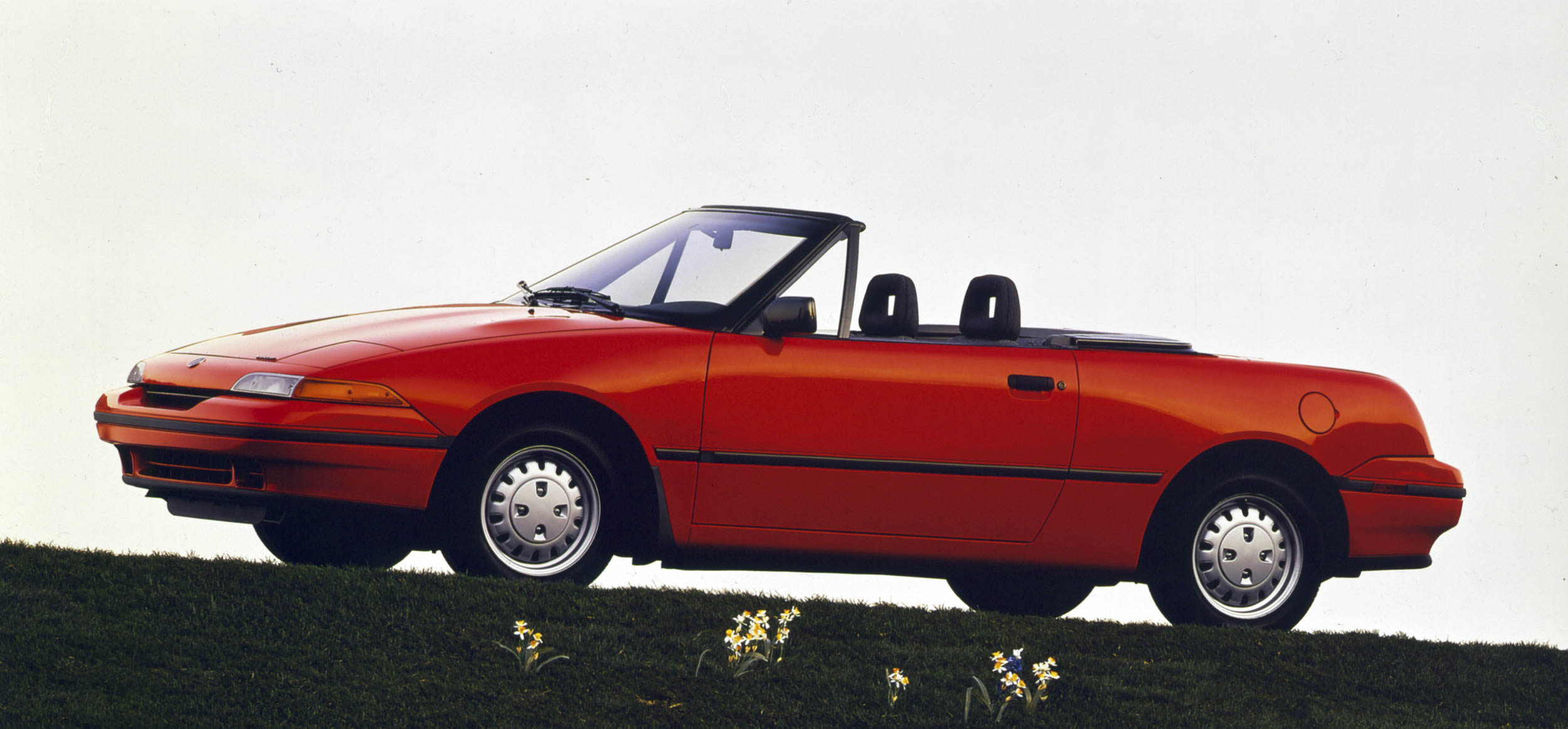 Hear that rumble? It's Mercury, a once-proud part of the American landscape now dead and nearly forgotten. And yet, Mercury paced the Indianapolis 500 in 1950, '57, and '66. A 1949 Mercury was driven by James Dean in Rebel Without a Cause, and nothing is cooler than that. Heck, even Jack Lord drove a Merc in the TV Series Hawaii Five-0.
But by the 1980s, Ford Motor Company couldn't figure out what to do with its ugly duckling brand. Stuck between lower-priced Fords and higher-priced Lincolns, too many models were little more than just uglier, pricier Fords.
So a series of unique models, ones not shared with Ford or Lincoln, were introduced to ignite consumers' passion. It didn't work.
1985–89 Merkur XR4Ti
In an effort to woo younger buyers who might otherwise buy a BMW 3 Series, Ford of Europe CEO Bob Lutz, formerly of BMW, thought the rear-wheel-drive Ford Sierra XR4i would be a good candidate.
Deciding that neither Mercury nor Lincoln held the requisite prestige, the two-door hatchback was sold under the new name Merkur (German for Mercury). Using the 175-horsepower turbocharged Pinto engine and five-speed manual from the Mustang SVO, it was renamed the XR4Ti, after Oldsmobile objected to Mercury using the Sierra name in the U.S.
Nevertheless, it failed to connect with consumers. And since it was built in Germany, the XR4Ti needed to be re-engineered with more than 850 new parts to meet federal regulations in the U.S., coming to market at a time when a strong Deutsch Mark and weak U.S. dollar meant meager profits. After the 1989 model year, it was history.
1988–90 Merkur Scorpio
Coming three years after the XR4Ti, Merkur's second model was a four-door hatchback powered by a 2.9-liter Cologne V-6 generating 144 hp and 162 lb-ft of torque and mated to a five-speed manual transmission. Like the XR4Ti's powerplant, the Scorpio's V-6 had a long history, one that dates to the early 1960s and first seen in the 1972 Mercury Capri. Despite a lavish standard equipment list and nimble handling, the Scorpio was a bigger failure than its sibling, despite more conventional styling. Part of the blame goes to the dealer network, more accustomed to selling Lincoln luxo-barges than quirky European spots hatches. Ford projected annual sales of 100,000 Merkur-brand cars by 1990. They were off by 90 percent.
1991–94 Mercury Capri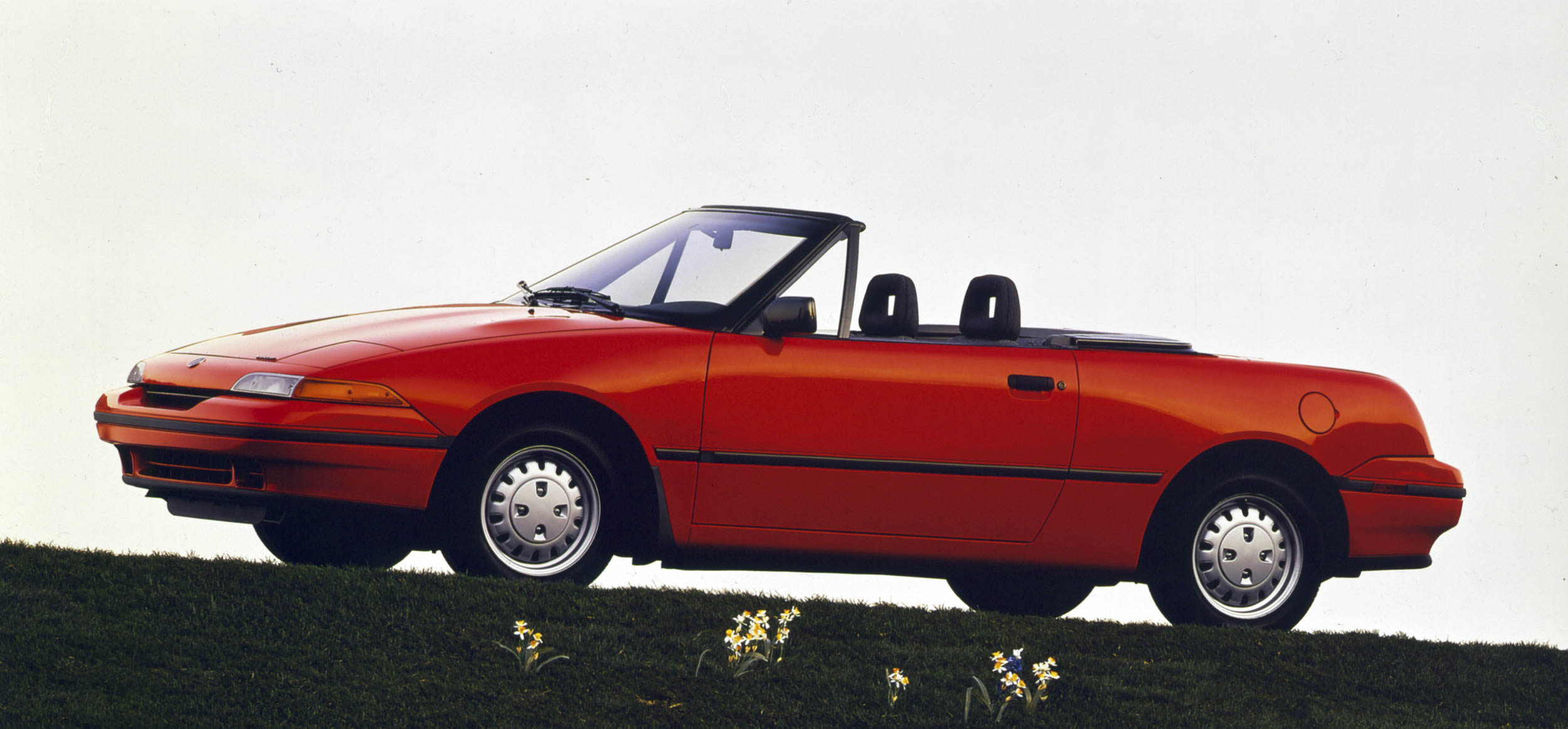 As Merkurs were being cleared out, Mercury next tried re-launching the Capri as a front-wheel-drive four-seat droptop with enough rear seat space for toddlers. But timing is everything in life, and the Capri arrived around the same time as the Mazda Miata, a rear-wheel-drive two-seat sports car you might recognize.
Built using old Mazda 323 parts by Ford of Australia, the Capri got a 100-hp, 1.6-liter DOHC four-cylinder engine; a 132-hp turbocharged four was standard on sportier XR2 models. A five-speed manual transmission was standard; a four-speed automatic was available on base models. Four-wheel disc brakes and a fully independent suspension offered decent handling, but the Miata sported better looks, and it wholly outclassed the Capri's front-wheel-drive platform.
1999–2002 Mercury Cougar
In an effort to reach younger buyers, the Cougar returned after a one-year absence for the 1999 model year. But it wasn't a personal luxury coupe this time, nor a V-8 muscle car. Instead, it was a front-wheel drive sports coupe based on the dowdy Ford Contour and Mercury Mystique.
A 125-hp 2.0-liter DOHC four-cylinder engine and five-speed manual transmission were standard. A 170-hp 2.5-liter DOHC V-6 was optional, as were a four-speed automatic and traction control (with the V-6.) Options included anti-lock brakes and a V-6 Sport Package with four-wheel disc brakes, fog lights, rear spoiler, upgraded sport seats, leather wrapped steering wheel and shifter, and larger 16-inch wheels. A V-6 35th Anniversary Edition trim package was offered for 2002, a last-gasp hope by marketers that older, not younger, buyers would love this cat. They were wrong.
Having failed to attract a new audience, Mercury turned to an old one. First used in 1963 on high-performance versions of full-sized Mercs, Mercury gave the ancient Grand Marquis an image boost for 2003 by reviving a nameplate last used 33 years earlier—Marauder.
Using the ancient Panther platform, Ford bet big on the Marauder for 2003. It was 25 percent stiffer, with suspension revisions and rack-and-pinion steering that allow it to turn without plastering its occupants against the doors in corners. It also stopped better than its ancestors thanks to its four-wheel ventilated disc brakes. The massive, muscular menacing Mercury was powered by a 302-horsepower 4.6-liter DOHC V-8 engine.
Offered in four colors in its two years of production (but looking most sinister in Henry Ford's favorite color, black), the car gave Mercury an image boost with its existing clientele, but did little to rescue this sinking ship. After the 2004 model year, the Marauder's time was up.