11 modern muscle cars (and trucks) under $20K
There's no replacing 1960s and '70s muscle cars. They have style and road presence that can't be matched. However, they also bring with them 1960s and '70s suspensions, brakes, and fuel economy. As manufacturers rediscovered how to make power efficiently in the '80s, '90s, and 2000s, huge strides were made in vehicle safety as well. A vehicle built in the last 15 years is a lot easier to live with on a daily basis and has fewer compromises overall when compared to its 40-year-old counterpart.
If you're after something with a little more punch than your average commuter sedan, the following 11 vehicles from the last 15 years all pack at least 350 hp and would leave just about any vintage muscle car in its air-conditioned dust. Better yet, they can each be found for less than $20K in #3 (Good) condition. For models that aren't covered in our database, we looked to eBay and local classifieds to check prices for examples that were still in good, original condition.
While the run-of-the-mill Mustang GTs were kicking out an unimpressive 260 horsepower, and the naturally aspirated Cobra produced a respectable 320 hp in 2001, its replacement was an entirely different animal. The "Terminator" Mustang was equipped with a 4.6-liter four-valve Modular V-8 topped with an Eaton supercharger to bring 390 horsepower to America's favorite pony car. That kind of power was expected from exotics, but not a Mustang. Aside from the limited-production, race-bred, no-A/C 5.4-liter Cobra R, the SVT Cobra is the New Edge to have, especially for street use. Cobras in #3 (Good) condition go for $11,900 on average.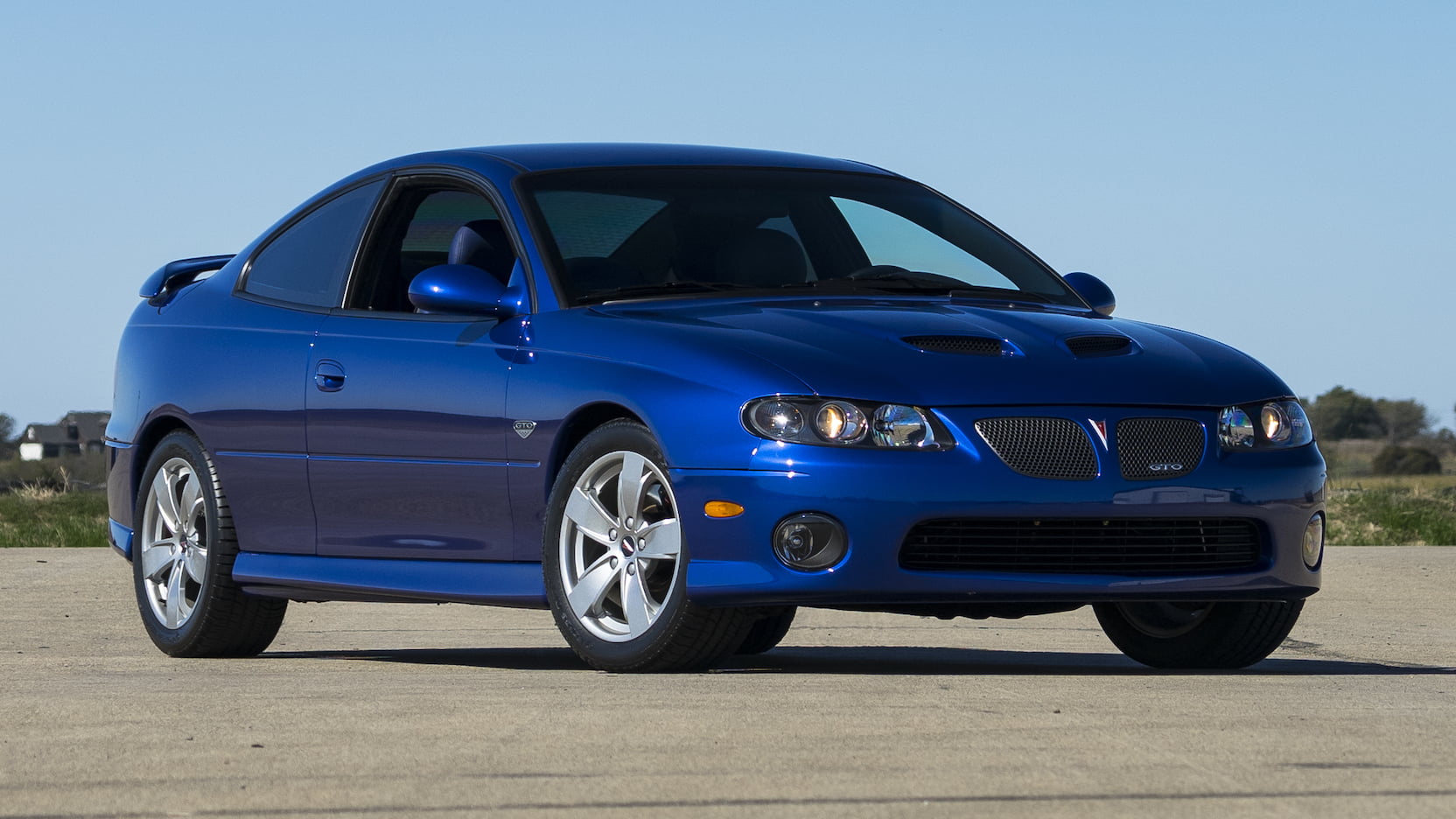 Plenty of Pontiac purists were upset when the last GTO came to the U.S. by way of Australia. Critics harped on the subtle styling of the Holden-sourced coupe. Perhaps they forgot that the 1964 GTO was quite literally a LeMans with a hood scoop and a big engine and were expecting hidden headlights, Carousel Red paint, and flashy "Judge" graphics. What we got was an LS1-powered coupe with one of the best interiors GM had put into a muscle car. The LS2 showed up in 2005, boosting performance and melding perfectly with the responsive chassis. We feel its styling, which earned it derisive comparisons to a '90s Cavalier in contemporary reviews, has improved with age. Solid LS1 cars can be found for about $16,000, while LS2 cars you might have to bargain a tiny bit to get under $20K.
The only Pontiac G8s available with a six-speed manual were the LS3-powered GXP versions. Thanks to its low production volume and high desirability, finding one for $20K would be tough. The automatic-only Pontiac G8 GT, however, still offers the same excellent platform as the GTO and Camaro, with four family-friendly doors. The GT's 361-hp 6.0-liter L76 engine is similar to an LS2, although it comes equipped with Active Fuel Management cylinder deactivation. Like the rest of the LS engine family, the V-8 is ripe for hot-rodding and low production numbers mean that they're a rare sight. Nobody would expect this plain-Jane sedan to be packing V-8 power. You can find a good G8 GT for $16,900 on average.
2012–14 Ford Mustang GT
The Mustang got a significant cosmetic upgrade in 2010 when a new front fascia, grille, hood, and fenders dramatically changed the face of the car while the tail panel was trimmed to incorporate shapely taillights that visually lightened the car. It wasn't until the 2011 model year, however, that the aging 4.6-liter V-8 was replaced with the 5.0-liter Coyote, the next iteration of the Modular V-8 architecture. In one year, the standard GT jumped from 315 to 412 hp, marking a tremendous improvement in performance, sound, and driving fun. The popularity of the newly improved GT means that there's a huge number on the used market, keeping prices in check and making the Coyote an absolute performance bargain. Higher-mileage automatics and modded versions can be in the neighborhood of $15K, while lower mileage manuals will be right around $20K.
2010–15 Chevrolet Camaro SS
The long-awaited return of the Camaro came when the fifth generation was launched as a 2010 model. The SS cars equipped with the Tremec TR-6060 six-speed manual transmission came with a 426-hp version of the 6.2-liter LS3 V-8, sending a volley towards Mustang in the pony car horsepower war, no doubt spurring Mustang engineers to work a bit harder on the Coyote V-8. Don't expect to find a 2015 1LE to have depreciated much, but early fifth-gen SS models are finally under the $20,000 range, and thanks to Chevrolet Performance, those early fifth-gens can easily be upgraded to 1LE spec for lap after lap fun on the track.
2004–06 Dodge Ram SRT-10
The most powerful of the factory muscle trucks ever to come out of Detroit, the Ram SRT-10 added the 500-hp aluminum-block V-10 from the Viper to a regular-cab, short-bed Ram and backed it with a six-speed manual transmission. It was excessive, it was grotesque, it was magnificent. In 2005, Dodge offered the SRT-10 with an automatic transmission in a crew cab that's nowhere near as cool, but still one heck of a cheap way to get a Viper V-10. And before you mention the Ram Heavy Duty, the iron-block V-10 found in those trucks has little in common with the Viper V-10. Although production was low and prices were high, plenty of the SRT-10 Rams can be found under $18K, and we've seen them much lower, especially when gas prices edge up.
2006–10 Jeep Grand Cherokee SRT8
Drunk on Hemi horsepower, the SRT division put 420-hp 6.1-liter V-8s into everything, even the Jeep Grand Cherokee. Bless them. With its AWD system sending the torque to all four wheels, the SRT8 Grand Cherokee launched like no other Hemi Mopar, and with big Brembo brakes, it scrubbed speed well too. Although these Jeeps have been available for more than a decade, it seems that the general population hasn't caught on, making them the ultimate sleeper. Only the earliest versions come in under $20K, but if you keep your eyes open, they're out there.
SRT Challenger/Charger/Magnum/300
These four models are getting lumped in together because they're all on the same platform and were available in the same showroom at the same time. Like the Grand Cherokee, the early models equipped with the 6.1-liter Hemi V-8 are finally coming in under $20K. The 6.1-liter is one of the most sought-after Hemi engines for hot-rodding and its cast aluminum intake manifold makes it the best looking late-model Hemi to boot. So whether it's a grand-touring Challenger coupe or the Magnum's wagon practicality, the 6.1-liter SRT8 models are a great entry point to late-model Mopar muscle. Expect to find the earlier, automatic models starting at about $16,000, while lower-mileage, manual transmission models creep closer to the $20K ceiling.