Sway bars—more accurately referred to as anti-roll bars—help a vehicle carry a load securely, keeping the vehicle planted through corners by reducing body roll. They can make a huge difference in the driving feel of a work truck, an off-roader, or an agile track toy. While they started with helper springs, it's sway bars that Hellwig Suspension Products is now best known for, supplying the automotive aftermarket as well as OEMs and the military.
Hellwig's production is what the company calls "high-mix, low-yield," meaning its products have a variety of applications, and its facility can tool up to make batches of 1500 parts—or as few as 10. Hellwig recently invited us to its Visalia, California, manufacturing facility to see how raw steel is made into sway bars for muscle cars, pickup trucks, semi-trucks, and heavy-duty military equipment.
Before any manufacturing takes place, Hellwig's first step is determining which vehicle applications would most benefit from additional load control. Hellwig tests vehicles and finds that some factory pickup trucks don't need any aftermarket help with a front sway bar, while other applications can benefit from a rear sway bar that offers two or three times the spring rate. Hellwig sources 4140 chromoly steel for its sway bars and 5160 steel for its helper leaf springs from foundries in Chicago. Sway bars are either tubular or solid, depending on the application. Common diameters are 1-1/2-inches and 1-5/8-inches, although military and semi-truck applications can be more than 2-1/4 inch.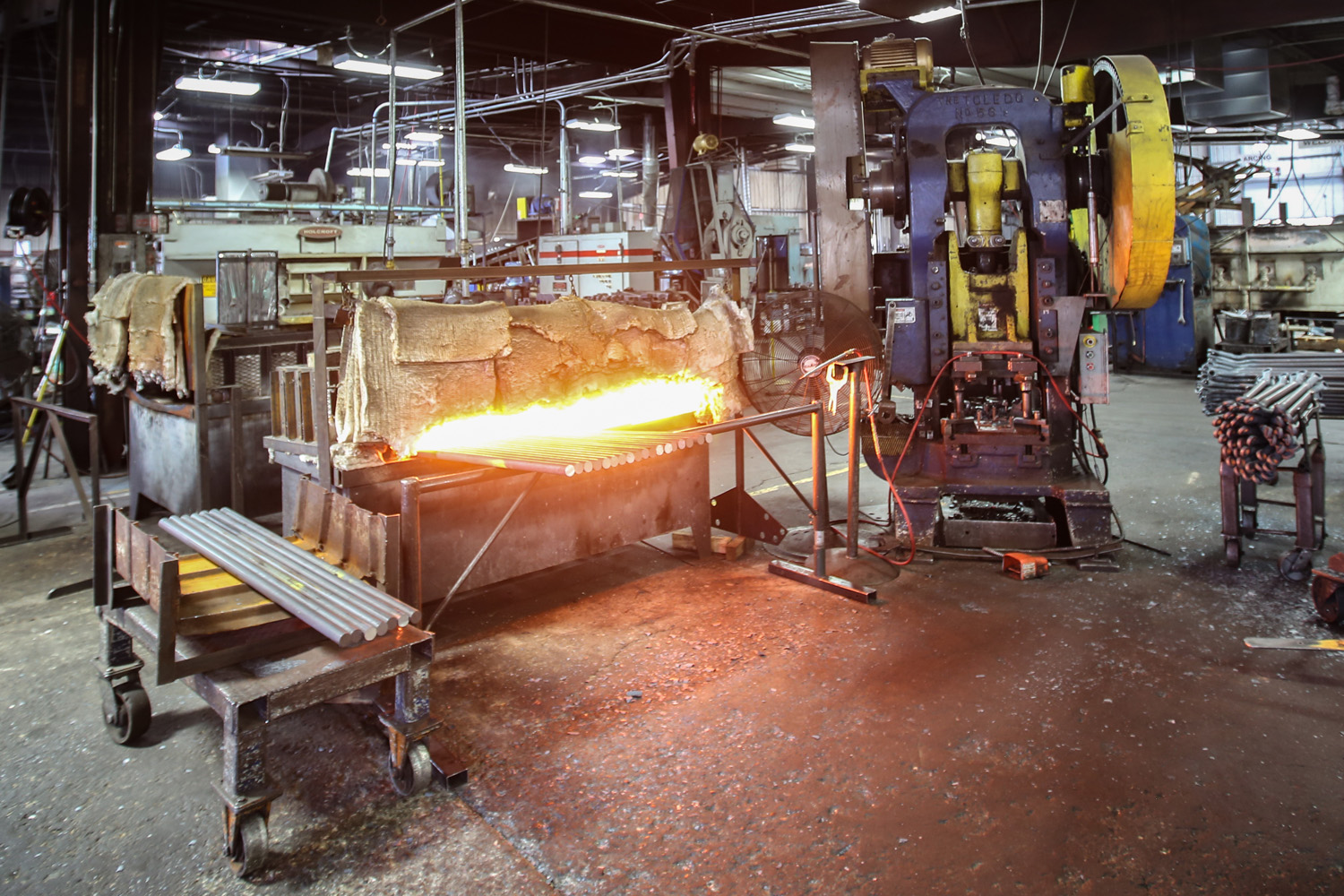 The first step in sway bar manufacturing is cutting the steel to length. Then the ends are set inside a 2000-degree natural-gas forge for several minutes until they reach the 1500-1600 degrees required for forging. The 100-year-old low-bed press next to the forge, painted blue and yellow, used to be belt-driven in its original factory application. Hellwig has used it for the past 40 years.
The low-bed press applies 260 tons of force and makes the first forging process for this bar.  "Coining" flattens the end of the bar and punches a hole where an end link or bushing will connect it to the vehicle. On other applications, as we'll show later, this process happens after several other bending procedures.
Fresh out of coining and still red-hot, this sway bar is quickly moved to another nearby press to get its first bend.
Here's what a batch of sway bars will look like after those two forming processes have been done to each side.
Other sway bars offer adjustable spring rates depending on which hole is used to attach to the vehicle.
Each sway bar application requires its own set of forming dies. Hellwig has scores of applications, and the dies for each part are fabricated and stored on site.
Bars go back into a forge, this time the whole thing is heated until they reach 1500-1600 degrees before a two-person team of workers moves them first into one forming die, and then another, before the bar is dropped into a quench tank.


A similar heating process and hydraulic press is used for creating helper leaf springs.
The quench tank holds thousands of gallons of oil and is surrounded by a water jacket that keeps it at the proper temperature. Water is routed to a radiator outside and then back to the tank once it's been cooled. This under-construction quench tank shows the gap between the inner and outer walls that will hold the water.
A conveyor lifts the parts from the quench tank and cleans off the oil before they move through a 1000-degree tempering oven for an hour to reduce their hardness and make them less brittle. A part is pulled every two hours and tested for hardness to ensure the hardening and tempering process is working properly.
Another conveyor takes parts through a shot peening process. In this huge machine, tiny steel balls roughly the size of poppy seeds are fired at the parts from six different angles using compressed air. The ducting separates the dust from the shot, which is reused. When parts come out they're clean and ready for the next process.
Because the abrupt temperature change of quenching can cause the steel to warp slightly, each part is inspected by hand and, if necessary, is bent at the arcing station. Here a worker is comparing a new part to a completed part with the proper dimensions.
Some sway bars need a bushing eye installed. They're first pressed in place, then welded.
Military applications can require precision machining. Those parts are milled accordingly. Notice the huge diameter of this piece.
Parts are then placed on a rack and dusted with powder coating before they head to a 450-degree oven for half an hour to cure.
Hellwig uses a hammertone finish for parts that carry company branding. It helps hold lubrication inside the bushings, too. Some of the sway bars on this rack are for their popular applications, which include GM G-body, C10 pickups, and first-generation Ford Broncos.
Bars are packaged with their hardware, placed on pallets, and shipped off to distributors where they'll then be sent for installation on project cars, work trucks, and Jeeps.