Is a depreciated mess of a Mercedes E500 wagon still worth $3200?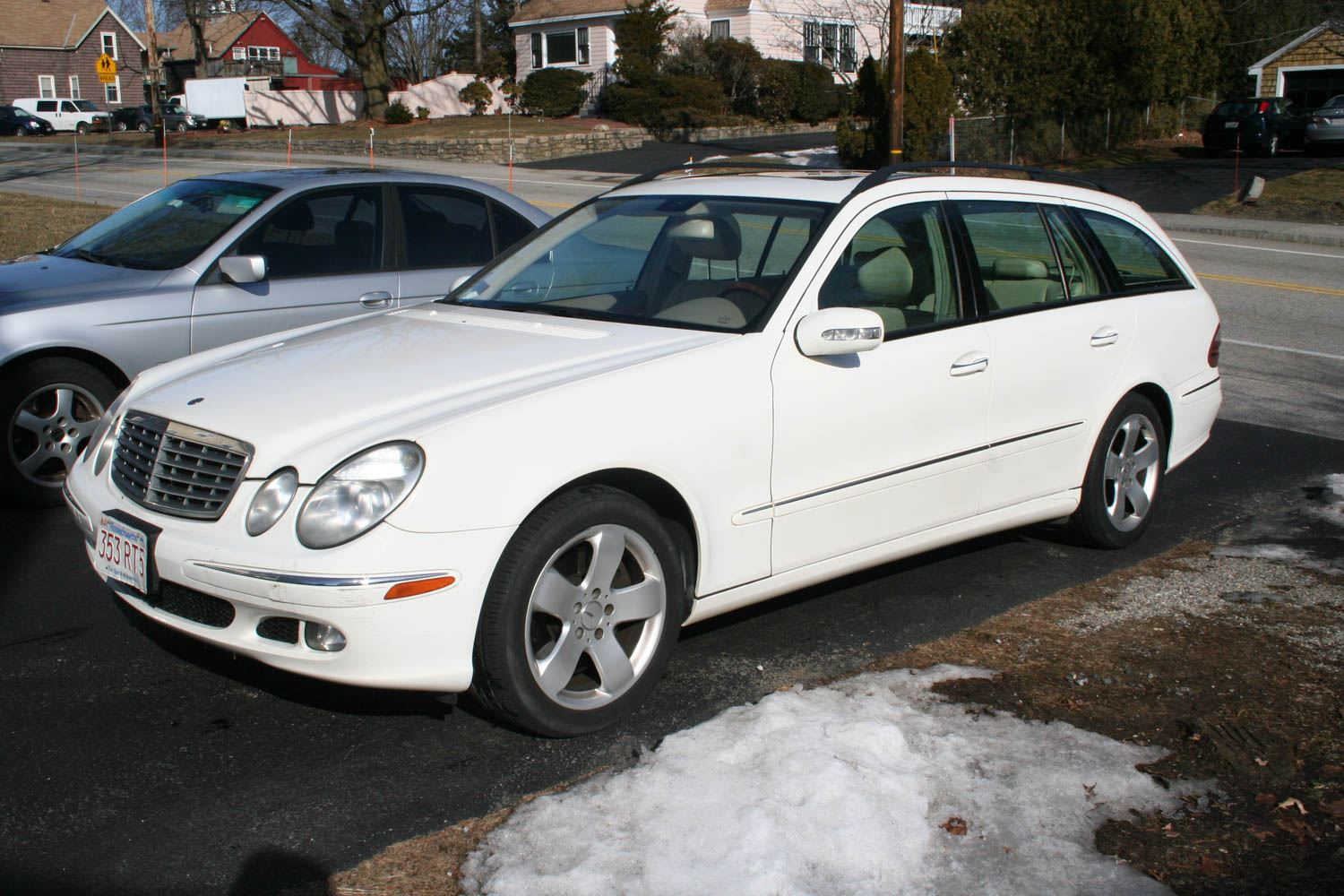 We've all seen those 10–15-year-old high-mileage, high-performance German cars being sold for a tiny fraction of their original sticker price. In my BMW-centric world, the poster children seem to be the big 5 and 7 Series cars. Once the mileage creeps up and there are deferred maintenance issues, their worth takes a dive.
You see this all the time with BMW E39 5 Series sedans. The 1997–2003 540i, with its 282-horsepower 32-valve V-8, may be nature's cheapest way to drive 150 mph, and in Sport Package trim with a six-speed, it's a very appealing car. But I can almost guarantee you that any example you find languishing on Craigslist for 2000 bucks will need cooling-system work, front-end work, oil leaks fixed, and—the coup de grâce—timing chain guides.
As I wrote a few months ago, I have a particular weakness for BMW wagons. The stuff-swallowing capability, ride, handling, and styling have proven to be a winning combination for me. About six years ago I owned a 1999 E39 528iT Sport Wagon that, on paper, was a great car. With its rear-wheel drive, five-speed manual gearbox, and slightly lowered suspension, it drove great, looked great, and was awesome for picking up wheels and tires and used Recaro seats, but this particular one happened to be endlessly needy. I replaced it with a 2001 325xiT Sport Wagon that was much easier on the wallet, but the all-time all-wheel-drive made the steering feel kind of numb. I sold that and went back to driving a rear-wheel drive car, a six-cylinder E39 530i sedan. It's not as fast as the 540i, but in return it doesn't have the timing chain guide issues.
Figuring I'd vary the parameters a little, I did a search for Mercedes wagons on Craigslist, and stumbled upon this very appealing-sounding ad:
"2006 Mercedes E500 wagon. 189K miles, automatic, Airmatic AIRMATIC suspension (rear air springs, rear shocks and air pump replaced 15K miles ago—$2200 in parts), four-zone climate control, sunroof, heated and cooled leather seats, third row jump seat, 5.0-liter V-8, 4Matic all-wheel drive, CD and navigation, auto headlights, auto wipers, power rear hatch. No rust, no accidents. Lots of recent maintenance, including: Service B, transmission service, rear differential service, engine air filters, cabin air filter, serpentine belt and tensioner, PCV hoses, coolant flush and coolant expansion tank. Would be great as a winter car or a very safe first car. Needs some minor work. This is the cheapest running E500 wagon on Craigslist."
The photos showed a big, attractive, intact white wagon with a very appealing-looking beige interior/dashboard with beautiful burled walnut trim. While I'm not a Mercedes guy, I became curious enough that I thought I'd look at the car, if nothing else for research purposes on what you find when you go look at a 13-year-old niche Autobahn-munching sport wagon from Stuttgart whose asking price has fallen to less than five percent of its original $65,000 sticker. I contacted the seller, was completely candid that I was highly unlikely to buy the car, told him about the angle of the article I was thinking about writing, and offered to pay him 20 bucks for his time and fuel. To his credit, he cheerfully agreed.
Now, as some of you know, I have a very active Facebook presence. I posted a link to the Craigslist ad and announced that I was going to look at the car "for research." I got dozens of responses, many of which egged me on to buy it simply for the entertainment value. There was some specific interest in the fact that the wagon had a third seat. I joked that, even though I was only looking at it "for research," if I liked it, I could sell the idea to my wife on the pretext that the third seat would be good for the grandchildren. (Note: We do not have grandchildren, but it's always good to show your spouse that you're, you know, thinking ahead.)
However, several friends offered more targeted advice. Some said that, while the engine is generally very stout, the car was likely to have a similar spate of issues to the BMW E39s I'm familiar with (no surprise there). My old friend John Robison, who owns JE Robison Service, a high-end European repair and restoration shop in Springfield, Massachusetts, specifically advised that the car's 10,000-mile oil service interval can cause the cam gears in these engines to wear prematurely.
So, on a cold day in mid-February, I drove out to Shrewsbury, Massachusetts (near Worcester), and looked at the depreciated Teutonic beast. I met the seller, a friendly young man named Peter McParland, who owns a small race preparation shop. He said he'd owned the wagon about four years. We talked about the ins and outs of owning these sorts of high-mileage, niche German vehicles with air suspension (leaking in the 500E's AIRMATIC system is the #1 reported complaint about the car on RepairPal.com). I described how my BMW E39 wagon was one of those needy repair-of-the-week cars, but at least when its rear air suspension failed, it did so slowly and with plenty of warning. Peter winced and said that he was on a trip in New Jersey when the E500 turned into a beached whale, and described how he had to source the pump, air bags, and shocks and install them in a friend's driveway to get the wagon going again.
Next, I mock-remonstrated Peter for his assertion that his was the cheapest-running E500 wagon on Craigslist. "I take such things as a challenge," I said, "and I'm here to tell you that you are wrong, sir! Wrong! There is a 2004 E500 wagon on Craigslist in D.C. for two grand whose transmission won't go into overdrive." He laughed, which was certainly what I intended, and he smiled when I told him that Searchtempest appeared to confirm that his was the second-cheapest running E500 wagon on Craigslist.
At a quick walk-around, the wagon was beautiful. A closer look revealed some cracks in the bumpers and the air dam, as well as a broken left rear tail light, but these were minor in terms of the overall appearance.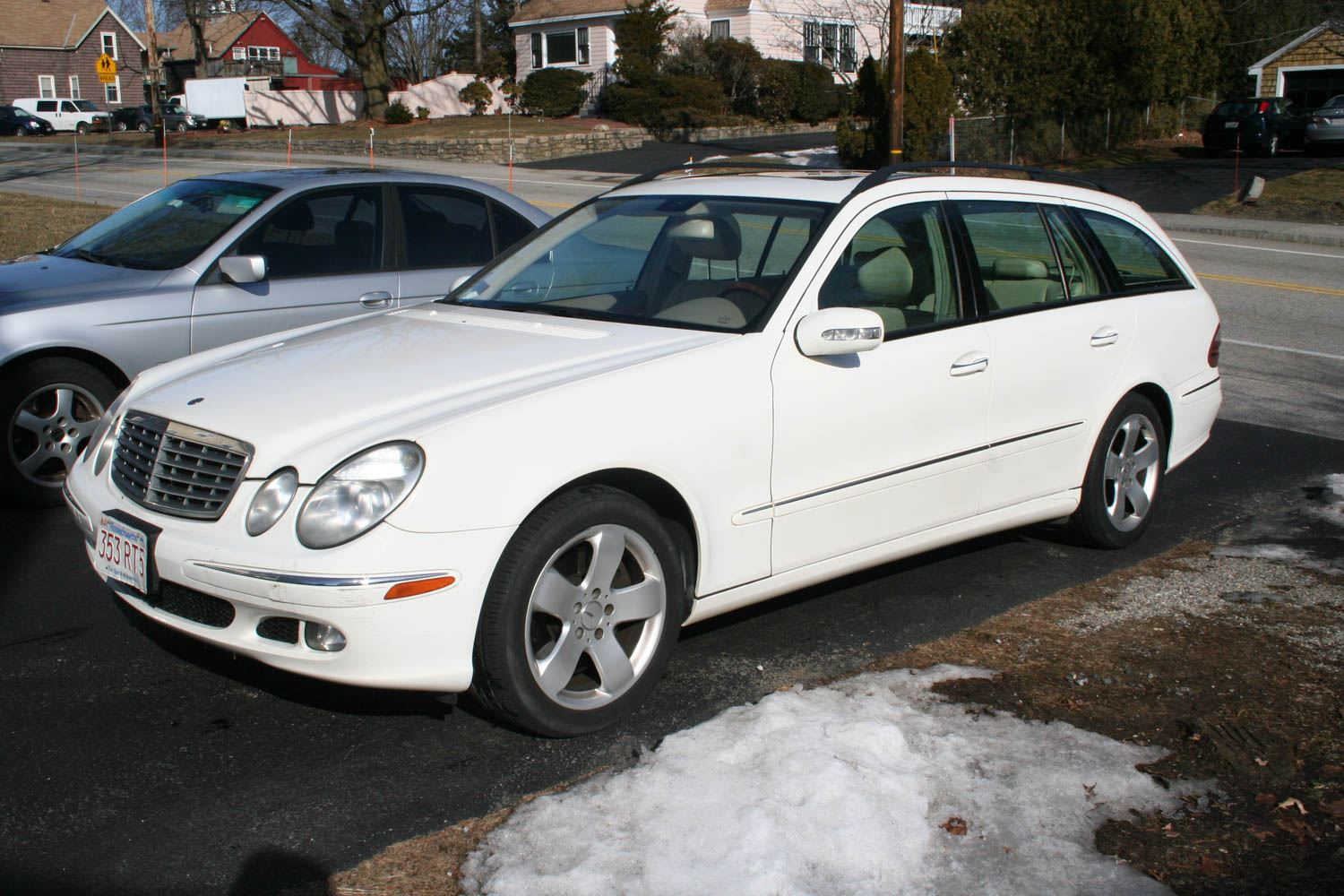 I went inside the car. The interior was gorgeous, even more impressive than it was in the photos in the ad. I'm fond of BMWs with black dashboards and black interiors, but I was captivated by the soothing warmth of all the beige and wood. Burled walnut usually isn't my thing, but when it's inset into a beige dashboard and door cards rather than black ones, it looks very well integrated. Apart from some stains in the cargo area (the inherent problem of owning a utilitarian wagon with a beige interior), the interior was in great shape.
The overall cargo space of the E500 wagon was breathtaking, dwarfing the BMW wagons I'm used to. The E46 3 Series wagons are small, about the size of a Passat wagon. The E39 5 Series wagons are much more respectable in size, closer to a second-generation Taurus wagon. But the E500 seemed bigger still. The space behind the second row of seats felt gargantuan. In fact, when I arrived, Peter was disgorging his stuff from the cargo area, which included a fully-assembled mountain bike (though he did have the seats folded down).
For fun, I set up the third seat. It was cute, but there was no mistaking it for the third seat in an SUV. There are physical space limitations in having a wagon with a short ceiling height and flat floor. The E500 is not a Tardis from Dr. Who. It is not bigger on the inside. The third seat might hold appeal to toddlers and young children, but it's not a car you'd buy to transport seven adults. I mentioned this to Peter, and he agreed, but he noted somewhat mischievously that he had transported some of his buddies in the third seat while returning from a track event.
After being generally impressed with the condition of the car, given its low asking price, I drove it. Now, we all know how this can go. Despite me being adamant that my looking at the E500 wagon was "just research," we make time to look at cars because we're interested in them at some level. I might, for example, go look at something well-priced and completely out-of-the-box for me, like a Cadillac CTS six-speed or a Porsche Boxster. If I find that I like the exterior and interior vibe of the car, and then, when I drive it, it speaks to me in an unexpected visceral, there's a moment when my right brain completely takes over, I can see myself owning and driving the car, and "research" instantly turns into "Wonder what he'll take for it?" Twenty minutes later, I become that car's newest most-raving fan.
With the E500 wagon, none of that happened. Not even a little. Not even for a moment.
Don't get me wrong. The wagon drove very well. On local roads, the only hint of anything amiss was that it pulled slightly to the right. Well, that and a little metallic clunking from the front end over rough terrain. And the check engine light being on. But that was about it.
The problem was that big wagon did absolutely nothing for me. I'm well aware that I like the snappier feel of smaller, lighter, rear-wheel drive cars with standard transmissions, but I didn't expect that to completely manifest itself in a gigantic meh response to the E500. It felt big, floaty, boaty, and sluggish. Even the 32-valve 305-hp engine with its 16 spark plugs (yes, 16) was surprisingly uninspiring. It did open up and roar when I mashed the accelerator pedal and the transmission kicked down, but that appeared to be the only interesting card in its hand. I expected those 339 lb-ft of torque to make the engine and the automatic transmission responsive for general driving, and instead it just felt flat. Other than a shimmy from a bent wheel, it drove fine at 80 mph, but really, what car doesn't? I loved the warm dashboard, but aside from that, there was nothing about the car that beckoned me to drive it, much less own it.
Although it was an academic issue, I asked Peter to list the needed "minor work" referred to in the ad. He was very candid. He first mentioned the cosmetic issues (the cracked bumpers and tail light). The check engine light was on, he said, due to a code related to the smog pump. Both the pump and the relay had checked out fine, so it appeared to be an intermittent wiring issue to the relay. The rear air suspension had been rebuilt, but the front hadn't, so the noise from the front that I heard could've been upper strut tower bushings, struts, or even ball joints; he hadn't diagnosed it. The car appeared to need an alignment (I'd noticed it pulling to the right). The passenger seat occupancy sensor wasn't working, so the seat belt needed to be secured to get the SRS warning system to stop dinging. One of the wheels was bent, and another was cracked. Lastly, Peter warned that the engine was consuming about a quart of oil every thousand miles, which didn't sound like a lot to me. I saw no evidence of smoking when I drove it, though Peter said you might see a puff of smoke if you let it idle for a while and then take off.
I buy cheap, challenged high-mileage cars all the time. Every item in the above list seemed to me to be baked into the $3200 asking price. It wasn't like the car burned clouds of oil or, like the only cheaper one I found on Craigslist, had a compromised transmission. It was, as advertised, a running driving fully-functional 500E wagon.
If I was interested in the car, the most concerning thing on the list to me was that the check engine light (CEL) was on. In Massachusetts, a car won't pass inspection with the CEL on, and driving with an expired or failed sticker is a moving violation that adds points to your insurance. Thus, if you buy a car with the light on, and need to register it in-state, there's a fair amount of risk. The cause could be something relatively simple, as it was with my current BMW E39 sedan, where it was simply one rotted rubber vacuum line, easily found by using an $80 eBay smoke tester. With the E500, I had no reason to doubt Peter's diagnosis of intermittent wiring to the relay controlling the smog pump, but without plugging in a code reader (or better yet, a Mercedes-specific scan tool) and having hands-on experience with what the codes are likely to mean, you don't know for sure, and you really have no idea what level of effort it'll take to extinguish the light and make the car inspectable. There are state "lemon law" issues that protect the buyer and thus can be a nightmare for the seller.
Full disclosure, a realistic low price, and a buyer who is passionate about the car and can do the work himself or herself is the best combination. While I am that buyer (I've bought cars where the negotiation included a stiff reduction in the price in exchange for me looking the seller in the eye and swearing that they'd never hear from me again), this was not the car for me, so all of that was moot. I thanked Peter, and, as promised, paid him for the gas and his time.
There are worse things than spending a few hours doing "research" looking at an interesting car and talking with a like-minded motorhead. In addition, there are worse things than seeing if your strongly-held biases are as strong as you think they are. Speaking of which, by utter chance, the next day, I looked at a 2001 BMW E46 3 Series wagon with the rare combination of rear wheel drive and a five-speed. It was rusty, dented, had 258,000 miles, every dashboard warning light was lit, and it was badly overpriced for its condition, but the moment I drove it, I instantly experienced the attraction that was utterly lacking in the E500.
So yes, I would buy another depreciated mess in a heartbeat. The point is that the heartbeat you need to feel is your own, and it should be racing when you're driving the right car.
***
Rob Siegel has been writing the column The Hack Mechanic™ for BMW CCA Roundel magazine for 30 years. His most recent book, Just Needs a Recharge: The Hack Mechanic™ Guide to Vintage Air Conditioning, is available on Amazon (as are his previous books). You can also order personally inscribed copies here.