The 2019 Ram 1500 is still playing catch up
After my first drive in the Ram 1500, I climbed out and patted it on its muscular fender. "You're doing a good job, truck." The Ram doesn't need the encouragement, because it is indeed doing a good job. Redesigned for 2019, the Ram is like a Budweiser Clydesdale: big, shiny, and decorated with leather and chrome. It pulls like a workhorse, too, the 395-hp, 5.7-liter Hemi V-8 leaning in with a grunt and a dull roar whether you're whipping an off-road Rebel over the silt or towing a trailer full of Clydesdales. The challenge for Ram is to keep its customer base and poach buyers from Chevrolet and Ford.
To that end, the new Ram offers a slew of options across six models from base Tradesman to glamour-truck Laramie. Pick one on a scale of zero to dude ranch based on how much you want your truck to look like a cowboy boot (or avoid the Longhorn, and you can outfit a luxury truck with nary a barbed wire in sight). Beneath the design themes, all Rams have a longer, stronger frame beefed up in the rear and splayed out in the front to channel crash energy away from the cab. The Ram dropped about 225 pounds compared with the outgoing 1500, thanks to aluminum in the hood and tailgate and hydroformed steel in the bed.
Payload increased to 2320 pounds from 1880 in 2017, and max tow capacity is now 12,750 pounds. That's for the two-wheel-drive Quad Cab with the Hemi and the new eTorque mild-hybrid system, which replaces the alternator with an electric motor mated to a 48-volt battery pack; it brings up to 90 additional pound-feet of torque to the standard 3.6-liter V-6 and up to 130 pound-feet to the Hemi, depending on model. Both engines are backed by an improved eight-speed TorqueFlite automatic transmission and an open, limited-slip, or electronic-locking rear axle with a choice of 3.21, 3.55, or 3.92 gearing. During the media drive, I witnessed a successful test of the bigger 14.9-inch front brakes during a boat-towing panic stop.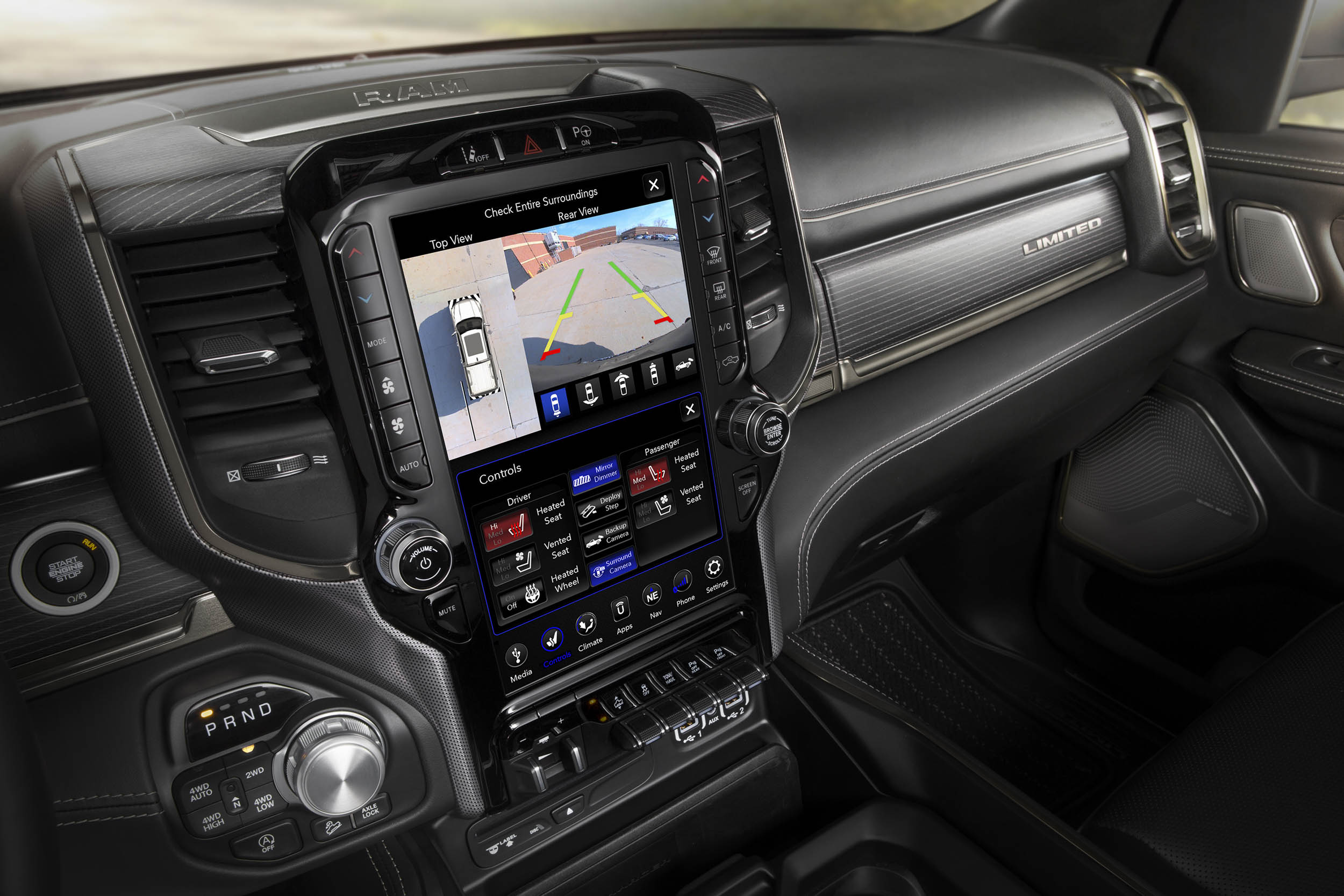 Diesel fans are going to have to wait, as Ram's only comment on diesel was that it wasn't commenting on diesel.
Ram designers describe the truck's wide-shouldered design as "that determined look," but the new truck isn't a brute. Ram made waves or, rather, rode comfortably over them in 2009 when it switched from leaf springs to a coil-spring suspension. For 2019, rear progressive-rate coils are matched with new twin-tube dampers or you can go for the optional air ride.
The focus on comfort continues in the truck's cabin, which is roomy enough to be an Airbnb listing. Adding to the tiny-house feel is the optional big-screen TV—sorry, 12-inch touch screen—in the center of the dash. Storage consoles and cubbyholes are trimmed with accent materials ranging from subtle bronze to a wood plank so rugged you might get splinters. The seats are Barcalounger big, as befits a mobile living room.
With comfort, safety features, towing and off-road packages, and available customization, the Ram can brag that it does everything, and since a high-end 1500 is going to be close to $60,000, it had better.
The article first appeared in Hagerty Drivers Club magazine. Click here to subscribe to our magazine and join the club.