How my dreams of a homemade Corvair dune buggy got crushed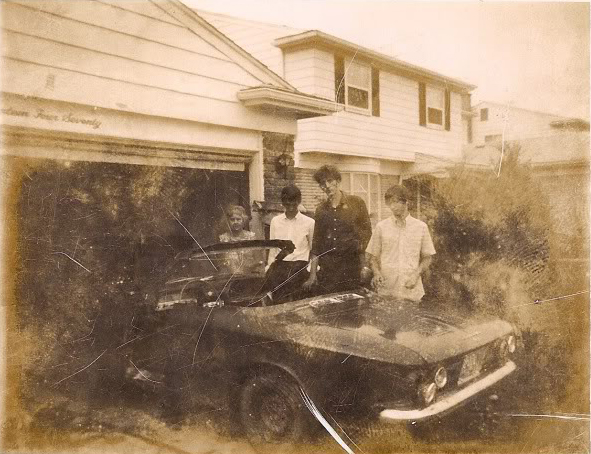 It was 1967, I was 15 years old, and I wanted a dune buggy. The closest sand dunes were on the other (west) side of Michigan, but this did not derail my logic. It was 1967, and dune buggies were cool. I was not cool. If I had a dune buggy, however, I would be. Or so I thought.
I lived in an upper-middle-class neighborhood of mirror-image one- and two-level homes. Your nextdoor neighbor, like yourself, had a front-facing two-car garage with white solid doors that would knock you off your feet if you happened to be standing too close. Our home was on a curve in the road, so we had room for a circular drive, which provided room to park three normal-size cars… or my father's red Electra 225 convertible and another car. What a boat that Electra was.
My father ran his business out of our house and was always busy. He always had deadlines and didn't think of cars as anything but advertisements of one's success. He didn't like being around vehicles while they were being worked on and disparaged the people who did the work themselves and got dirty. I, on the other hand, relished the grease and grime; needless to say, my father and I were at opposite ends of the automotive enthusiast spectrum.
My father was delighted when I pursued drafting courses, since that trade was useful in his business.
However, he was not pleased that I also took every shop class I could. So when my dune buggy ambitions struck, I had building skills but no shop space. The only tools in our house consisted of a small tool set scaled to the size of a woman's or young person's hands—but that was good enough for me. I had "the knack"—the natural curiosity about how things work and the ability to reassemble anything I took apart.
I had to hatch a secret plan to attain my goal of a dune buggy. Everything centered on my parents being gone for two weeks on a cruise. In 1967, the only way to reach them during their trip was ship-to-shore radio, and that was only to be used in the most extreme emergency; they wanted to be completely cut off for two weeks. (As an adult, I can now completely understand.) At the time, I and my two siblings were 15, 13, and 10, and thus required adult supervision, so my mother's mother stayed at our house while my parents were gone. My grandmother represented an obstacle to be overcome, but I was pretty sure I was her favorite. My parents wouldn't have approved of my project, but Grandma would be a pushover.
Two months prior to my parent's trip I bought a very tired Corvair. My plan was to shorten the car about three feet and make it into a two-seat roadster. I figured that removing two seats, a big chunk of floor pan, two doors, and the whole roof that would lighten and shorten it enough that it would pull wheelstands… or so I thought. It was still pretty heavy.
About the time I was born, in 1952, the Milwaukee Tool Company came out with a reciprocating saw that was aptly named the Sawz-All. One of the cool dads in the neighborhood drove a Morgan and put a garage full of tools at my disposal. I had a 100-piece Craftsman socket set but not much other than that and my mom's tools. I had the motive, the means, and the opportunity to pull off the rebellious youth caper of the year—and I had two weeks to get it done.
My parents left. I had a heart-to-heart with my grandmother—of course my parents would approve of my taking the initiative to create something from a pile of junk. With her tacit approval, I moved my parents' cars onto the driveway and moved into the garage. I carefully mapped out how much floorboard could come out and still leave enough of a flange so that both halves could be overlapped, bolted, and welded. I used the borrowed Sawz-All and followed literal chalk marks. When I removed the floor pan and door sill, all that was holding the car together was the roof and the various brake, fuel, cables, and harnesses that operated the rear engine and transaxle. If my memory serves me correctly, I never shortened anything; I just looped or zig-zagged each one to take up the length.
In 10 days I was able to drive around the neighborhood, but my angle iron door braces and hardware-store-grade fasteners weren't up to the task. I needed to properly burn the braces in with a welder. Another friend's family owned a service station and told me I could use their stick welder afterhours, so I drove all the back roads to his place… only to find the lift already in use for an engine swap. I decided to leave the buggy instead of getting caught driving it home. After instructing me to park behind the building, my friend's family hung the keys on the workboard. I walked home.
I rode my bicycle back the next afternoon to find that the Corvair wasn't where I'd parked it. Well, I thought, maybe my friend moved the contraption inside. As I rounded the front of the building, however, I didn't see my buggy anywhere—had it been stolen? My first thought was to call the police. I parked my Schwinn Continental and went inside to look for a telephone.
I was greeted by my friend, his father, and his grandfather, all with dour looks on their faces. The grandfather reached out with an envelope in his hand. As I looked at him, confused, he choked up and said, "I'm sorry, son. When I came on for the afternoon shift I saw the car behind the station. I really thought that someone had abandoned it. There was no paperwork and I didn't notice the extra set of keys. I hooked it up to my wrecker, which crushed the angle iron in the door tops, and the car folded." He made a folding motion with his hands. "I took it to 6 Mile and Woodward to the scrap yard, they weighed it and gave me $60 for it. I watched as they loaded it into the crusher and cubed it. Here's the money. Sorry."
I, too, was crushed, but looking back on what I did to that car, I'm sure my friend's grandfather saved my life!