Automotive paradise is Germany's Klassikstadt museum, dealership, and garage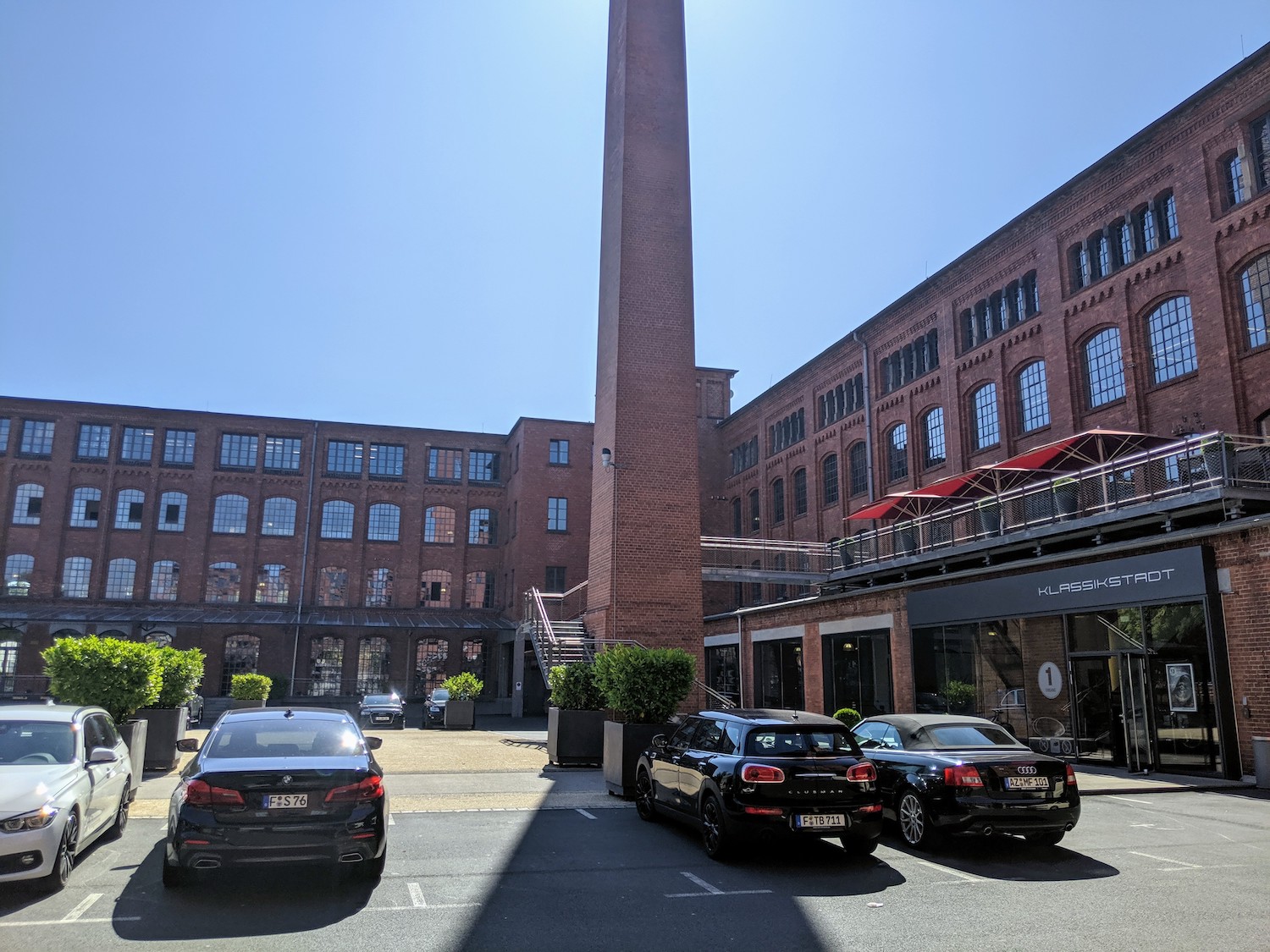 Klassikstadt, on the outskirts of Frankfurt, is the sort of place you might dream up on a lazy Sunday afternoon. If you had, say, $60 million in cash gathering dust, you might look at this grand old factory building and think, yes, why not turn it into a slice of paradise for car obsessives and collectors everywhere?
Located on the outskirts of Frankfurt, Klassikstadt—which is German for "classic city"—is a multifaceted car haven. This enormous brick building is a kind of living museum and classic car storage facility that's open to the public. It also houses new and classic car dealerships, mechanics and restoration facilities, a restaurant, and a model shop for all your toy-car needs.
Going for a tour is as simple as walking in the front door; it's free for visitors. On weekends you might find car clubs gathering in the parking lot. The season-opening and -closing events in spring and fall bring in as many as 3000 guests.
At the on-site restaurant you can perhaps watch through windows as technicians wrench on a 964 Porsche 911 cabriolet while scarf down a massive plate of schnitzel. Wander down the expansive white hallway—even the floors are meticulously clean—and you'll find a restoration shop for Mercedes classics. A very original W123 wagon is up on the lift. There's a C3 Corvette just sitting in the hallway for no apparent reason. At the other end of the building are the local McLaren and Lamborghini dealerships. Alpine is upstairs and Bugatti is in an adjoining building.
The 172,000-square-foot brick building was built in 1910 as a factory for agricultural machinery. Since then, it's had a colorful history, surviving both World Wars only to be used as a storage depot, a printing plant for 50 Deutsche Mark bills and, at some point, a Hell's Angels clubhouse. After a two-year, $55 million restoration, Klassikstadt opened in 2010.
Wander upstairs and you're greeted by a Jaguar E-type parked next to an original Fiat 500, which looks to be roughly the size of the Jag's prodigious hood. There's also a perfect-looking 1985 Alpina B7, offered for sale at €59,500 (roughly $66,000). It's a tough choice between that or the 1992 Mercedes 500 E, priced at €38,500 ($42,750).
Both über-sedans are being sold by Pyritz, one of the classic car dealerships that calls Klassikstadt home.
These days, most customers are genuine enthusiasts. "The investment boys are not here anymore," says Rainer Dschüdow, who co-owns the dealership with his wife. "Five years ago, all the people were asking me what car to invest their money in. That came to the end because everyone learned a car costs money even if you don't drive it: you need a garage, you need to service it, et cetera. Now, at the moment, the really classic driver customers, the enthusiasts, are back."
What's the next hot ticket? "Ahhh, I really don't know," Dschüdow laughs. "Right now, I think drivable cars—the '60s, '70s, '80s—that's where the market is."
The shop certainly has a good stock of cars that fit that bill. A navy blue 1966 Maserati Mexico for €159,000 ($176,200) is dreamy but sadly out of my price range. So is a maroon Alfa Romeo Montreal. The ugly-duckling €5900 ($6500) Citroen AX Sport rally car on steelies is more realistic.
On the upper floors, most cars stored here by private collectors are kept behind large sliding glass doors; owners need not worry about visitors getting greasy fingerprints on or carelessly scratching their prized possessions. There are 350 cars here, with 100 behind glass. You'll see a staggering variety of machinery, including everything from a 1970 Alfa Romeo Giulia Sprint GT, an original Alpine A110, a restored Ford Capri RS2600, an Audi Ur-Quattro, countless 911s of every vintage and variety, a 1969 Maserati Mistral, a Ferrari F40 and FXX, a banana-colored BMW E30 M3 and 3.0 CSL Batmobile, a Lotus Cortina and what looks like Martin Brundle's 1987 Zakspeed Formula 1 car. The list goes on.
At any time, you may hear a 12-cylinder Ferrari or an air-cooled flat-six roar to life as an owner takes their car out for a drive. The noise echoes around the old brick building, drawing onlookers from every corner.
Klassikstadt is too great of an idea to be a one-off. There are similar facilities in Berlin and Dusseldorf called Classic Remise, and another in Stuttgart called Motorworld.
If anyone has $60-odd million lying around, we'd love to see a Klassikstadt open up in New York, or Toronto, or Los Angeles… or really anywhere else on this side of the Atlantic. Just make sure to budget for a quality schnitzel chef to complete the experience.