Reconnect with the roots of your downtown with a cruise in your classic
"It was Wednesday, March 18. It was cold and damp in Los Angeles. We were working the day watch out of Burglary. My partner's Ben Romero. The boss is Ed Backstrand, chief of detectives. My name's Friday."
The opening lines of Dragnet were running in a loop in my head as I positioned the old '49 Buick in front of Los Angeles City Hall. Nobody was around. Nobody cared that we were parked illegally, grabbing a quick shot of the white mausoleum-like civic center made so famous by cop shows like Dragnet. Back then, the radio announcers called the city "Los Ang-el-eese." There was a lot less traffic back then, as there was that day. It was not a normal day.
Everyone who drives old cars in or near big cities lives in dread of the traffic, which is why we tend to hit the cars and coffees early on the weekends, scurrying home before the hordes hit the highways. But lately there have been no hordes, as people stay home at the encouragement of a government trying to stem a pandemic. As such, highways that are ordinarily blood-red in Google Traffic have been uniformly a cheery bright green all day and even into rush hour. It seemed like an entertaining way to social distance by taking advantage of all those green roads and driving a vintage car into the heart of a metropolis that I would never go near otherwise on a Wednesday afternoon.
Mind you, this was right before California governor Gavin Newsom slapped a shelter-in-place order on the 39.9 million citizens of the state, begging us not to go out except for necessities. So while we do not encourage you to violate any ordinances, if your area remains free of restrictions, or you can justify a "grocery run" through your local downtown and maybe snap some quick pics in front of its historic buildings, I can say that you will have some excellent memories and photographic souvenirs from this otherwise fraught time.
I picked my old Buick for this adventure because it just seemed so perfect for cruising L.A., the backdrop of so many cop shows and noir flicks of the period. Where I live, south of town, the traffic was still humming as most businesses were open, but the major freeways were flowing into town with uncharacteristic ease. The first stop was City Hall, the 1928 landmark between Main and Spring Street so familiar to TV watchers in the 1950s. Its likeness has adorned LAPD badges since 1940, and the Dragnet TV show opened with badge no. 714, Joe Friday's. The cherry blossoms were just popping and the rainy spell we've been having lately provided a suitably moody sky for pictures.
Ordinarily, North Broadway would be much too busy on a Wednesday afternoon to stop and shoot on, but the street was eerily quiet as we peeled off some frames. Back in 1950, the city's population was about 2 million. Nowadays, it's almost double that, with around 13 million living in the greater L.A. area. Few of them were around however, so I carried on down nearly empty streets to the Bradbury Building, the oldest commercial building left in downtown Los Angeles. Named for Lewis Bradbury, a mining and real estate tycoon, the Romanesque structure opened in 1893 and is famous for its light-filled inner Victorian court, marble staircases, ornate iron railings, and open-cage elevators. It has been used as a location in countless films, including the original Blade Runner and The Artist.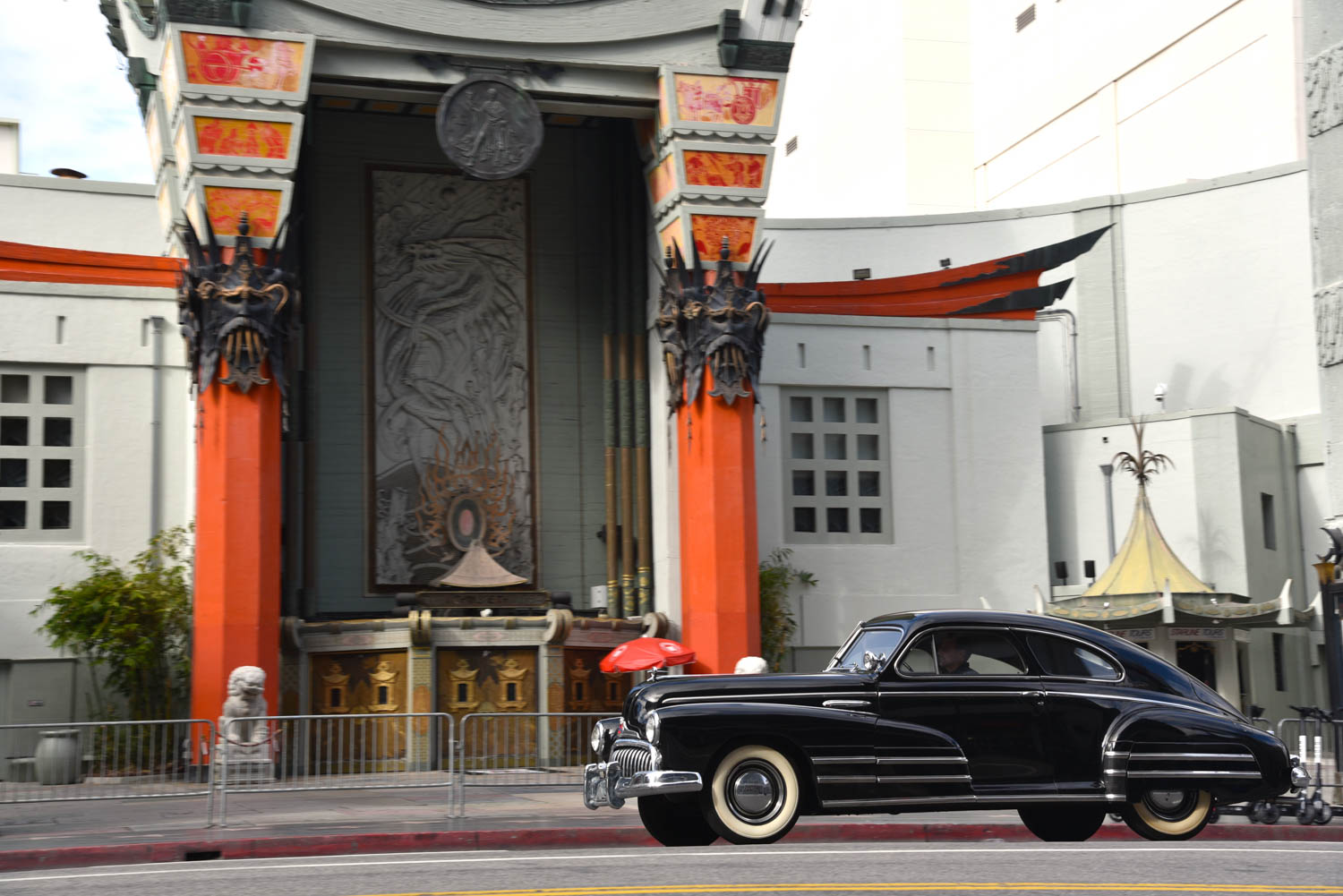 After that, there was a run past the imposing Millennium Biltmore Hotel, the fresco- and mural-lined monument to the beaux arts which opened in 1923 and whose Crystal Ballroom, virtually unchanged in eight decades, served as the glamorous location for the Academy Awards in the 1930s and '40s. After that, the Oviatt Building, a 1928 high-rise on Olive Street designed in an elaborate French art-deco style. James Zera Oviatt was a successful haberdasher who lived in a sumptuously appointed rooftop penthouse and presided over a grand store on the ground floor that was known for its stained-glass ceiling and corniches and Lalique glass flourishes. Today the space is restored and occupied by the Cicada Club, a 1940s-style nightclub that features big-band and swing-era revival shows. You must go if you long to see a crowd dressed to the nines in '40s gowns, suits, and fedoras.
It was time to head to Hollywood. Within months of comedian Bob Hope cutting the ribbon to open the Hollywood Freeway on April 15, 1954, the concrete express route to the San Fernando Valley had already exceeded its engineered capacity. Hope joked that the 11.4-mile, $55 million project had built "the biggest parking lot in the world," and it has only gotten worse since. However, on this Wednesday it was flowing just as its designers had intended it. The old Buick likes 55 mph best but will stretch to 60 without too much fuss. We reached the Hollywood Boulevard exit in no time, having spied the famous stacked discs of the Capitol Records building as a waypoint.
Hollywood Boulevard, fairly empty, is where the whole day developed a somewhat eerie, sci-fi feeling. Downtown can be quiet on a typical Sunday morning, but this street is never empty. Never. During the week it's crammed with commuters, busses, and delivery trucks, and on weekends and holidays, it's log-jammed with tourists and people going to shows. Except for all the ticky-tacky shops, the wax museum, and the sidewalk stars of the Hollywood Walk of Fame, we could have been on the main drag in Akron, Ohio, during the Michigan-Ohio State game. A swing past the famous Egyptian and the TCL (formerly Grauman's) Chinese Theatre proved they were closed for business. Even the famous Musso & Frank Grill, the 1923 hangout on Hollywood and Las Palmas where Dashiell Hammett, Raymond Chandler, Humphrey Bogart, Mary Pickford, and Douglas Fairbanks were said to often drink away an afternoon, was shut in behind plywood walls and a metal gate. It looked like they were expecting a riot.
Other Hollywood landmarks such as the Chateau Marmot and The Magic Castle, were likewise shuttered, awaiting the return of better days. So with the lights of Hollywood dimmed for the time being, the old Buick headed up the hill to Griffith Observatory, the domed 1935 art-deco edifice that served as a key backdrop in James Dean's seminal 1955 drama, Rebel Without a Cause. Perched on a hill overlooking Hollywood and downtown, it has a magnificent view of much of the Los Angeles basin, and is a magnet for tourists. Over the years, the crush of crowds has forced the administrators of Griffith Park to fence and cone off its parking lot to a disgusting fare-thee-well, and even on this strange day I was able to grab just a shot or two before a security guard marched over.
Well, at least I found one place in Los Angeles stubbornly unaffected by the situation.