The Polestar 1 is one hell of an opening act
Polestar has come a long way since its days as a plucky racing team hucking Volvos around tracks in the Swedish Touring Car Championship in the late 1990s. By 2009, Volvo started selling a wicked Polestar-branded performance version of its C30 hot hatch road car, with S60 and V60 models to follow. Today, Polestar is a wholly-owned subsidiary of Volvo (and by extension, China's Geely), billing itself as a pure-electric premium brand producing unique models—not just re-skinned Volvos.
By July of 2020, you'll be able to walk into an ultra-modern Polestar Space and purchase a sleek, minimalist, all-electric crossover that's aimed squarely at the popular Tesla Model 3. That vehicle, the Polestar 2, will be the first mass-market offering from Volvo's new all-electric sub-brand, priced at $45,000-$63,000.
On the total opposite end of the spectrum is the brand's debut model, a pure halo car dubbed the Polestar 1. It's a hybrid, not an EV, and it is essentially a production 2+2 version of Volvo's Concept Coupe from 2013. Inside, it looks like every modern Volvo you've ever been inside. Polestar is only building 1500 of them over three years at its factory in Chengdu, with only 150 slated for the U.S. market each year. Oh, and it costs $156,000.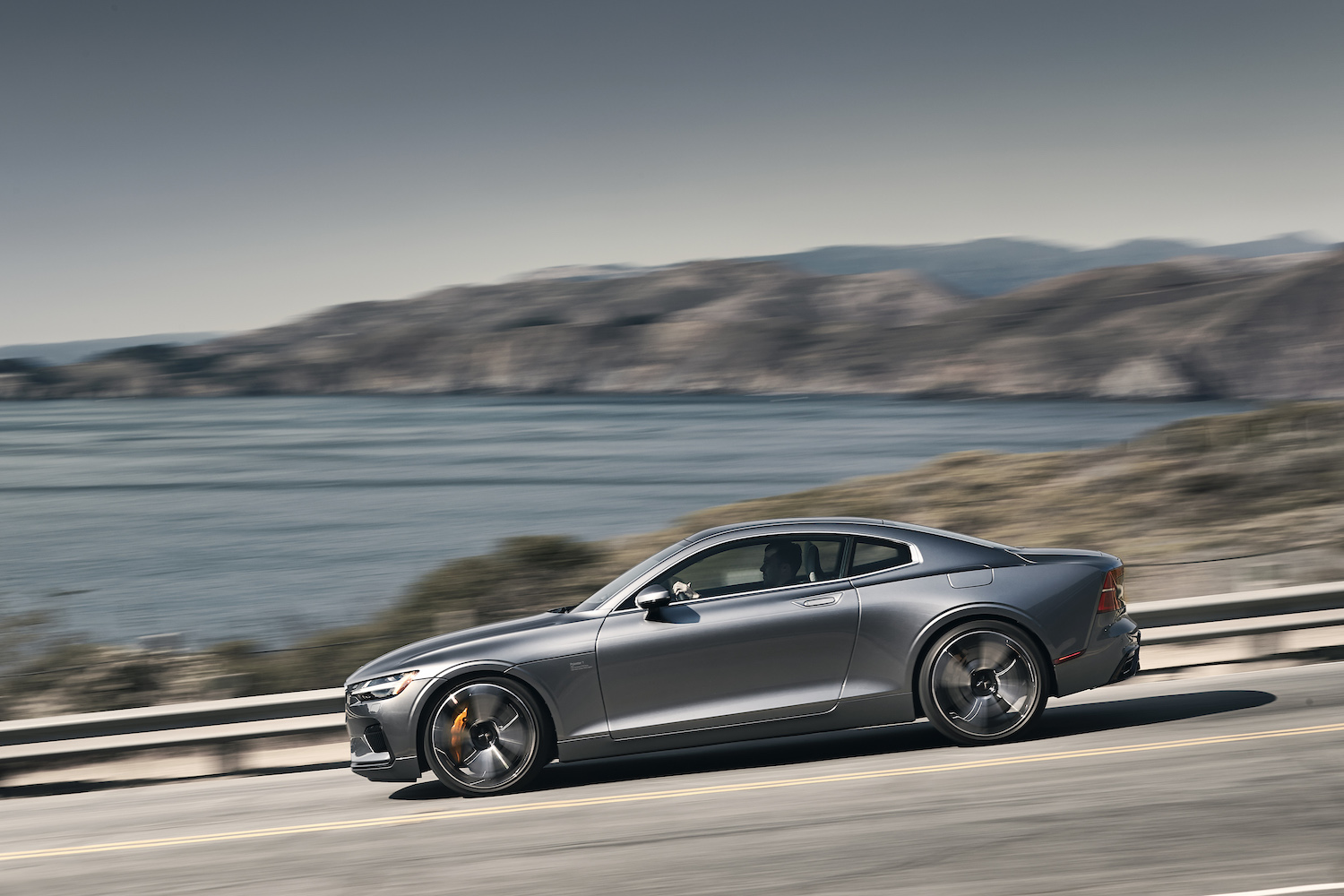 Why is Polestar choosing to plant its global brand flag with a vehicle that's fundamentally different than every model to come? Well, for one, just look at it. The Polestar 1 is stunning—a masterpiece of elegant and subdued design that melds heritage-minded cues from the Volvo P1800 coupe with cutting-edge, fully carbon-fiber bodywork. It truly looks like nothing else on the road, without relying on crazy neon colors or over-exuberant scoops and spoilers to draw attention to itself. There is a simplicity, clarity, and cohesiveness of proportion in the Polestar 1 that exudes class, like a Pininfarina design from the 1960s. "When everyone is shouting, we are quiet," is how Polestar CEO Thomas Ingenlath puts it.
On top of its looks, the Polestar 1 has to establish that Polestar knows how to engineer a battery-electric car that is legitimately fun to drive.
Under the hood is a powertrain more or less cribbed from Volvo's T8 hybrid models—a 2.0-liter supercharged and turbocharged four-cylinder engine, paired with an electric motor that functions as an integrated starter-generator, mated to an eight-speed automatic transmission. There are two electric motors powering the rear axle, one for each wheel, complete with their own planetary gear sets that allow for actual torque vectoring. Combined system output rings in at 619 hp and 738 lb-ft of torque, which sounds like a lot until you remember that the Polestar 1 also has two lithium-ion batteries to lug around—one between the front seats, and one above the rear axle. It might look trim, but this car is dense like a rugby player, clocking in at a porky 5100 pounds. That's about 100 pounds heavier than the new Bentley Continental GT, and about 300 pounds less than the Rolls-Royce Wraith.
Were it not for the Polestar 1's extensive use of carbon fiber, the car would be 500 pounds heavier still. The carbon-fiber body is glued onto the vehicle's steel frame, which is a modified version of Volvo's Scalable Product Architecture. Thanks in part to a carbon cross member near the rear axle called the "dragonfly", structural rigidity improves by 60 percent and overall body stiffness increases by 45 percent.
On the road, driving in pure electric mode and rear-wheel drive, the Polestar 1 is a silent luxury chariot. The pair of 85-kW electric motors combine for 232 hp and 354 lb-ft of torque, which is plenty to scoot away from stoplights and pass on two-lane roads. Polestar estimates 70 miles of all-electric range, which is better than any other plug-in hybrid on the market and dwarfs the BMW i8's 18 miles of emission-free travel. Even the Honda Clarity manages just 47 miles of all-electric range. Stomp on the throttle and there is a pleasant thrust forward, but that shove throws your neck back into the Polestar 1's Nappa-leather headrest.
Hybrid mode is essentially the default setting, where the car will primarily rely on the electric motors at the rear, but the gas engine is there to assist when your right foot demands it. The powertrain waltzes between all-electric and hybrid power, never surprising you with unnecessary shifts, sudden lurches, or lazy response. Aside from a bit of noisiness from the engine and motors, plus some wind sound that invades the cabin, the car's highway manners are flawless. The electric regen function means you rarely need to touch the brakes when you want to slow down, which is a lovely touch to the already relaxing, seamless driving experience.
When you have open stretch of twisty pavement, though, there's no question you'll want to be in Power mode. In the hilly roads outside of San Francisco we had the chance to flex the engine and the electric motors to full tilt, and there is no question that the Polestar 1 has the guts to satisfy even the most discerning sports car drivers. The immediate torque you get from the rear electric motors lets you rocket out of corners, and the torque vectoring that speeds up the outside wheel means you can actually put all of that grunt to good use in those situations.
For all of the Polestar 1's prodigious weight, you barely notice it from behind the wheel. The coupe's low center of gravity and ultra-stiff chassis certainly help, but the suspension and steering are perfectly tuned. You'd think a complex car like this would have some kind of adaptive or electronically adjustable suspension, but the Polestar 1 was dialed in by road-test feel the old fashioned way, using a traditional double wishbone front suspension with an integral link rear and manually adjustable Öhlins dampers. The result is dazzling, yielding a car with remarkable reflexes and astoundingly precise steering that's as responsive at full lock as it is just off-center. Larger road imperfections produce noticeable thumps that you definitely feel, as if there is a lack of travel that's forcing the suspension to hit its limits, but they never upset the car's balance.
The brakes—Akebono six-piston monoblocs up front with four-pistons in the rear—possess astonishing stopping power considering the job they have, too. If there were one complaint here, it would be that the brakes are a bit touchy and difficult to modulate, which is no doubt a challenge with any by-wire setup.
All that said, the Polestar 1 is hard to justify at $156,000 in some ways. The interior is nice for a $70,000 Volvo but fails to impress compared to an Aston Martin Vantage or Bentley Continental GT. The Porsche 911-style rear seats are usable pretty much only by children, and the trunk isn't even large enough for a medium-size carry-on bag. There's a see-through panel that gives you a cool view of the orange-colored wires for the battery pack, but that isn't exactly helpful when you need to pick someone up at the airport in your cool hybrid sports car.
Still, there's no doubt the car is gorgeous, exclusive, and as satisfying to wring out on a back road as it is enjoyable to spend time with in city traffic. There isn't another grand touring sports car quite like it, for however niche of a space it occupies. As a halo car put into production only to grab attention and establish the brand's bonafides, it's resounding win.
Polestar promises that its full-line vehicles will be engineered for people who love driving, as much as they are meant for efficiency, utility, and style. If an ounce of the Polestar 1's competence and soul trickles down to the Polestar 2 and beyond, Volvo will have the tools to blow the premium EV market wide open.